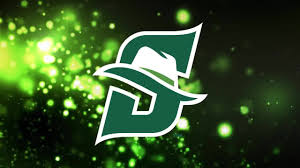 Student athletes wear many hats during their time in college. Balancing responsibilities on the field with those in the classroom and still adding extracurriculars can be quite the challenge. However, many of our athletes at Stetson are overcoming these challenges everyday and working to make our campus a better place. As our seniors prepare for graduation, let's take a look inside the minds of some triumphant athletes to discover where they are headed next, what they will be taking away with them from their time at Stetson, and what legacy they are leaving behind.
David Bermudez (Baseball/MBA Data Analytics) 
Upon graduation, Bermudez will have both a Masters in Business Administration with a concentration in Data Analytics and an Undergraduate degree in Business Analytics. His goal is to stay in the world of sports through a sports analytics position. Although he is a transfer from Manhattan College, he will take away the opportunity to play collegiate baseball at Stetson while completing his Masters and hopes to have a conference championship win under his belt at the end of the season. Within his first year as a Hatter, Bermudez has clinched several walk-off wins for the team. 
His advice to incoming freshmen? "Enjoy your freshman year, both the struggles and successes. It really goes by fast and I wish I could go back and tell myself to live in the moment. Don't get caught up in the hard adjustments, but keep moving forward and enjoy having the opportunity to learn at the next level." Bermudez will leave Stetson as a leader who led by example and shared his love of baseball with all of the teammates he had. 
Alexandra Milano (Soccer/Marketing) 
While she is still exploring her options, Milano will be attending grad school in the fall to study Sports Management at either UGA or UF. With aspirations to work in professional sports after graduation, Milano wants to work with the college athletics program wherever she attends next, and give back to the next generation of athletes through counseling services. As she moves on from Stetson, Milano takes with her the challenges that helped her grow into the person she is today and the memories she has of being silly, having dance battles, and sharing jokes with her teammates. 
To the incoming freshman, Milano shares, "Cherish every moment. It goes by a lot quicker than you think and you never think the day will come when it will all be over. Stay strong and know you have resources to help you throughout your four years at the collegiate level." Milano leaves Stetson a better place as she advocated for calling attention to mental health in sports, was Vice President of the Sports Business Association on campus, as well as being voted Homecoming Queen. 
Jakob McConnell (Cross Country/Accounting) 
After breaking the Stetson 10k record with a time of 31:32 during his final cross country season in the fall, Jakob will be starting as a Tax Specialist with PricewaterhouseCoopers, one of the Big Four accounting firms, after graduation. As he moves on from Stetson, McConnell will be taking the leadership skills he developed through his involvement with the Student Athletic Advisory Committee and University Athletic Committee. 
A piece of advice he wants to give to a freshman athlete coming into Stetson athletics is, "Step out of your comfort zone. I was nervous and afraid of how it might go, but ultimately it led me to become a better version of myself." McConnell leaves Stetson as a school record holder and ASUN Winner for Life. 
Elodie Foster (Tennis/Psychology) 
After graduating, Elodie plans on continuing her studies and applying to Masters and PhD programs in order to work in clinical neuropsychology. A gap year is possible for Elodie too, as a break from everything before committing to more education makes a lot of sense to her. "I've definitely learned a lot of time management skills [being a student-athlete], it was always tough being on the road and missing lectures and having to catch up on all that," Elodie said. "Being a student athlete definitely has its perks, but it is also very difficult to stay persistent all of the time." Elodie also struggled with injuries from Tennis during her Stetson career, and says that recovering from injuries while also staying on top of her studies was her biggest hurdle. 
Elodie's advice to incoming student athletes is to not pressure yourself too hard: "Don't try too hard to get into the lineup and impress the coaches. Obviously everyone wants to play and be in the lineup, but don't stress too hard about it too early and try to have fun for yourself first." Elodie cited winning the ASUN Conference Championship as her favorite moment of her Stetson career: "Being able to clinch the championship over our rival team was amazing, and the immediate moment after we clinched was something I'll never forget."
Majeste Hansberry (Communication & Media Studies/Football) 
"I plan on going into marketing after college, I actually just got a job offer from Main Street Community Bank. I hope to get onto their marketing team and eventually corporate," Majeste said. He's also planning on investing in real-estate in the near future. Majeste cites his time as a student athlete as the reason why he can keep a consistent schedule and structure in his day-to-day life, saying "If I could go back to being a freshman or give advice to freshmen, I'd say to just relax, put your work in, and trust the process it will all pay off," Majeste said. Majeste has a lot of memories from playing for Stetson football, but said his favorite was a practice when the team played on a flooded field. "I think my impact on Stetson Athletics was an example of how hard work pays off. If I can put that work in and see the success I had, anyone can," Majeste said, further stating, "If I could do it all over again, I'd live more in the moment instead of worrying about what comes next."
Rebecca Naser (Rowing/Management)
After graduation, Rebecca does not have any immediate plans, but aims to find a rotational program working in human resources or sales in the Southeast. "I'm applying for those positions now but nothing is set in stone, I may take a gap year," Rebecca said. She cites being a student-athlete at Stetson as the reason she is confident in her time-management skills and her ability to keep a schedule that works for her. "I also learned how to be a part of a team and knowing my role, and just finding my fit really," Rebecca said. She recalls a sea of fond memories, but definitely had her favorites, stating "I think my favorite memory of being an athlete here at Stetson was my sophomore year. I was in the varsity squad and we made the finals, that was a big deal to me."  Rebecca's advice to new student athletes is to take time to relax, and realize you will make mistakes but it will all work out how it is supposed to in the long run.