Stetson Men's Soccer: Insight from Coach Rutkowski
Despite the obstacles that the Stetson's men's soccer team faced during a season of COVID-19, Coach Rutowski conveys his pride for the team as the new head coach and what they have to look forward to in the future.
The Stetson men's soccer team is off to a bit of a rough start this season, standing at 0-4-2 currently. However, this hasn't discouraged head coach Emmett Rutkowski in the slightest as he attempts to create a culture change within the team.
"It has been an interesting first season as head coach. I was an assistant coach for two seasons, and Stetson on the men's soccer side has been really difficult for a number of reasons," said Coach Rutkowski. "We've had six coaches in eight years, so that's not generally a recipe for success. You don't have consistency in retaining talented student athletes. One of the first things I knew is we had to bring in a large class of talented freshmen who we knew were going to be here for the next four or five years."
The COVID-19 pandemic has not made being a new head coach any easier, but Rutkowski gives his young team credit for powering through the confusion and adversity.
"It's made me realize things and reflect as a coach because I've noticed things I never would have done pre-COVID. Now I'm doing it more in practice, like now we're using Zoom and it is so much more efficient with film because everyone can be there in a 15-20 minute time window versus getting everyone to meet at the same time in a building for an hour," said Rutkowski. "So it's really cool to actually see what has made me be better as a coach but also see what has helped our student athletes become better players in terms of using stuff that wasn't prevalent before COVID. I can see us continuing to use these resources after COVID."
Coach Rutkowski thinks the team hasn't yet come close to meeting its full potential. Even given the circumstances, the team continues to persevere.
"I would say we've gotten better every week. We've never had a fully healthy team because of COVID. But everyone sees we are getting a lot better," he said. "All the teams we have been playing have been much older and more experienced than us, and so for me it's about the long term of getting out of the spring but also preparing ourselves so we can become the best version of ourselves."
Despite the record, Coach Rutkowski feels there has been evidence of growth and high points in the season. Take Stetson's game against Florida Gulf Coast University—even given that they're the top team in the Atlantic Sun Conference, Stetson was competing with dedication even despite injuries and absences due to COVID-19 protocol.
"It ended up being 0-0, but I was really proud of the fact we as a team have made massive jumps in our mentality and how guys are learning how to get through a game at an extremely high level. Not just from a physical standpoint, but the mental side as well. When you're starting seven or eight freshmen against six or seven seniors, to me that's massive. It means we're knocking on the door but the next part is learning how to close out and win those games, and that can take some time," said Rutkowski.
In a COVID inflicted and reduced season, the team is bound to have some low points as well, including having a game canceled due to COVID protocol. But Coach Rutkowski insists that the team should focus on what they can control.
"I would say it was the low point because you know, for the mental health of some of the guys, they love the game and they're passionate about the game. So getting a match canceled, that can be tough because you have to hit the reset button and go into isolation for several days, and you lose a lot in the physical and mental aspects of the game," said Rutkowski. Since the cancelation, however, Rutkowski gives his team credit for bouncing back and climbing out of the mental slump.
With the benefit of hindsight, Coach Rutkowski identified a few things he would have done differently: "In hindsight I definitely would have focused more on the mental aspect of our team. What I mean by that is COVID has changed people's perspective on different things at different times of this past year, and everyone has handled those moments differently," he said.
He also stated how important the skill of effective communication is when dealing with such a young and diverse roster.
"I think with the first few months of COVID you saw a lot of young men who weren't sure of what was going on, and their outlet was playing soccer. We did as much as we could with the mental aspect: we listened to podcasts, we watched the documentary "The Last Dance," and we tried our best to get guys away from thinking about COVID. I thought it went really well, but looking back I would have done even more with it. I think it really weighed on people, and I could sense it when we were training because of the stresses that COVID brings."
Additionally, as a new head coach during the COVID-19 pandemic, the recruiting process was anything but easy.
"It was actually very difficult–the recruiting process–when I took over. I got the job in February 2020, and back then COVID was semi-prevalent in the United States. But it was around two weeks later when other sports leagues like the NBA took notice and started shutting down. Stetson really started shutting down around the middle of March as well. The NCAA has had Division I in a so-called 'dead period' for the last year. Meaning, we cannot physically recruit, so we have had to do a lot more video interviews or other forms of contact," said Rutkowski. 
Besides COVID-19 however, recruiting itself is quite simple for Coach Rutkowski.
"I actually feel Stetson is one of the easiest places to recruit to, and I remind the guys of this all the time, because how hard is it to recruit someone to one of the best schools academically in the southeast and also be 20 minutes from the beach and 40 minutes from downtown Orlando? I mean, I send pictures of the campus and it sells itself. So for us I think it's not a tough sell, believe it or not. So in my mind, you actually have to be more careful with recruiting, making sure players see this place as more than a destination, or a place where you are near Disney World and have fun all the time."
Coach Rutkowski doesn't want players to think having fun in their free time is a bad thing though. He communicates with his team the balance between having fun and making progress in their academic and athletic careers.
"You're here at Stetson to get a great education and be the best person you can be as a student athlete, and that's what we have to remind ourselves," stated Rutkowski. "That can be one of the trickiest parts of getting the best out of our players, because of those distractions you have to keep them locked in, especially as young men. There are a lot of good things to do here, but we have to remind ourselves of our season goals and focus of academics and athletics."
After a season full of such perseverance, Coach Rutkowski has big expectations for season two and beyond for the men's soccer program.
"Obviously you want to win the regular season and conference every year, and I want us to begin having that standard for those of us who have been recruited here. Teams before these guys have won the regular season, and that's the standard," stated Rutkowski. "You know you have older guys like, 'ok this is what we have accomplished, this is who we are,' Right now we are building within ourselves and our culture, and I want that genuine culture of guys who know how we started and when we are a championship caliber team they know to keep improving and getting better, that's when I'll know I've done my job."
Leave a Comment
About the Contributor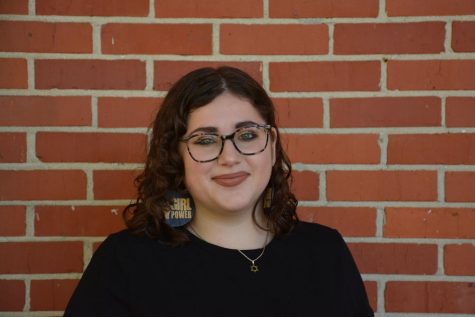 Jillian Semmel, Photo Editor - The Reporter
Jillian semmel is a sophomore and a digital arts major! Jillian's career goal is to work as a photographer for a major publication someday and travel...