Ditching Blackboard: Stetson Makes the Switch to Canvas
A look into the university's decision to move from Blackboard to Canvas
      As colleges and universities have had to continuously adjust to remote circumstances amid the COVID-19 pandemic, learning management systems like Blackboard have become more important than ever. But as Stetson has continued to evaluate the efficiency and capabilities of Blackboard Ultra, the university has decided to make the transition to Canvas, another learning management system used by many other universities, beginning in the Summer 2021 term. 
      Leading this effort are Associate Provost for Faculty Development Rosalie Richards, Ph.D., and Associate Vice President for Information Technology and Chief Information Officer Jose Bernier, Ed.D., as part of the Academic Affairs IT Collaborative team. Together, Dr. Richards and Dr. Bernier work to ensure that the needs of the university are addressed adequately: Richards focuses on the needs of the faculty and Bernier focuses on IT and pedagogies of learning. As Bernier says, "We try to provide a technology, or meet the technology needs, to make sure that their [faculty] dreams of the way that they want to engage the students can happen."
      Even given the long-lasting relationship that Stetson has had with Blackboard, the university began to notice a dissatisfaction among students, faculty, and staff which spurred the consideration for a move away from Blackboard. In a time where support in an online environment is of such importance, Berner pointed out that "…there were a few performance issues that we have experienced. And it seems like Blackboard did not increase their resources when it came to support the massive move to the online environment. So we were experiencing some lack of response when it came to fixing some of the issues that we were experiencing, and it seems like they just didn't have enough resources. So that's what led us to start asking our peer institutions and others, so what are you guys doing? How are you addressing this? And that led us to move to Canvas."
      According to Bernier, Stetson is part of the Independent Colleges and Universities of Florida (ICUF). With feedback from peer universities and other partners, Stetson was then able to use the input from ICUF to guide their decision to transition to Canvas. Stetson was not the first ICUF school to make this transition, and according to Stetson University's website, after consulting with both Embry-Riddle Aeronautical University and Rollins College, the university was able to evaluate their satisfaction with Canvas after moving from Blackboard to guide the decision for Stetson as well.
      The decision was grounded from feedback inside the university based on the needs of faculty and staff alike. "It was collaborative and inclusive and research-based and addressed needs based on the data that had been collected," said Richards, and also incorporated input from various facets of the university. 
      "We had a group…to help us make the decision, and we were looking at some of the different needs. They were going to have things that they wanted to be addressed, and based on that group that had some faculty members in it and deans, and they helped us select the system," said Bernier. 
      "We also worked with a group on the Campus Life and Student Success side that included student representation from Student Government, and then…asked Canvas to host a session for that group so that they could address directly some of the questions of the Campus Life area, which included a student student rep from Student Government," said Richards. "Sort of anecdotally we have been long hearing a desire by a number of constituencies to move to a Canvas system."
      Apart from performance issues, Richards described the "industry shift increasingly toward Canvas-type systems that are built on cloud-based systems," that makes Canvas more user-friendly than Blackboard, which is still transitioning to a cloud-based system. "When you look at the data…you see how Canvas was sort of outpacing some of the other learning management systems," said Richards. Essentially, as Bernier put it, "It was a trend on the industry that showed that people were moving towards Canvas and leaving Blackboard."
      In addition to the inefficiencies that the university saw with the lack of a cloud-based system, Blackboard also fell short in terms of pricing  which led Stetson to consider a move to Canvas. "Blackboard was increasing their cost, [which] seems to me like, maybe taking advantage of the increase in use, and rather than rewarding the loyalty, they took advantage of the opportunity, which didn't seem too fair to me," said Bernier. 
      As Bernier highlighted, "There were several features that not only sometimes Canvas offered but Blackboard did not, but also that Canvas offers as a standard. So it's coming included with the license that we are going to get from Canvas while the problem was that Blackboard may offer the same feature, but it was charging every time that we added a new feature into that. So it made it more and more and more expensive, the more features that we wanted to utilize. One particular feature that we're very excited about is the ADA compliance feature that with Blackboard, it was an add on, and it was a very expensive add on to add to make sure that all the online courses are ADA compliant. It's going to be part of our standard license with Canvas."
      The cloud-based approach of Canvas also lends itself to more cohesive and consistent capabilities as a system. "We're really very much concerned about making sure that the look and feel of the environment for students is consistent across courses," said Richards. "If you're trying to find the syllabus in one course, you shouldn't be looking, you know, running around to try and find the syllabus in another course…so everything from reporting or emailing, you know, all of that can be done in the particular environment, and so you don't have to keep jumping and skipping." Essentially, Canvas offers a fuller integration than Blackboard's current capabilities, where even Office 365, Teams, and Zoom will be seamlessly integrated. 
      While some may feel hesitant about having to transition to and learn a new system, Anna Laine ('22), a junior at the University of Cincinnati, commented that "As familiar as I was with Blackboard, I prefer Canvas 1000%." 
      Having used Blackboard throughout high school as well as her freshman year at Baldwin Wallace University, a private university in Ohio, she described finding Blackboard's layout as "…unattractive and unnecessarily cluttered. It wasn't necessarily hard to navigate, but there were always way too many things to look at on every page. Canvas is much cleaner, and each class is its own separate icon as opposed to an obnoxiously long class name as a hyperlink. It is more customizable than Blackboard so I can rename and color coordinate my classes which makes it easier for me to learn and stay organized."
      Canvas also offers various features that Laine found more useful than what Blackboard offered: "In terms of grading, Canvas has a feature called 'What-If Scores' in which you can type in a particular score to see its effect on your total grade. I find this tool to be super helpful in understanding what grade I need to strive for, but also what grades I can get away with in order to pass my classes. Overall, I find Canvas to be superior in presentation, layout, and efficiency over Blackboard," said Laine. 
      Rollins College also made the transition from Blackboard to Canvas in Aug. of 2019. After conducting surveys in focus groups and having faculty teach both Blackboard Ultra and Canvas in pilot tests, Rollins ultimately decided to make the switch to Canvas. 
      Hannah Ewing, Ph.D., associate professor of history at Rollins, was one of the faculty included in the Learning Management Systems Pilot Committee. After having previously taught with Blackboard for four years, in the fall of 2018 she then tested Blackboard Ultra for one of her courses and had access to Canvas to experiment with its features in order to compare the two.
      According to Dr. Ewing, "The committee was led by our Instructional Design and Technology team, but included faculty from all across the college. We had multiple faculty members from each of the academic divisions of the college. Half of the committee taught in Blackboard Ultra for a semester; half taught in Canvas. We then brought our real-world experiences using the systems back to the Instructional Design team."
      "While I liked the old Blackboard, I thought the other two systems [Ultra and Canvas] were more forward-thinking in terms of how students now access and navigate course material in a greater variety of ways. Of the two systems we tested in 2018, I preferred Canvas," said Ewing. Although Ewing preferred Blackboard Ultra's grading-rubrics and grading-comment features more, she ultimately favored Canvas. As she said, "This was largely because Blackboard Ultra was still buggy at that time–it kept eating parts of the feedback I left on student assignments–and was not as easy to customize."
      In the long run, Ewing preferred Canvas over the old Blackboard system that Rollins originally used, largely in part to the features that Canvas offers:  "The modules make it easy to integrate readings and assignment links together, rather than having them live in separate areas. The pages feature is also great for de-cluttering the homepage and clustering related materials together. Being able to use colors and thumbnails on the Canvas landing-page makes it easy to locate your courses, so you don't have to search through a long list…On the whole, I am happy with the switch…and I am especially thankful to have gotten over the learning curve with the new course management system before the pandemic hit."
      Although Stetson does not have this same advantage of making the switch before the pandemic, Richards and Bernier believe that even given the learning curve that comes along with the transition during a time of such change and adjustment, the switch was ultimately the best decision. 
      "When you end up in a pandemic situation, things that might have not been as big a deal are more amplified. And so with increased use by all constituencies, I don't think we could continue, you know, ignoring the performance issues that were mentioned, as well as the increasing costs," said Richards. "So what happens as we move post-pandemic, and given the fact that we're already in such a unique time of massive change, this might be the best time. It sounds counterintuitive to make that shift, but then we'll emerge from a pandemic even stronger with a robust system that will allow us to do the next iteration of our work in ways that we probably would not have been able to do it before. So you know, we want to emerge ready and not emerge having to engage in another set of change again, so what better time to do it then now?"
      The university is dedicated to making this transition as smooth as possible and have already begun to invest a substantial amount of time and effort into training in order to ensure that faculty and staff feel as comfortable as possible. According to Richards, "What we have done specifically is put in place a faculty staff transition team, learning management system transition team, and part of their core work is to work towards easing the transition for everyone. And so they are working specifically with all of our constituencies to really address some of the issues that will and have come up, right? Things that both Dr. Bernier and I and other staff support in this area would not think about. And so we're also open to looking at that as a possibility for our students as well."
      Ultimately, the goal is to make the transition for faculty and students so that "students can focus on learning the content rather than learning the system, while faculty can focus on teaching and or presenting and content without having to focus on the system" said Bernier. 
      As Richards points out, "We recognize that the world that we're going to emerge into, the next iteration of that, will be one that is particularly dependent on learning from anywhere at any time, and that's not something that's new. But the focus certainly has been shifted to the role of learning as a different sort of paradigm globally. And so our roles in this collaborative is to make sure that we're well positioned to have the best state of the art features available for that learning to take place."
Leave a Comment
About the Writer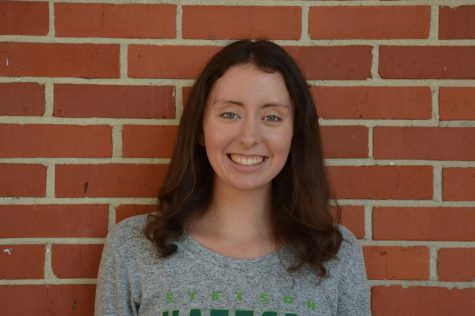 Calista Headrick, Opinions Editor
Calista is an opinion writer for the Reporter. She is an English major and hopes to one day work in the publishing industry. She loves to read, is slightly...