Unpacked: With President Roellke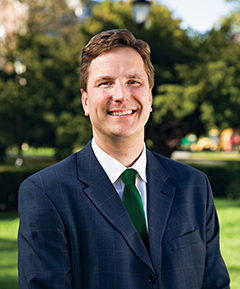 As the President of Stetson University, Dr. Christopher Roellke is a busy man who has to juggle many responsibilities. Because of this, he never knows what to expect to find in his backpack on a day-by-day basis. He was just as surprised as us by some of the findings.
"I don't have any earbuds; I don't have those wireless ones. I am technologically inept, but it's probably easier, isn't it?"
Two checkbooks among other doubles
"I have two checkbooks, two cellphones, and two computers. That is because even though I've been here for three years, I am still weaning myself off of my New York lifestyle. So I have a New York checkbook from my old bank; Florida checkbook for my Insight Credit Union. That's something, I'm still old school on checks. There's a technological theme here. I don't do Venmo or Cash App, although I can now with my credit card tap."
"There's a stroy behind the passport. Why I carry it with me is because my license from Florida actually has my wrong birthday on it. My birthday is on March 12 and it says May 12. Oh, and I have been stopped twice at the airport because my license does not match what I have said. I haven't had the chance to get to the DMV to get it changed."
All Access Stetson Sports pass
"I use it a lot. Although I'm required to buy tickets for basketball, I actually have to give them my physical ticket for basketball. The other things, like all other sports, I can use it for."
Family portrait holiday card
"That's my family. Well, it's not my family. It's my siblings and my mother. I'm the baby of seven. And that's my mom. She's 92. I have to say she's an extraordinary human being. She's amazing: still drives and does a New York Times crossword every day with a pen."
"My sister Beth has been doing some spring cleaning and gave me this little folder. She intentionally made it green because she knows that it's Stetson. Some of it is just fun pieces of memorabilia. This is the [business card of the] first academic appointment I ever had, which was at the University of Richmond… My wife was graduating from veterinary school, and I created an invitation for people to celebrate my wife's commencement. This was probably from 1993… She gave me this bookmark, which was a gift from my daughter. My daughter obviously created this as something for Aunt Beth at some point when she was a kid. I suspect this was from when she was 10 or 11… This is my wife and I. This is just to announce our engagement, It was in the New York Times believe it or not."
"This is the exact uniform I wore at Wesleyan University. As a student, I played baseball. The coach had all of these [uniforms]; I think it was a fundraising ploy. In the mail came this package with an outline of their season coming ahead and there was this jersey that I wore. I mean, it's pretty ugly: double-knit, hot. I can hardly fit into it now but that's a whole other story. I have not sent my check [yet]. I do try to give back to the places that have impacted my life and Wesleyan was certainly a big one."
 Dr. Roellke's bag may change a lot, but his jolly candor never does. Catch him running all over campus and you'll see what we mean. And, as he always says, Go Hatters!