Dining in DeLand: Bars Edition
The time has come for Cat and I to leave Dining in DeLand in the capable hands of younger Hatter Network staff. We have truly loved writing and photographing our amazing little town and all its delectable goodies. In the spirit of our graduation we decided our final review would be a selection of unique cocktails fit for an intoxicatingly good bar crawl. We ask our readers to please drink responsibly. We hope you enjoy these crafty cocktails. Cheers to good food and great friends!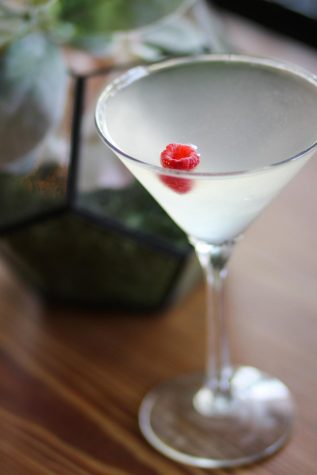 The Table  
100 E. New York Avenue
Start on the boujee side of beverages with a Strawberry Mojito. An interesting spin on the usual mojito, which is typically made with white rum, The Table's version is shaken on the rocks with Rum Haven coconut rum. This drink is a tropical lovers dream. The sweet coconut flavor blends with fresh strawberries, lime juice, and sugary mint syrup for a perfect sip. This cocktail gets the party started quickly with a hefty pour of rum and a smooth taste. It's gone before you know it.
Move into more sophisticated territory with the White Cosmo. Served elegantly in a curved martini glass and garnished with a raspberry, this cosmo is no ordinary martini. St. George citrus vodka meets white cranberry juice and elderflower syrup in a simple, but powerful combination. The citrus vodka is refreshing, but not overpoweringly sweet, while the elderflower brings a crisp and tart aftertaste. Sip on this cocktail at the bar, getting lost in the warm lighting, funky succulents, and vintage decor. Here, Stetson feels a world away.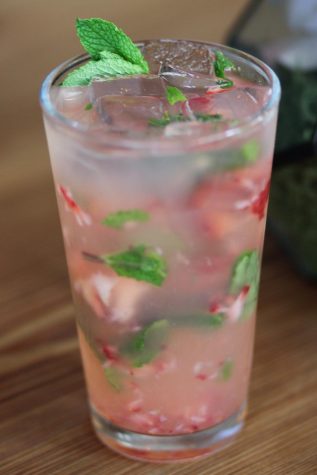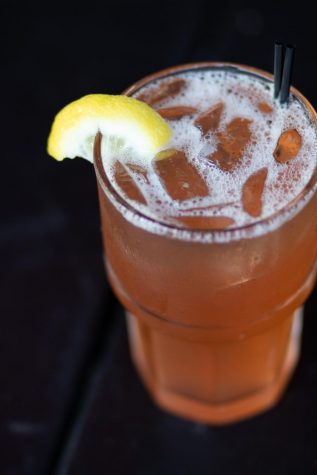 Half Wall
105 W. Indiana Avenue
Half Wall is a typical sports bar with not so typical cocktails. Home to hundreds of craft brews from around the USA, their cocktail menu is often overlooked. Sample a beer flight if you like, but be sure to explore some of their twenty five dangerously delicious cocktails. Grab a round table towards the front for sublime sunset views and start with the Georgia Peach. A perfect pour of Southern sweet tea mingles with lemonade and Skyy Peach vodka. It's hard to believe this drink is alcoholic until you stand up again. It's simple, sweet, and satisfying. Keep on sippin, perhaps with a side of fried pickles or beer cheese dip, until you're ready for something more adventurous.
Leave the Georgia Peach in the past and order a Swedish Fish Martini. This cocktail is a blend of Stoli Raspberry vodka, raspberry liquor, cranberry juice, lemon, and lime tastes surprisingly like the cherry version of its namesake. A Swedish Fish candy floats along the bottom of the sweet burgundy sea. Reminiscent of fruit punch, but with a welcome kick, this cocktail is the best of childhood made all grown up. Be warned that this drink is very cherry. For those not so inclined, check out the Raspberry Lemon Drop Martini or the Citrus Crush, two of Half Wall's most popular cocktails. It's hard to go wrong here, especially after a few glasses of Georgia Peach.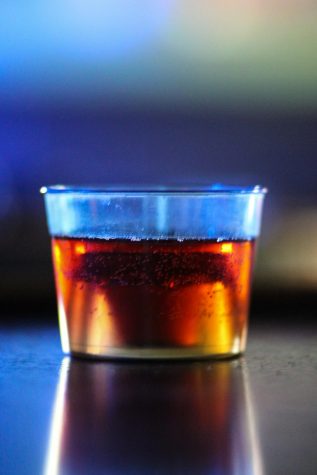 Issues
114 E. Indiana Avenue
Walk down the street to this slightly sketchy dive for one amazing shot. Issues is not the most fond of Stetson students, so play it lowkey. While the atmosphere is a mix between smoky and scary, this drink is seriously worth the yikes factor. Order a Slinky Bomb shot. A rainbow of colors from darkest blue to most vibrant red sparkle in a bomber glass. Seriously, this thing looks magical. It tastes even better. Imagine a melted jolly rancher or Sweet Tarts. This shot has the zippy bite of sweet and sour candy, completely masking the taste of seven different liquors. You read that right. Seven. I honestly never asked which ones. I think the mystery is better left unsolved. Two slinky bombs takes the night from tipsy to topsy turvy in a few moments. Know your limit, of course, but also know that this drink is one hell of a good time.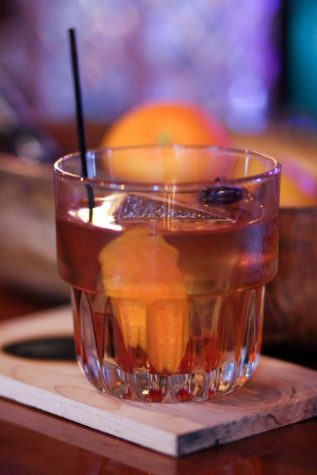 The Boulevard
208 N. Woodland Boulevard
Our final stop on this cocktail bar crawl, The Boulevard is home to the best Old Fashioned in town. This drink is truly an art form. A plank of maple wood is torched until smoking. A traditional short and wide glass is then flipped over the smoke to infuse a sweet maple flavor. An Old Fashioned can be customized with many shelf bourbons and whiskeys, but I recommend the house Four Roses bourbon. Its smooth, rich, and savory flavors compliment the maple smoke and orange garnish without being overpowered. A dash of house bitters, a blend of dried herbs and grain alcohol, completes the drink. This Old Fashioned is not for those who like tropical or sweet flavors, but if a strong and sippable whiskey is your forte, this is the Old Fashioned for you.
Not to fear, if sweeter drinks are for you, order the Rainbow Road: a heavenly blend of Peach schnapps, cherry vodka, sprite, and pineapple juice. This cocktail tastes like a melted summertime popsicle. Sickeningly sweet with a bubbly finish, the Rainbow Road is a perfect ending to the night. Shoot some pool, if you can still stand straight, or follow the music and bust a move. No matter how the night ends, be sure to find a safe ride home. Cheers to the Class of 2019!