Beeatroot in the Alley
Six years and three locations later, Beeatroot has finally found its home. For nearly two years, Beeatroot was in a temporary location distanced from the traffic of downtown DeLand. Beeatroot is now located in the heart of Artisan Alley, directly behind Persimmon Brewing Co. and only a few steps from the DeLand Wings mural. The new space is bright and lively, with orange and green walls. Although the barstool seating might not be ideal for a study space, it's definitely a great place to take a break and enjoy a smoothie or juice. As of right now the temporary menu lists eight different smoothies, which would satisfy any type of craving. If you have a perpetual sweet tooth, like myself, I would recommend the Chocolate Peanut Butter Smoothie. If you enjoy combining sweet with savory, I would suggest the Berry Ginger or Berry Kale. If you need something to last you longer through the day, I'd recommend one of their featured juices.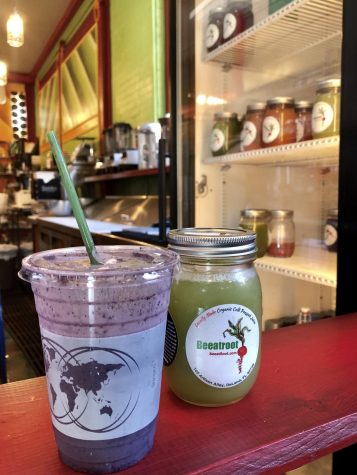 The prices run at $8 for 16 oz. or $9 for 20 oz. smoothie.  The juices are a little pricier at $9, or $10 if you get it in the reusable Mason jar. Regardless, it's definitely worth it for the nutrients in these freshly made juices. Beeatroot rotates between 50 different recipes, 18 of which are seasonal, ensuring freshness year-round. Needless to say, you have options.
Although they officially opened several weeks ago, they won't hold their grand opening until April. They're giving themselves a few months to perfect their permanent menu of juices, smoothies, kombucha, and a new addition – food. The food items will consist of (mostly) raw, vegan recipes. With an influx of health and wellness trends, fruits and vegetables are having a medicinal moment. If you feel a cold coming on, an uneasy stomach, or just a need some energy, let them know – Beeatroot most likely has a concoction that will help.
Beeatroot is open from 9:00am to 6:00pm Monday through Saturday
at 105 Artisan Alley.