Taylor Swift Goes into Indie Territory with "Folklore" and "Evermore"
Taylor Swift has taken the world by storm once again with her latest album releases, "Folklore" and "Evermore."
      On July 23, 2020, Taylor Swift broke the internet with a post announcing that she had recorded a new 16 track album called "Folklore" and that it was dropping that night. Fast forward to Dec. 10, 2020 where she surprised us again with another full album, this which she called the "folklore's sister record."
      The release of these two albums followed her seventh studio album, "Lover," which came out in the summer of 2019, so this was a pleasant surprise to "Swifties" worldwide after just over a year without a new album. In a tweet she posted to announce the release of "Evermore," Swift said, "I've never done this before. In the past, I've always treated albums as one-off eras and moved on planning the next one after an album was released. There was something different with folklore. In making it, I felt less like I was departing and more like I was returning."
      In these two albums, we see a side of Swift that we never saw in her previous records. Instead of mainly drawing inspiration from genres like pop, these albums feature a heavy indie/indie-folk sound. She recorded these records with help of her friend Jack Antonoff, a former member of the band Fun, and current frontman of the band Bleachers, who has worked with Taylor since her 2014 release, "1989." She also enlisted help from singer-songwriter Justin Veron, lead singer and founder of the band Bon Iver, and Aaron Dessner, guitarist of The National. Another credited writer on the records is William Bowery, which Swift confirmed in her Disney + special "Folklore: The Long Pond Studio Sessions," is her boyfriend, Joe Alwyn.
      In these records, Swift focuses on a very unique and distinct storytelling style in which each song tells a story, usually of a fictional character which Swift has created. "Folklore" kicks off with "The 1" which focuses on the nostalgic myths and remembrances of lost lovers. The chorus, "But we were something, don't you think so? / Roaring twenties, tossing pennies in the pool /And if my wishes came true / It would've been you" and uses the imagery of the Roaring Twenties and the tradition of throwing a coin in a fountain and making a wish. The relationship ended, but she looks back on this relationship with this ex-lover in a somber but nostalgic tone.
      A track that is a perfect example of Swift's character-based lyrical storytelling is track 14 of "Folklore": "Betty." The song is written from the perspective of a character named James, who, although in a relationship with Betty, pursued a summer love that was doomed from the start. The track kicks off with nostalgic country sounding guitar notes and a harmonic tune—very reminiscent of albums like "Fearless" (which Swift is releasing a re-recorded version of in April). In the song, James is unable to own up to his mistakes after cheating on Betty. The lines "If I told you it was just a summer thing? / I'm only seventeen, I don't know anything / But I know I miss you" shows James trying to defend his actions because he is young, but he still loves and misses Betty.
      The love triangle appears again in the tracks "August" and "Cardigan." In "Cardigan"—the lead single and third track of "Folklore"—Swift reveals what happened in the first installment of the love triangle tale. References to youth and young love continue throughout the song with the lyric "When they are young they assume you know nothing," which is used in various verses.
      The track uses great visual imagery in the lyrics by referencing different pieces of clothing and tying it to the feelings of being young and in love. She talks about love and clothing continuously: "But I knew you / Dancin' in your Levi's / Drunk under a streetlight" and the song even begins with the lyrics "Vintage tee, brand new phone / High heels on cobblestones." In the refrain Swift sings "And when I felt like I was an old cardigan / Under someone's bed / You put me on and said I was your favorite," where she describes feeling unwanted, yet he shows her his love. The song's dreamy, incessant piano tune is complemented by a soothing drum sound that creates the blissful and calming vibe of the track, proving to be one of the most memorable songs of the album.
      One of the standout moments on the album is "August," which continues the ill-fated summer love between Betty and James. The song sounds like a summer bliss with the guitars and instrument backing provided by Antonoff, and Swift's calming, hypnotizing vocals make you feel as though you are the main character in a coming of age film. One of the best moments of the track is in the bridge where she sings, "Back when we were still changin' for the better / Wanting was enough / For me, it was enough / To live for the hope of it all / Cancel plans just in case you'd call / And say, 'Meet me behind the mall.'" This line perfectly encapsulates the giddy feeling of sneaking away to be with your lover—a blissful yet exhilarating image that speaks to Swift's ability to use her lyrics as a clever and beautiful storytelling device.
      Lastly, one of "Folklore's" most emotionally powerful and moving ballads is "Exile" featuring Bon Iver. In "Exile" we hear Swift channel her new indie folk sound. The song starts with somber piano notes and Veron's deep, moody vocals. Swift comes in on the second verse, singing in a deeper range than she usually does. The chorus features one of my favorite lyrics of hers: "I think I've seen this film before / And I didn't like the ending." The song is about two ex-lovers seeing each other after they've broken up, and if Swift is excellent at one thing, it is writing about pain in a way that is so relatable.
      Now onto "Folklore's" little sister album, "Evermore." The record kicks off with the sweet and light "Willow," which features wispy guitars and illustrates the magical feeling of being in love as she sings in the chorus, "I'm begging for you to take my hand / Wreck my plans, that's my man." In a YouTube comment section for the premiere of the music video, Swift described "Willow" as something "about intrigue, desire, and the complexity that goes into wanting someone. I think it sounds like casting a spell to make somebody fall in love with you."
      Swift channels a more edgy side in the track 4, "'Tis the damn season." The song tells the story of going back to your hometown for the holidays and reconnecting with a former lover as she sings "We could call it even / You could call me 'babe' for the weekend / 'Tis the damn season, write this down." The electric guitars and the more mature lyrical content show us just how much Swift has grown as a musician and is taking ownership of her new sound.
      Speaking of dark and mature, she gets into gruesome territory with "No Body, No Crime." In the track featuring HAIM, an American pop rock band, Swift shows her darkest side yet as she tells the story of the character Este whose husband has been engaging in acts of infidelity. Este ends up calling her husband out on cheating on her, and he responds by killing her. Later in the song Swift alludes to the husband's eventual murder by the song's omniscient narrator as she erases all evidence of his body and the crime scene as she concludes the song singing "I wasn't lettin' up until the day he died." Not only is the song great because of the dark tone and guest appearance by the HAIM sisters, but it also has a country twang to the instrumentals which feels reminiscent of Swift's roots.
      One of the most emotional and heart-wrenching songs that Swift has made to date comes in the form of "Marjorie," a tribute to her grandmother, an opera singer who passed away in 2003. Swift even used her grandmother's vocals in the background of the track, alluding to her grandmother visiting her in her dreams. In the chorus she sings "What died didn't stay dead / What didn't stay dead / You're alive, you're alive in my head" and the track proves to be a touching tribute to her late grandmother. The low somber piano chords, guitar strums, and synth noises in the backing track blend with Swift's soft vocals, and towards the end of the song she samples her grandmother singing, hitting just the right emotional note for the listeners.
      The sister albums "Folklore" and "Evermore" are some of the most mature and brilliant albums that Swift has created to date. Through experimenting in the indie-folk field, having many tracks call back to her country roots, and featuring some excellent guest artists, these albums will be remembered as iconic moments in both Taylor Swift's history, and the history of the music industry overall.
RATING: 9/10
Leave a Comment
About the Contributor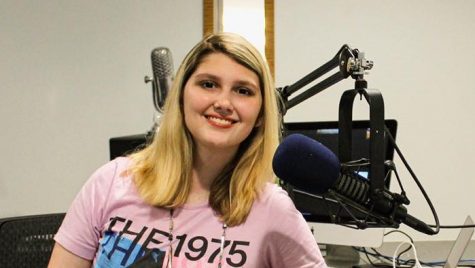 Bella Steiert, Website Designer
I am a sophomore and a digital art major. I am a techie and I have hosted a show on What Radio, I love all things alternative and indie music.