Sad Songs Vol. 1
album review, track by track
Stetson senior Larissa Hanson released her debut EP Sad Songs Vol. I at Stetson's Platinum Collective, the Digital Arts Senior Exhibition, on March 22. Hanson not only wrote her own songs, she recorded, produced, and mixed all of the tracks, working with a small team of other students, including Justin Dalisay, Dylan Forehand, Gracie Lookadoo, and Gordon Silva, as well as faculty member Chaz Underriner. In each of her six songs, Hanson makes her talent undeniable to her listeners; each indie pop track explores the ideas of love and heartbreak.
The first track on the EP: "He Doesn't Love You," speaks to unrequited love. Backed mainly by piano and a simple percussion beat, Hanson's vocals shine through as she laments over the "unfairness" of unrequited love, especially when one does not realize they are not being treated so poorly. Even if a listener hasn't had a similar experience to Hanson's lyrics, the emotion in her voice builds a bond between the artist and listener.
The anthem of unrequited love is followed by "Teenagers," the second track on the EP. This song explores a relationship that struggles with unsaid feelings. Hanson relates this struggle to "teenage love," which is often associated with immaturity when handling romantic relationships.
The real tear-jerker hits halfway through the album. "Without You" tackles the heartbreak that comes with the end of a relationship. The combination of piano and cello create a mournful background for Hanson to grieve over a lost relationship. Hanson questions: "What am I supposed to do without you?" in her chorus; a driving question that is relatable for all listeners who have experienced the loss of someone they've loved.
"In the Morning" confronts a lover that is struggling to commit to a relationship. Although this song is on the sadder song, it also shines a light on the strength it takes for one to confront a personal problem. "Who are you even foolin'?" Hanson's chorus  leaves nothing to hide as this song lays it all on the table. This track is a perfect balance of heartbreak and strength as it hints at the healing which is to follow after the truth comes out.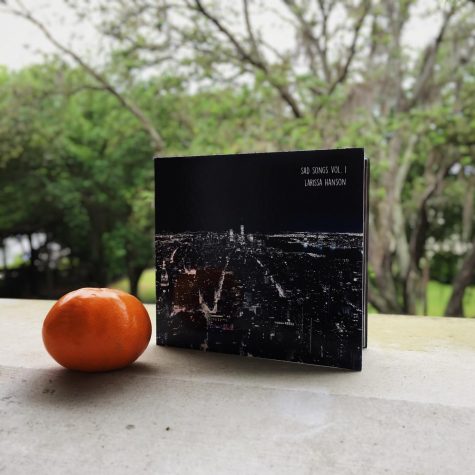 "Without You" is rivaled for the title of 'saddest song on the EP' with the fifth track, "All Over Again." Another heartbreak anthem, this song explores a manipulative relationship and the sad truth: even after all of the pain, Hanson argues that she "would do it all over again," regardless of the broken heart she has been, and will be left with.
The closing track on this EP, "Say Goodbye," is a bittersweet end. This track tells the story of a positive relationship, one where feelings are expressed honestly and openly. Hanson's beautiful harmonies mirror the beauty of this example of a pure relationship. The tragedy hits as Hanson sings: "time's not on our side," which creates the heart wrenching reality of an impending end to a relationship that is finally worth fighting for.  
All of these songs contain lyrics that are raw and filled with emotion, which is what makes Hanson's work stand out. Listeners are drawn into her world of heartbreak and healing, and she truly supports the idea of making beauty out of despair. Not only are her stories relatable, but the work as a whole represents music as a way to tackle and heal from the unkind situations that life sometimes challenges us with. 
If you are interested in listening to Larissa's wonderful EP, you can find her on Spotify: https://open.spotify.com/artist/32IpUxDfFOr1msqXpgFsZt?si=GZzzy4pgSCivKvTedXcUIQ