Messages from President Roellke – 7/16
Live recording courtesy of Stetson can be found on the Safer Stetson website.
President Christopher Rolleke's first webinar, in his series of three webinars, occurred on July 16 from 1 p.m. to 2 p.m. 
COVID-19 has demanded radical changes to Florida and its educational system and a collaborative effort has been put forth for adjusting to Stetson's reopening using a tiered system. 
President Roellke and the administration are following public health guidelines from sources such as AdventHealth, the Centers for Disease Control and Prevention (CDC), and the Florida Department of Health (FDOH) to make adjustments to safely reopening campus. 
Changes regarding agency and flexibility in planning for students, staff, and faculty, housing occupancy, and financial deadlines were presented. These changes for the Fall 2020 changes are in place to attempt to reduce the transmission of COVID-19 on campus. Information on a testing pilot was also presented. 
Academic Changes and Planning
Noel Painter, Provost and Executive Vice President presented information regarding academic affairs. 
Regarding the educational format, accommodations and adjustments are continued to be made. 

Approximately half of the courses will be hybrid and in-person and half of them will be online.

There will be a combination of all three formats. 

The changes to the format that classes he held will be displayed on student schedules predictably next week after there is a "test run."

All courses will meet the current educational requirements and graduation requirements for each department with academic integrity or honesty or honor is accounted for. 

Classes may be taken online to adjust for accommodations.

If necessary, virtual learning is being implemented to accommodate international students.

The library will remain open 

Face-to-face interactions, such as working with staff for research and individual meetings with professors will be maximized, for classes such as labs, senior research studies, and FSEMs

Regarding music performances, larger performances will most likely be streamed virtually. Smaller groups of less than ten individuals will be able to meet and be in compliance with the

tiered system. 
Finances
Robert Huth, Executive Vice President of Finance, presented information regarding finances and deadlines for the Fall 2020 semester. 
The extended deadline to pay tuition is Nov. 15

This means, for the upcoming semester, classes will continue without being paid for.

There will not be any late fees for not paying tuition on time.

There currently are not any additional financial arrangements, but in the next several weeks, there may be. 

There are not any additional reductions in tuition because adjustments can be met and there is

a $16.8 million budget cut for the 2020- 2021 fiscal year

. 
Lua Hancock, Vice president for Campus Life and Student Success (CLaSS), presented information regarding COVID-19 testing, concerns, housing adjustments, employment, dining, and meetings. 
COVID-19 testing
It is strongly recommended for all students, especially residential students, to get tested. 
Family Health Source, a local medical-care agency, will be providing diagnostic nasal swab polymerase chain reaction (PCR) testing for students and faculty and staff. Be sure to pre-register, schedule an appointment, and find out more information visit the Family Health Source website. 
Testing will occur at the Rinker Fieldhouse: 
 Tuesday, July 21, 8 a.m.- 4:30 p.m. 

 Wednesday, July 22, 8 a.m.- 4:30 p.m.
Health concerns 
If someone tests positive for COVID-19, there will be email communication, they will be isolated and accommodated for, contact tracing 

There will be an app for contact tracing by providing a quick and efficient way of checking for symptoms. 
Changes in Residential Living and Learning (RLL)
Every student will be in their own room. 

Suites are being used as single rooms and charged as a suite-style room. 

Apartment-style residential halls are operating with normalcy.

Adjustments are still being made based on prioritization 
Major New information pertaining to housing: 
Larry Correll-Hughes, Assistant Vice President for CLaSS and Executive Director of RLL provided an email update regarding housing. 
All residential students should log in to

Housing Central

to resubmit a housing application by July 21 and

sign up for an appointment time for checking-in

. 

Housing assignments are rescheduled to be completed by July 31.

There will be further information sent to residential students regarding housing and arriving on campus. 
Campus
On Aug 3, the Hollis Center will be open for individual workouts. 

When campus first reopens, following

the tiered system

, clubs can meet in smaller groups and meetings will be virtual.
Student Employment 
Dining: Dining will provide more to-go options and there will be less stations for making your own meals. A new app, Boost, will be used for ordering and getting food delivered. Boost may be downloaded via the App Store or the Google Play Store.
Athletics 
President Roellke presented information regarding athletic programming. 
Florida's current environment and the state of COVID-19 is not favorable for athletic programming so is difficult to make a unified decision for athletic programming 
Miscellaneous Information 
The

Welcome back to Campus Guide

has officially been published. 

For hurricane preparedness, it is beneficial to accommodate and plan for circumstances. 

To follow up on information regarding the recent Zoombombing incident, Stetson is working with the FBI to identify the suspect and Information Technology (IT) is in contact with the FBI for a further external investigation. 

The suspect is most likely an external participant that had anticipations to hack and provide dangerous imagery to the attendees of this webinar. 
Messages and information from President Roellke can be found here.
Leave a Comment
About the Contributors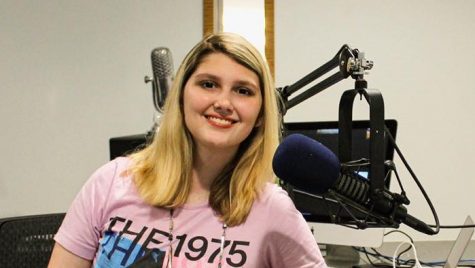 Bella Steiert, Website Designer
I am a sophomore and a digital art major. I am a techie and I have hosted a show on What Radio, I love all things alternative and indie music.