SGA Highlights – 10/02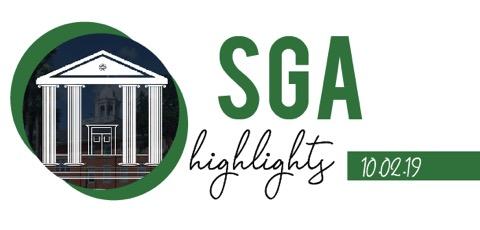 Hispanic Heritage
From Oct. 7 through Oct. 11., to celebrate Hispanic Heritage Month, CSA is partnering with Black Student Association (BSA) and hosting a whole week of events next week:
 Voces-Student Panel 

Monday, Oct. 7, Library, 4:00 p.m. to 6:00 p.m.

Taste of the World 

Tuesday, Oct. 8, CUB Garage, 5:00 p.m to 8:00 p.m

Salsa Noche 

Wednesday, Oct. 9, Hulley Tower, 6:00 p.m. to 8:00 p.m.

All Black Lives Matter 

Thursday, Oct. 10, Rinker Welcome Center, 7:00 p.m. to 9:00 p.m.

Guest speaker: Elizabeth Acevedo

Hispanic Heritage Festival 

Friday, Oct. 11, Stetson Green, 4:00 p.m. to 6:00 p.m.
Diversity & Inclusion Training
Right after the meeting, all of SGA attended a diversity and inclusion training. They are all trained to be "committed to making Stetson University an inclusive space for all by connecting with students to create equal and equitable solutions to concerns." This means that SGA "promotes inclusive legislation and policies that are representative of Stetson's student body & are committed to inclusive excellence."
Events 
Oct. 15: Green White & You is hosting a Dunk event from 11:00 a.m. to 3:00 p.m.
Follow @stetson_sga for SGA updates.