Florida COVID-19 Case Updates – 6/23
Tuesday, June 23
12:25 p.m. 
Live Recording from Gov. Ron DeSantis
Gov. DeSantis held a press conference with Orlando Health to address the demographics and trends of testing results and address protocol to prevent COVID-19 from spreading. Gov. DeSantis also reiterated the importance of continuing to follow the statewide guidelines outlined in the Phase Two reopening plan, social distancing guidelines from the Centers for Disease Control and Prevention (CDC), and the importance of wearing personal protective equipment (PPE).
Physicians from Orlando Health weighed in to help address the increase of widespread exposure due to social gatherings and social interaction. They also addressed the requirement to get tested prior to elective medical surgeries. 
Some major points of discussion from the press conference include: 
For every positive case of COVID-19, there is expected to be 20 infections.

There has been an increase in positive cases, however, there has been a decrease in the severity. 

A majority of positive test results have been administered to residents of long-term care facilities. 

Long-term care facilities were tested in over 4,000 hospitals. Over 80% of hospitals have no positive cases of COVID-19. 

Though the number of tests administered in long-term care facilities has dropped since last week, residents and staff of long-term care facilities will be tested every two weeks to find why there is an asymptomatic spread of COVID-19. 

There is an increase of tests administered to the youth, likely due to the reopening of youth camps and other businesses and theme parks and the increase of social gatherings. On this note, there is also an increase in the youth testing positive. 

For necessary antibody testing, convalescent plasma and antibodies from individuals that have not been tested positive or have been recovered may be donated.

In most hospitals, there is a surplus of hospital beds in the event that there is an increased demand for hospitalizations and hospital beds. 

There have been warnings given for social gatherings with more than 50 people. 
2:47 p.m.
Information from Orlando Sentinel, Matt Murschel
A University of Florida (UF) spokesman, Steve McClain, has confirmed that since April, eleven athletes from UF have been tested positive for COVID-19. The eleven athletes that have tested positive will remain quarantined, and will later be retested. 
McClain said, "we will have positive tests and with guidance from UF health, we feel we are well-positioned to manage those cases."

Earlier this month, UF athletes returned to campus for voluntary training. 
 5:19 p.m. 
Information from the Daytona Beach News-Journal, Nikki Ross 
Data from: The Florida Department of Health (FDOH)
Total tested in Florida: 1,618,540
Total cases in Florida: 103,503
Florida Residents: 101,303

Non-Florida Residents: 2,200
Total hospitalizations in Florida: 13,325
Total deaths in Florida: 3,238
Of the total cases in Florida:
6,957 cases were announced in March. 

27,921 cases were announced in April. 

21,647 cases were announced in May. 

46,551 cases have been announced so far in June.
Leave a Comment
About the Contributors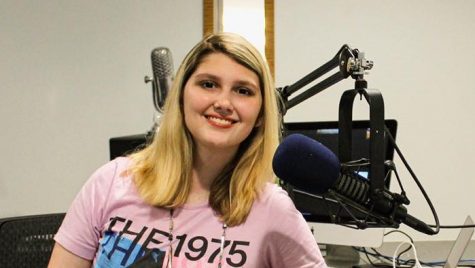 Bella Steiert, Website Designer
I am a sophomore and a digital art major. I am a techie and I have hosted a show on What Radio, I love all things alternative and indie music.