Meditation: Trend or Helpful Self-Care Practice?
      Help with depression, anxiety, and even phobias, increases in empathy, improved focus: these are just some of the benefits claimed by many scientists and self-care gurus about meditation, a method of mental relaxation that, while being practiced for centuries, has resurged in practice among teenagers and college students as part of a new self-care trend.
      Opportunities for meditation that were once few and far between are now growing exponentially. On our own campus, the meditation club, a meditation starter kit, and a specially dedicated interfaith meditation room (available 7 days a week) are just some of the conveniences offered to our students. Apps, such as Calm and Headspace, with multimedia promotion, provide a tech-savvy way to meditate.
      So, for cynical skeptics (like myself), the main question is – does it work?
      I hate to say it, but it didn't work for me. After half an hour of talking about the benefits of meditation, I was disappointed. I wanted to focus, but the song I was listening to in the hours before the session just would not leave my head. I tried to fight it in any way I could – I focused on the air-conditioning, on the darkness in front of me – but I got nothing.
      While initially disappointed, I found answers in those around me.
      Mark E. Young, Ph.D, speaker of our student meditation event, American Counseling Association Fellow and meditator for 40 years (beginning as a college student himself), provided me with some knowledge on meditation.
      Consistency is a very important part of meditation, he said, and is key – especially when the meditation seems to not work. It is also important not to switch techniques – which is easy to do when there are so many people and apps jumping on the meditation train.
      "Switching techniques is like digging a hole one foot deep and moving on to another hole," Young stated.
      Students who participated in the meditation also reported the effects they experienced.
      "I felt peaceful," said Meghan Landsberg '22, "it's like that moment right before you fall asleep – you're awake, but not really awake."
      However, I think the most helpful piece of evidence came from the Associate Director of Interfaith Initiatives, Lindsey Carelli. Self-described as a frequent meditator, she provided quite a bit of insight and first-hand experience into what benefits regular meditation can give those who choose to undertake it.
      "I don't always feel the effects when I'm actually actively meditating," Carelli stated, "a nice [meditation session] would be that I felt that I could focus well. Your mind always wanders, but sometimes the duration of the focus is longer."
      This would explain my relative lack of focus and lack of effect on me during my short meditation session.
      "[Meditation] affects the narrative we tell ourselves. When doing something like getting ready in the morning it can be easy to get into a negative mentality. With meditation, I can complete the task without the negative emotions." Carelli said, "creating that narrative – we think it makes us feel better, but it doesn't. All we're doing is self-soothing."
      Carelli even explained a time in her life when her meditation practice had dropped, and was less consistent than would normally be beneficial.
      "My practice was a little more spotty, and as a result I didn't feel the benefits – they weren't as present as when I was meditating regularly," Carelli explained, "[meditation] helps me feel more patient. It gives a perspective – that it's okay to just 'be'."
      So for you Stetson skeptics, wondering about this meditation trend, wondering if it can help your depression or anxiety or any other stresses that the plight of being a university student may put on you – be patient with it, don't think of it as an instant solution, and don't discount the real benefits that consistent mental relaxation can offer you.
Leave a Comment
About the Contributors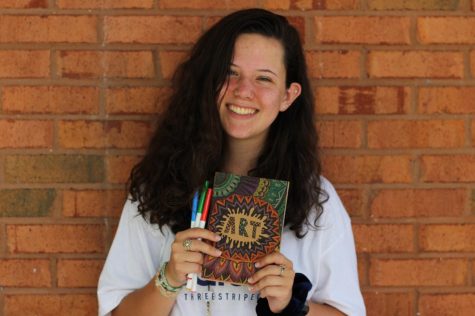 Julia Gray, Social Media Director
Julia Gray is the social media director for all of Hatter Network (follow on Instagram, Twitter, and Facebook @hatternetwork!!) as well as a writer, designer,...