Hilarity and Heart
Last Thursday, November 1st, comedian Jay Pharoah brought a fast-paced, punchy, and utterly heartfelt spectacle to the Edmunds Center.
Having finished a six-year stint on Saturday Night Live in 2016,  Jay Pharoah has recently been working on several diverse projects, such as the 2018 Steven Soderbergh psychological thriller Unsane. With four films currently in post-production, Pharoah's film career appears to be on the rise.
Still, with all this in the works, Pharoah's bread and butter remains comedy. Thursday night's show made this clear.
"
For a performer who is used to playing to thousands, his ability to connect directly with an intimate audience was phenomenal"
With a contagious energy from the moment he stepped out on stage, Pharoah's immediate showmanship and stage presence showed why he was invited to headline this year's homecoming entertainment. He bounded onstage with a hyperactive dynamism that immediately drew in an enthusiastic, albeit petite, audience (a fact both Pharoah and opener A.J. Foster commented on in their acts.)
Pharoah's set was enthralling from beginning to end. In just about an hour, he managed to cover topics ranging from Justin Bieber to Black Panther to Drake concerts. His witty observational comedy poked fun good-naturedly at gaggles of white women, Grecian men, and college relationships.
And of course, his routine was sprinkled with his iconic impressions. Pharoah's spot-on impersonations of former president Barack Obama, Kevin Hart, President Donald Trump, and Denzel Washington, interspersed within his other bits, gave his set a unique flair all its own.
For a performer who is used to playing to thousands, his ability to connect directly with an intimate audience was phenomenal. Throughout the show, Pharoah sparred back and forth with members of the audience, addressing amiable hecklers, taking audience requests, and literally chasing audience members as they exited the performance on their way to the bathroom.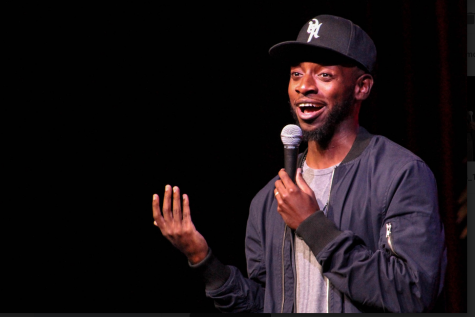 For all the jovial, sidesplitting hilarity, however, there were some grounding moments that not only reminded the audience of Pharoah's humanity but also created a conduit for a greater connection between Pharoah and the crowd.
One such moment came towards the end of the performance when Pharoah spoke despondently about the recent passing of a friend as a result of a drunk driving incident. He urged students to be responsible when it comes to drinking. Pausing the routine for a moment, he asked the audience, "If you love somebody and they're here right now, tell them because you may not get that chance."
What was most impressive was Pharoah's ability to integrate these more serious moments into a largely comedic and lighthearted show. In doing so, he was not only able to provide Stetson's students, faculty, and alumnae with a wildly entertaining evening, but also to express a deeper message of love and compassion that was felt throughout the crowd.