The Return of The Sopranos
HBO's The Sopranos peaks in popularity 20 years later with the release of a new movie to a new generation of fans.
When you look at any article discussing the best television shows of all time, HBO's "The Sopranos" is almost certain to show up. The television series ran from 1999 – 2007 and won a multitude of awards including 21 primetime Emmys and five Golden Globes. Regarded by many as one of the best television shows ever, the series has spawned books, video games, and has been the topic of several podcasts. Premiering Oct. 1, a Sopranos prequel film will be coming to theaters and HBO Max titled, "The Many Saints of Newark." 
Recently, the show has gained a new generation of fans, including myself, who were too young to watch the show when it aired but have recently discovered it on HBO Max. This new fanbase of viewers in their twenties is bringing it back to the limelight by talking and posting about it on social media.
So, what is it about "The Sopranos" that has made it a pop culture constant, spanning two decades with millions of fans worldwide keeping the show relevant? How has it paved the way for other shows such as "Mad Men" or "Breaking Bad?" More specifically, why is an old show about Italian gangsters so appealing to audiences like a 20-year-old woman in college?
Like many, I have heard the title "The Sopranos" used in conversations for years, even at a young age. The first time I ever remember hearing of the show was surprisingly enough through the PBS Kids show, "Arthur." In the episode titled "Bleep," Arthur visits the set of the show "The Altos" which my parents explained to me was a spoof of "The Sopranos." I really did not know anything else about the show, but that memory stuck with me for years. 
Fast forward to the year 2020. I, like many others, was binge-watching a ton of television shows during the peak of the coronavirus pandemic. I looked up lists of the most critically acclaimed shows and chose what I found interesting. It was the end of my fall semester, and since I was on winter break, I had decided it was finally time to start "The Sopranos." When I started my binge-watching journey, I was slightly intimidated by the start of the show because it seemed so dark and violent, and I assumed that would be hard for me to connect to.
After watching the pilot, I was no longer worried, I was super invested, and I had a feeling this could be my new favorite show. The basic premise of the pilot is introducing the mob boss Tony Soprano (James Gandolfini) who is first seen in a therapy session with Dr. Melfi (Lorraine Bracco). Tony discusses how he recently started getting  panic attacks, and Dr. Melfi figures out what in Tony's life is causing him this anxiety. The show puts a very different spin on the mob genre, and it is super entertaining to watch. 
Throughout the show's six-season run, we see Tony deal with "the business" with his team he recruited, consisting of friends and family. The mob crew is very entertaining and their plots are as equally interesting as Tony's. The mob crew includes Tony's nephew Christopher Moltisanti (Michael Imperioli), who is an inspiring film writer; Paulie Walnuts (Gennaro Anthony Sirico Jr.), one of the shows most colorful characters who is often cracking jokes and is very self-centered; Silvo Dante (Steven Van Zandt), the owner of the series iconic club The Bada Bing, who is often shown quoting the mafia rules and handles a lot of the serious business; and lastly Salvatore "Big Pussy" Bonpensiro (Vincet Pastore), who is a longtime close friend of Tony's and a mob enforcer for him. These characters are often engaging in side plots, and the actors give amazing performances. Like I mentioned earlier, I was unsure of how I would feel about the mob stories, but all of these plots were heavily entertaining and they are a huge reason why this rendition of the mob genre is so fun to watch. 
Another key part of the series is the Soprano family. Family is everything to Tony, and his family plays a major part in the show. Tony lives with his high school sweetheart Carmela (Edie Falco), a homemaker and the mother of two children: Meadow (Jamie-Lynn Sigler), the eldest, is a smart, spoiled, and moody teenager who shows suspicion over her dad's work, and the younger child is AJ (Robert Iler), who causes trouble and struggles with self-esteem and other issues throughout the series. 
Any scenes or episodes that involve Tony interacting with his family are such a delight and some of my favorite parts of the series. One of the show's most standout and critically acclaimed episodes is the season one episode titled "College,"  which revolves around Tony taking his daughter Meadow on a tour of colleges. This episode blends the crime aspects of the show and the family aspect perfectly, with action intertwined with a few sweet moments showing a softer side of Tony. The last character that is very noteworthy is Tony's therapist, Dr. Jenifer Melfi, who is one of my favorite characters on the show. She is a fantastic character who challenges Tony in his therapy sessions while staying calm and professional.
 Not only are the characters interesting, deep, and fun to watch, but the show also has overall brilliant writing and storyline. On paper, you wouldn't think "The Sopranos" would be a show with humor but surprisingly it is. The show knows when to be serious in telling a story and when to be downright ridiculous. 
An episode that showcases the series' clever humor is the season three episode titled "Pine Barrens." The episode focuses on Christopher and Paulie as they take over collections for Silvo and end up getting lost in the Jersey woods. It's filled with so many clever jokes (which I quote often), and it has a great rewatch value. There are little witty lines sprinkled into most of the episodes, and it is always fun to have those lighter moments mixed in with some of the show's heavy tone.
I could go on and on about how well "The Sopranos" does drama and mixes it with clever things such as dream sequences, or how the show mastered the "lovable anti-hero" plotline which is used heavily in other popular shows like "Breaking Bad" and "Mad Men." But I don't want to spoil the show for those who haven't seen it, as it is such a wonderful first-watch experience. The fewer spoilers you know, the more fun you will have. 
HBO Max is about to release a prequel movie for the series titled "The Many Saints of Newark" and it will be streaming on Oct. 1. The film will follow a young Tony Soprano (played by Michale Gandolfini, the son of late Tony Soprano actor, James Gandolfini) as he teams up with his uncle Dickie Molantisanti in training Tony to become a mobster. The trailers for this film look promising and carry the same tone as the series. It also has a star-studded cast including Vera Farmiga as Livia Soprano, Jon Bernthal as Tony's father, Johnny Boy Soprano, Corey Stoll as Junior, Billy Magnussen as Paulie, and Leslie Odom Jr. as Harlod McBrayer. I highly suggest if you have any interest in this film to go and watch the original series first. "The Sopranos" is a masterpiece of a television show and is a must watch for any TV or pop culture fan.
Leave a Comment
About the Writer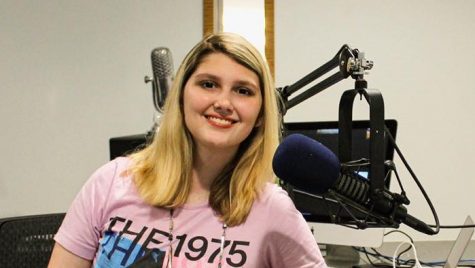 Bella Steiert, Website Designer
I am a sophomore and a digital art major. I am a techie and I have hosted a show on What Radio, I love all things alternative and indie music.