Unpacked with Dani Hendrick '23
One of the most caring students on campus, Dani Hendrick '23, gave me an exciting look into her bookbag, courtesy of FOCUS orientation leadership circa 2020. 
1.  Fidget activities
One pocket in Dani's bag is almost exclusively for fidgets. These are any toy or activity that serves as a distraction or occupies someone's nervous energy. She has an impressive collection, including thinking putty, a U.S. Army hand gripper, and a colorful Pop-it. "There's also Kali my kalimba," a metallic thumb piano. "I've played her at Uncouth, she's a sweetheart." Her newest addition, which is more distraction than fidget toy, is a book of crossword puzzles. She even bought a whole pack of pencils for it, can you guess how many were in her bag from these pictures?
2. Food and beverages
"I have this just in case." It's always important to stay hydrated and fed, even if your memory gets away from you. In Dani's case, she keeps Snyder's of Hanover pretzels in good supply and a whole package of cosmic brownies on hand. "I eat, on average, one box of little Debbie's a day. That's how I stay so big and strong." She also has a few cans of Canada Dry on hand every day. "Usually I have four, but I already had two today. I only have four per day."
3. Laptop
Like most students, Dani has decked out her laptop with stickers that express her interests and to support her fellow Hatters. Almost all of her stickers are from campus organizations, such as Stetson University Religious and Spiritual Life (RSL), Our Kind of Stetson, and Hatterthon. She even has an Alpha Chi Omega sticker in support of our Greek life. "One of our many Greek organizations on campus, they're the only ones to give me a free sticker," Dani joked.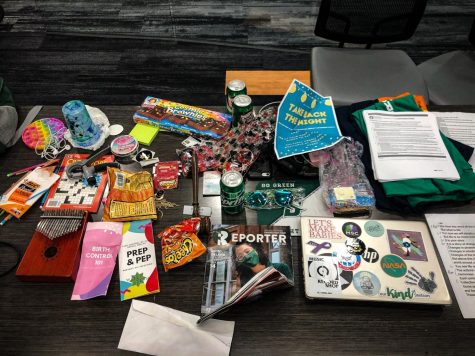 4. Proof of involvement around campus
Dani Hendrick is easily the most involved student I know, so it was no surprise to uncover the countless handouts and merch from different organizations of the university. A few notable trinkets are the multiple Our Kind of Stetson pins (she had six in total) and MSC stickers. "These are the MSC (Multicultural Student Council) theme stickers for the year, 'Speak Truth to Power.' I always have these in my bag… so I can give more out." Some other tokens she had came from PACT, The Well Team, Varsity, and Hatter Productions.
5. Student Government memorabilia
My favorite item from Dani's bag was the gavel she was given for her work in the SGA last year. She also has the name tag from her "historical time as Vice President of the Student Government Association."
6. The Reporter's Orientation Issue
Dani is always on the lookout for the latest copy of The Reporter, to support our very own Hatter Network. "You can get your very own copy of The Reporter from the one and only Hatter Network, you know, the vibe."
Leave a Comment
About the Contributor
Allie Wilson, Sports Staff
Allie Wilson is a writer for The Reporter, currently working in the sports section. She's an English major with hope of a future in journalism. Her favorite...