Florida COVID-19 Case Updates – 7/31
Information from Orlando Sentinel 
Data reported from the Agency for Healthcare Administration (AHCA)
With an increase in patients being hospitalized due to medical conditions, there is an increased desire for hospital beds, especially those in the intensive care unit (ICU). The AHCA has been tracking the availability of all hospital beds in Florida. The data displayed on both the interactive map and the chart are updated every hour.
According to the AHCA, at 11:18 p.m on July 31:
29 out of 306 hospitals (9.48%) have no capacity. 

277 out of 306 hospitals (90.52%) have hospital beds available. 

147 out of 306 hospitals (48.04%) do not have any beds in the ICU available. 

159 out of 306 hospitals (51.96%) have beds in the ICU available.
*The data displayed does not specify how many beds are occupied by COVID-19 patients. 
July 29, 12:55 p.m. 
Live Recording From FOX 13 News Station
Gov. Ron DeSantis held a roundtable discussion in Clearwater to provide statewide updates on COVID-19 regarding the reopening of the public schools. 
Parents should decide whether their children will experience face-to-face education or virtual education. 

Gov. DeSantis mentioned that they will not force parents to make their children deal with face-to-face education if they do not feel like it is safe to do so. 

Even with consistent new records of deaths, increases in COVID-19 cases, and increases in hospitalizations, Gov. DeSantis mentioned that currently there is an extremely low risk for school-aged children and that returning to campus is safe with protocols for reopening schools. 

Even though Gov. DeSantis believes parents should decide on the children's format of education, Gov. Desantis also made it clear that he believes the best option is for students to return to the classroom. According to Gov. DeSantis:

"Many students will suffer academic, physical, and mental health consequences if not back in the classroom." 

Education Commissioner, Richard Corcoran, estimates that approximately 60% to 90% of families will decide to choose face-to-face education. 
July 31 
11:39 a.m. 
Information from Daytona Beach News-Journal, Nikki Ross
Data reported from the Florida Department of Health (FDOH)
Total tests in Florida: 3,633,393
Total conclusive tests in Florida: 3,628,088
According to the FDOH, there are 5,305 tests with inconclusive results in Florida.
Total cases in Florida: 470,386 (There is an overall 12.97% positivity rate.)
The overall positivity rate is determined from the total number of administered tests with conclusive test results. 
Record: There were 15,300 new cases from July 11 to July 12.
Florida residents: 465,030

Non-Florida residents: 5,356
Total hospitalizations in Florida: 26,533
Total deaths in Florida: 6,843
Record: There were 257 deaths from July 29 to July 30.
Of the total cases in Florida:
6,957 cases were announced in March.

27,921 cases were announced in April.

21,647 cases were announced in May.

102,005 cases were announced in June.

So far, 288,417 cases have been announced in July.
12:24 p.m. 
Information from Daytona Beach News-Journal 
Mike Chitwood, Volusia County Sheriff, is self-quarantining for two weeks after testing positive for COVID-19. 

Out of the blue, Chitwood started experiencing symptoms like a high temperature of 102 degrees, a fever, chills, and coughing, around noon on the day before he got tested, so he decided to get tested. 

In his 33 years on the job, this is the first time Chitwood has been sick and this is his first vacation. Chitwood continues to participate in Zoom meetings. 

Currently, fifteen employees in the Volusia County Sheriff Office have tested positive for COVID-19.
12:35 p.m. 
Information form Florida Department of Emergency Management (FDEM)
Due to Tropical Storm Isaias strengthening and being classified as a Category 1 hurricane, Gov. DeSantis signed

Executive Order 20-181

and declared a state of emergency for the East Coast of Florida. Due to weather conditions and potential for heavy storms with strong winds, storm surges, and floods, many counties, such as Brevard County, Broward County, Flagler County, Miami-Dade County, Orange County, Osceola County, Palm Beach County, and Volusia County, are in a state of emergency. The National Hurricane Center has predicted Hurricane Isaias will strengthen into a Category 2 hurricane upon approaching areas around the Atlantic Coast and the Florida Peninsula. 
Correction: In an Aug. 1 version of this story we spelled Isaias incorrectly. We have since corrected it.
Leave a Comment
About the Contributors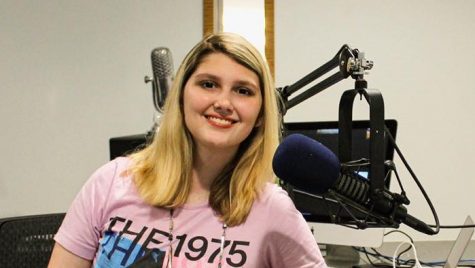 Bella Steiert, Website Designer
I am a sophomore and a digital art major. I am a techie and I have hosted a show on What Radio, I love all things alternative and indie music.