Florida COVID-19 Case Updates – 7/18
Information from Orlando Sentinel 
Data reported from the Agency for Healthcare Administration (AHCA)
With a surplus of patients needing hospitalizations due to COVID-19, there is an increase in demand for hospital beds, particularly hospital beds in the intensive care unit (ICU.) The FDOH has been tracking the availability of all hospital beds, both in the ICU and not in the ICU, from most hospitals statewide. The data displayed by the interactive map and on the charts is updated every hour. 
*The data displayed does not specify how many beds are occupied by COVID-19 patients. 
From the data reported by the AHCA at 2:18 p.m. on July 19, the following hospitals have no capacity: 
27 out of 306 hospitals have no capacity. (8.82% of hospitals have no capacity) 

279 out of 306 hospitals have hospital beds available. (91.18% of hospitals have available hospital beds) 
State report provided by Daytona Beach News-Journal 
Gov. Ron DeSantis provides weekly state reports regarding COVID-19 in Florida. On July 14 he provided the data from July 4 to July 10. Within the state report, Gov. DeSantis provided a summary of COVID-19, recommendations, demographic data, and policies for various counties.
This state report indicated that Florida is the red zone. According to the report, the red zone signifies "more than 100 new cases per 100,000 population last week" for cases, and "a rate above 10%" in relation to test positivity. As indicated by this report, 48 counties are in the red zone. 17 counties are in the yellow zone
Important Data 
Last week, there were 65,562 new cases in Florida, which was a 17.8% increase from the previous week. 

Last week, there was an 18.6% positivity rate in Florida, which is a 1.1% increase from the previous week. 

Last week, there were 323,201 tests administered in Florida, which is a 35.8% decrease from the previous week. 

Last week, were 417 new deaths from COVID-19, which is a 30.7% increase from the previous week. 
July 18 
12:30 p.m 
Live recording from NBC2 News Station 
Gov. DeSantis held his most recent press conference at Flagler Hospital in St. Augustine to address concerns about the continuous increase of COVID-19 cases and the COVID-19 response in Florida. 
In collaboration with Vice President Mike Pence, a supply of Remdesivir is expected to arrive at Florida hospitals within the next three days. 

Gov. DeSantis recommends antibody tests over diagnostic tests because they provide more information on potential symptoms and diagnoses. 

There continues to be a surplus of COVID-19 cases, especially among younger age groups. 

Testing sites continue to indicate that most of these cases are asymptomatic or minimally symptomatic and caused by large exposure. 

Statewide, the positivity rate for cases has slightly decreased from two weeks ago.

Due to a large number of tests being administered, there is a longer turnaround time. 

The Florida Department of Emergency Management (FDEM) is working on getting a faster turnaround time with the FDOH. 

When accounting for hospital capacity, not all hospitalizations are due to COVID-19. For example, statewide there is a peak of hospitalizations due to patients contracting influenza or having elective surgeries. 

More hospitals are focused on just COVID-19 patients. 

With positive testing, it is important to account for individuals who have been retested.

Statewide, for hospitalizations, COVID-19 patients are being treated separately from other patients so that COVID-19 patients may be properly isolated.

Statewide, within hospitals, there is a large number of supplies such as personal protective equipment (PPE) for caring for and treating patients.

Part of the "fear factor" for COVID-19 is due to the reopening of schools within Florida when there are large numbers of cases, hospitalizations, and deaths.

Another large part of this "fear factor" is due to having family members being hospitalized and the decision for no visitation within hospitals. 

In context of our daily record of 15,300 cases, there were over 100,000 tests administered. 

The overall increase in testing has led to an overall increase in cases. 

Gov. DeSantis continues to remind Floridians to avoid close contact, avoid close spaces, and avoid contact with the vulnerable and individuals with underlying medical conditions, such as cardiovascular disease. 
1:43 p.m.
Information from the Daytona-Beach Journal, Nikki Ross
Data reported from the FDOH
Total tests in Florida: 2,931,998
Total cases in Florida: 337,569 (there is an overall 11.51% positivity rate)
Record: There were 15,300 new cases from July 11 to July 12
Florida residents: 333,201

Non-Florida residents: 4,368
Total hospitalizations in Florida: 20,632
Total deaths in Florida: 4,895
Record: There were 132 new deaths from July 12 to July 13 
Of the total cases in Florida: 
6,957 cases were announced in March.

27,921 cases were announced in April.

21,647 cases were announced in May. 

102,005 cases were announced in June. 

So far, 164,944 cases have been announced in July. 
Leave a Comment
About the Contributors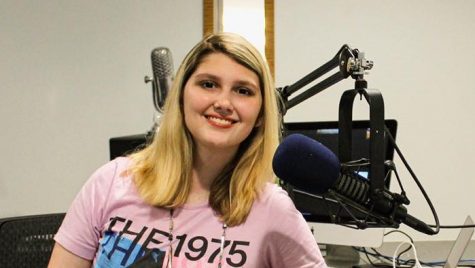 Bella Steiert, Website Designer
I am a sophomore and a digital art major. I am a techie and I have hosted a show on What Radio, I love all things alternative and indie music.