Florida COVID-19 Updates – 7/14
July 14 
1:30 p.m. 
Live recording from NBC 2 News Station 
Gov. Ron DeSantis held a roundtable discussion on demographic data and updates pertaining to the educational recovery and economic recovery in relation to COVID-19 in Miami-Dade county. Miami-Dade mayors were part of this roundtable discussion. 
Pertaining to COVID-19, the number of visits to the emergency room and hospitalizations continues to increase.

There continues to be an increase in positive COVID-19 cases and a large increase in COVID-19 testing.

There continues to be an increase in positive asymptomatic cases across younger age groups. 

There has been an increase in the death rate. 

There are still available hospital beds. 

Statewide, there are currently fifteen long-term care facilities for just hospitalizing and treating COVID-19. 

Gov. DeSantis continues to collaborate with the Florida Department of Health (FDOH) to find a way to get results for COVID-19 faster and find ways to make contacting tracing more beneficial. 

Gov. DeSantis continues to advise avoiding close contact, close spaces, and areas of high exposure, to protect the most vulnerable. 

There may be possible immediate considerations for reopening the government and business, especially for Miami-Dade, Palm-beach, and Broward county. 

Across the roundtable, it was unanimous that getting data for positive COVID-19 cases faster would be beneficial for making economic and governmental decisions. 

Across the roundtable, it was unanimous that in-person classes would be risky and concerning, but beneficial for the learning component. The roundtable thinks hybrid classes would be the best decision. 

Precautions should be taken for reopening schools, especially universities. 

Reopening plans should be adjusted to accommodate for prevention and reducing the risk of exposure, even if the younger age groups are at minimal risk and mostly asymptotic. This is because faculty, staff, and essential workers need to be considered as well. 

For individual needs, if a student needs to continue virtual learning, technological accommodations should be planned with faculty and staff.

Gov. DeSantis mentioned that local mayors should be making their own decisions and not depend on just himself for support in decision making. 
5:05 p.m.
Information from Orlando Sentinel, Edgar Thompson
Scott Stricklin, athletic director for the University of Florida (UF) recently tested positive for COVID-19 and finished his quarantine. 

Stricklin got tested because he was experiencing mild symptoms and is now recovering. 

When speaking to a reporter earlier today, Stricklin said

"college athletics [are] in serious jeopardy"

 and the COVID-19 virus is highly transmittable and contagious. 

Stricklin later mentioned it would be a challenge to ensure safety and protection however athletes should be in a safe competitive environment. 

At UF, 238 athletes were tested and 29 were tested positive (12.2% of tests were positive.)
6:52 p.m.
Information from The Daytona Beach News-Journal 
Total tested in Florida: 2,688,366
Total cases in Florida: 291,629
Record: There were 15,300 new cases from July 11 to July 12
Florida residents: 287,789

Non-Florida residents: 3,840
Total hospitalizations in Florida: 18,881
Total deaths in Florida: 4,409
Record: There were 132 new deaths from July 12 to July 13 
Of the total cases in Florida: 
6,957 cases were announced in March.

27,921 cases were announced in April.

21,647 cases were announced in May. 

102,005 cases were announced in June. 

So far,129,332 cases have been announced in July. 
Leave a Comment
About the Contributors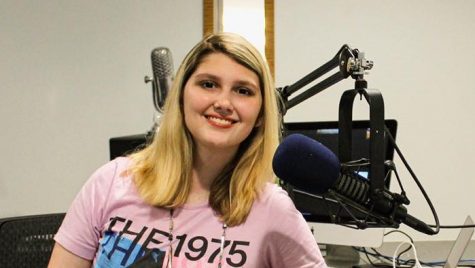 Bella Steiert, Website Designer
I am a sophomore and a digital art major. I am a techie and I have hosted a show on What Radio, I love all things alternative and indie music.