Local COVID-19 Case Updates – 5/19
May 16, 12:49 p.m. 
Monday, May 18
12:02 p.m. 
Information from Gov. Ron DeSantis's Facebook Page 
From the original counties, every county except for Palm Beach, Broward, & Miami-Dade, that followed Phase One: 
There were approximately 23,000 test results 

402 new cases (1.75% tested positive)
2 p.m. 
Live Recording from Volusia County Emergency Management 
At 2 p.m. on Monday, May 18 at the Emergency Operation Center, there was a press conference with updates on beaches in Volusia County potentially opening and security measures for the hurricane season, such as having an emergency back up plan and preparing for heavy storms ahead of time. During this press conference, the changes issued on May 15 at 10:55 a.m by Gov. Ron DeSantis within

Executive Order 20-123

on the

full Phase One recovery

were outlined.
Volusia County Cases as of 2 p.m. Monday, May 18
Total cases: 605

Hospitalized: 121 (20% of total cases)

Deaths: 30

18 deaths were associated with long-term care facilities
2:33 p.m.
Video from Gov.Ron DeSantis's Facebook Page
Information from Florida Government 
To support the statewide reopening of Florida's economy and enhance commute on highways, Gov. Ron DeSantis and Florida Department of Transportation constructed five new flyover ramps on Interstate-4 and State Road 408 to lessen traffic. In Orlando, at 2:33 p.m.on Monday, May 18, Gov. Ron DeSantis announced the completion of these ramps. 
4 p.m. 
Live Recording from Orange County, Florida Government 
There was a press conference held on Monday, May 18 to discuss the reopening of businesses such as gyms and restaurants in Orange County and testing sites. 

For Orange County Residents,

Riverside Elementary School

and

MidFlorida Teach

are offering free testing by appointment only. Free bags of PPE will also be distributed at these testing sites. 
Tuesday, May 19
Florida cases
10:31 a.m.
Data from Florida HealthCOVID19.com 
Total tested in Florida: 681,314

Tested positive: 46,944 (6.89% of total cases tested positive)

Tested negative: 634,370

Total cases in Florida: 46,944

Residents: 45,684 

Non-residents: 1,260

Total Deaths in Florida: 2,052
Central Florida Cases
5:40 p.m.
Data from Wesh 2, News Station
Orange County
Volusia County
Leave a Comment
About the Contributors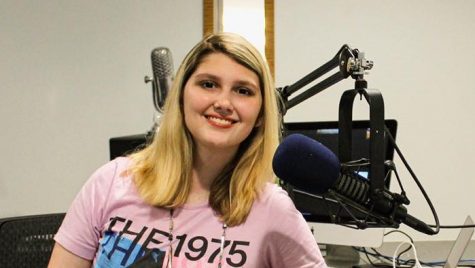 Bella Steiert, Website Designer
I am a sophomore and a digital art major. I am a techie and I have hosted a show on What Radio, I love all things alternative and indie music.