Local COVID-19 Case Updates – 3/20
Thursday, 8:45 a.m. 
Cash collection on state toll roads suspended; drivers to receive a bill in the mail. 
Thursday, 5:15 p.m.
Restaurants, bars, and nightclubs that do not comply

with restrictions in the governor's COVID-19 executive order may face license suspensions, according to the Department of Business and Professional Regulation (DBPR). 

The order also requires restaurants to limit their occupancy rate to 50% and follow CDC guidelines by ensuring a 6-foot distance between groups while limiting parties to no more than 10 people. 
Thursday, 6:41 p.m.
Thursday, 8:34 p.m. 
On Thursday evening, a UCF student was confirmed to have COVID-19. 

Student Health Services is in direct contact with his roommates, the Florida Department of Health (FDOH), faculty members, and classmates to request they monitor their health.
Friday, 1:15 p.m.
On the morning of Friday, March 20, Gov. DeSantis ordered all movie theatres, concert houses, auditoriums, playhouses, bowling alleys, arcades, gymnasiums, fitness studios, and beaches to close in Broward County and Palm Beach County until March 31. 

In a separate order, he also allowed local governments to meet by teleconferencing to comply with the federal guidelines of social-distancing measures.

Local governments may now use telephone and video conferencing. 
Friday, 3:30 p.m. 
Gov. DeSantis ordered state restaurants and food-service establishments to close their dining rooms and use their kitchens solely for takeout and delivery purposes

The executive order is to "take immediate effect" and is issued for 60 days
"Your Central Florida Coronavirus Guide" (March 20, 4 p.m.)
Anna V. Eskmani for Florida House 47
Updates from Executive branch 
Gov. DeSantis issued

Executive Order 20–52

declaring a State of Emergency for COVID-19.

The Florida Division of Emergency Management has activated Level I to coordinate the state's response to COVID-19.

The National Guard has been mobilized to help with COVID-19 responses.

All agencies including The Department of Highway Safety and Motor Vehicles have been directed to suspend drivers' license renewal requirements for 30 days.

The Office of Insurance Regulation (OIR) has published a

resource page

.
Orange County Curfews 
Orange County Mayor, Jerry Demings has put into place a county-wide curfew from 11 p.m. to 5 a.m every day, as of Thursday, March 19.

Curfew exceptions include: commuting to and from places of employment, the provision of fire, police, emergency and hospital services, medical patients, utility repairs, state and local government employees providing services, and emergency calls by physicians within the curfew area.

Orange County has a

one-stop web page

 for up-to-date information. 
Newest Updates Impacting Restaurants, Bars, Beaches, and Gyms 
Gov. DeSantis issued Executive Order 20-71, directing all restaurants and food establishments within the State of Florida to suspend on-premises food and alcohol consumption for customers. 

This Executive Order lifts the restriction that prohibits a specially licensed food service establishment from selling package sales of alcohol for delivery, take-out or consumption off-premises for restaurants complying with Executive Order 20-68, through the expiration of the state of emergency declared in Executive Order 20-52.

Alcohol sales to go with food that is picked up or delivered will be permitted and I.D. will be required for orders including alcohol.

The Executive Order requires the closures of gymnasiums and fitness centers within the State of Florida. 

DBPR shall utilize its authorities under Florida law to further implement and enforce the provisions of this Executive Order and shall take additional measures as necessary to protect the public health, safety, and welfare.
Social Distancing 
It has been recommended that local authorities strongly consider canceling mass gatherings and follow

CDC guidelines

.
Universities & Colleges 
University of Central Florida

UCF is moving all courses online effective March 16, for spring and summer semesters.

Commencement ceremonies have also been postponed. 

Note that UCF is offering limited services through the Knights Pantry via prepared bags for students who can't afford meals. UCF is also working with

Second Harvest Food Bank of Central Florida

to direct students needing additional resources.

Rollins College

On

Monday, March 23,

Rollins will be moving all courses to be online. 
Valencia College

 Valencia College is canceling all face-to-face classes until March 23 and will close its campuses to students and employees until March 30. 

Classes currently being taught online will continue as scheduled. 
Housing Payments/ Utilities 
Utility companies have suspended disconnects among the COVID-19 pandemic.

Homeowners who are facing a temporary hardship due to the COVID-19 and heightened safety measures such as businesses shutting down have options to postpone mortgage payments, according to the

Federal Housing Finance Agency

.

Many telecommunications companies are easing shutoffs and waiving late fees to accommodate consumers who might be struggling during the COVID-19 pandemic. 

It is highly encouraged to check in with companies/landlords that you make monthly payments to, to see what their policies are amid COVID-19. 
Tax Filing Deadline Changes 
The Treasury Department and IRS have been instructed to extend the April 15, 2020 deadline for filing federal income tax returns for those affected by COVID-19. 

The change is only for this year. 

No new date has been established yet, but it is expected to be between June 15 and Oct. 15. 

The Governor in Florida has also instructed the Department of Revenue to allow flexibility with sales tax and corporate income tax deadlines.

The Florida Department of Revenue has added a dedicated COVID-19

webpage

for child support customers. 

The Florida Department of Revenue has established a dedicated

team

to address tax-related issues pertaining to COVID-19, where taxpayers can send questions and concerns. 

The Department encourages all taxpayers to use our e-services applications to

file and pay taxes

or contact our call center at (850) 488–6800.
Travel Concerns 
The FDOH is advising all individuals who have traveled internationally to follow the new CDC guidelines.

Level 3:

CDC recommends 14-day self-isolation and social distancing upon return to the United States. Social distancing includes avoiding going out in public and close personal interactions. If you become symptomatic, immediately self-isolate and contact your County Health Department (CHD) or health care, provider.

Level 2 and Cruises:

Travelers should monitor their health and limit interactions with others for 14 days after returning to the United States.

If you become symptomatic, immediately self-isolate and contact your CHD or health care provider.
International Travel 

The State Department issued a travel guidelines that applies to all countries, instructing American not to travel internationally and U.S. citizens abroad to return home. 

Many areas throughout the world are also experiencing COVID-19 outbreaks and taking action that may limit traveler mobility, including quarantines and border restrictions.

Even countries, jurisdictions, or areas where cases have not been reported may restrict travel without notice.

Gov. DeSantis said he is suspending all travel for state employees for 30 days and asking the 90,000 people who work for state agencies to work from home if they can.

Cruise Ships 
Airlines

 

Forbes has provided a

master list

of major international airline changes and cancellation policies.
Leave a Comment
About the Contributors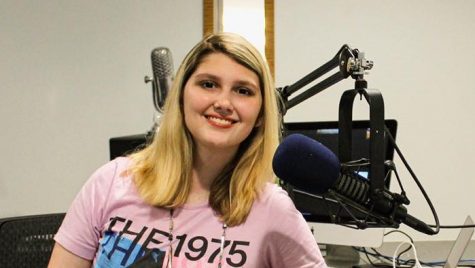 Bella Steiert, Website Designer
I am a sophomore and a digital art major. I am a techie and I have hosted a show on What Radio, I love all things alternative and indie music.