Two Venues, Two Perspectives
 All You Had To Do Was Ask
By Michayla Thomas
      On Wednesday, Oct. 17, my feelings about graduation were forever changed. My roommate, who serves as a senator in SGA, informed us that graduation will be taking in the Edmunds Center and she also told us we are only permitted 5 guest tickets. Immediately my mind was filled with my family's faces and all the members who I knew for certain were coming down to watch me graduate. I began to think about the fact that by these new rules, only the people who live in my house would be allowed to attend and I would have to tell everyone else they can no longer be there. My name is Michayla Thomas and I am an out-of-state, first-generation student at Stetson. This means that I am not a permanent resident in Florida, and I am one of the first people in my family to go to college and to graduate. I can't put into words the meaning that graduation represents for my family and other families in communities of color.  
      Additionally, we learned that graduation will have two separate ceremonies and the number of guests does not include faculty, staff, or other students. This means that for some seniors, they will not be able to see many of their friends and some of the professors who helped them at graduation. We have been waiting four years to reach this moment, and now it seems that all the dreams we have about this day are crushed. My roommates and I study in different disciplines, meaning that we will not be able to see each other graduate. These are people who I've studied with almost every night for 3 years and we should be able to share that moment for our accomplishments together. 
      Because I was extremely dissatisfied with how the graduation decision was made and I knew that my roommates and myself weren't the only ones who had these feelings, I made the decision to launch a survey entitled "Are you satisfied with Commencement 2020?" The survey asked questions to establish the class of 2020's student demographics, if they are an out-of-state, first generation, legacy, international or none, check student awareness of commencement changes, students anticipated family/guest attendance, student satisfaction with commence decisions and other variables. This is meant to represent the voices of the graduating seniors who the Stetson administration neglected to consult during the process. We are frankly tired of decisions that impacted so many people and families being made on behalf of students instead of in collaboration. 
      The survey was sent out using the networks available to me, but primarily through Facebook groups and email chains. There were over 200 responses to the survey as of Nov. 17, and the results are truthfully right where I predicted them to be. As mentioned earlier, I was extremely dissatisfied with the decision to change commencement's location and with the timing of the announcement. It turns out that my peers were as well: according to the survey, 79 percent of responders were either dissatisfied or extremely dissatisfied with the commencement decision and 71 percent were either dissatisfied or extremely dissatisfied with the timing of the announcement. In terms of anticipated guest attendance, 7 percent of responses said they expect less than 5 guests. On the other hand, 81 percent and 12 percent of student responses said that they expect 5 to 15 guests and 15 or more guests, respectively. In my survey, I asked if my peers had friends and classmates from other schools that they would like to see graduate: in response, 82 percent of respondents said that they do have friends in other schools that they would like to share this moment with.
      This survey also allowed me to see that these graduation changes can impact our international students drastically. For example, my roommate is an international student from Tanzania, and over 20 members of her family have not only obtained travel visas but have also purchased flights at an estimated cost of $2,000 roundtrip. These families have been planning for at least a year in advance and there was no consideration for what all it takes for anyone to travel to graduation. Situations like this highlight that effective communication at all levels is extremely important, because you may not who could be negatively impacted by your decisions, but you should at least try to take precautions. I hope that we all consider this to be a learning experience and, in the future, we can take a more collaborative approach for decision making as a community.
---
Why Commencement Was Moved: A Perspective
By George Alderman
      As you have likely heard, earlier this semester the university administration announced that this year's commencement ceremony will be held in the Edmunds Center rather than Spec Martin Stadium. This is a big change and I'd like to discuss why it was made, how it is going to work, and what it means for the student body. 
      For the last few years, commencement was held at Spec Martin Stadium, as the growing size of Stetson caused us to outgrow the Edmunds Center, so in order to keep us in one ceremony, the University decided to move the Ceremonies to Spec Martin. 
      If you have attended any of the commencement ceremonies from the last few years, you probably recall what was unfortunately one of the defining aspects of the ceremony: how hot it was outside. I attended last year's commencement ceremony, and while the ceremony itself was nice, the experience was severely detracted from due to how hot it was outside. This is Central Florida in early May, by that time the humidity and heat have risen to their usual levels, and rain becomes increasingly unpredictable. 
      Thankfully, rain was avoided at the ceremony, but as soon as the sun crested the bleachers, it became increasingly unpleasant to be outside. There were many cases of families who left the stadium as soon as their graduate crossed the stage, and many graduates themselves left the area after they had walked. On top of that, there were several health scares throughout the event involving heat stroke and dehydration. This ceremony is supposed to be one of the greatest memories of a student's life, and shouldn't be ruined by 85 degree heat and 95 percent humidity. 
      As Stetson has continued to grow over the years, and Spec Martin's capacity was almost reached last year, getting rid of the entire reason that the ceremony was moved there in the first place. It was clear that a decision had to be made, so over the summer and early fall, the university administration made the decision to move the ceremonies back indoors. Of course, there are trade-offs with this decision that will have to be dealt with. Over the last several weeks I have heard from many of my fellow students about how you feel about the change, and have talked with members of the administration about these concerns. I'd like to take this opportunity to address some of the major questions and concerns that I have heard from students regarding this the changes. 
Why two ceremonies?
      Historically, Stetson has been a small school, having grown very quickly in the last few years to the size it is now. One of the benefits of being a smaller school is that it is easier to host ceremonies like commencement for the entire school in the same place, as we had in the past. However, as we have grown, we have to adapt to the realities that similarly-sized colleges and universities face. Having more than one commencement ceremony is not uncommon for universities, in fact, it is very often the case that a university will have one for every one of their colleges and schools. While personally I am upset that I, as a part of the College of Arts and Sciences, will not be able to walk at the same ceremony as some of my close friends in the School of Business or the School of Music, I recognize that it is a reality we must face as a growing school. 
Why not try another venue?
      As far as other potential venues go, there are no other venues in the local area that could accommodate everything that we need and retain the feeling that this is an event for the Stetson community. Back when the decision to move ceremonies to Spec Martin was made several years ago, the administration considered the Ocean Center in Daytona Beach as a potential venue, but after visiting the location with students, it was quickly determined that it just was not a good place to have a ceremony, it lacked any feeling of it being Stetson. Having to go to a totally different location off-campus and out of DeLand would take away a large part of what makes this ceremony ours, and would massively complicate things logistically. 
This hasn't been communicated effectively!
      I agree, when the initial decision was announced, it was done in a manner that did not inform students very well. The original announcement was made in a Stetson Today article, a medium that is not effective in reaching all students. An announcement of this magnitude should be made to students in a clear and direct manner, and fortunately it was later clarified in an email blast sent to the student body at my request. We will make sure that any important updates on this process will be communicated clearly to the student body. 
What's this about a five ticket limit per student?
      By far the complaint from students that I have heard the most is regarding the limit of five tickets that each student is entitled to. To clarify, that does not mean that every student is limited to only five tickets, it means that every student is guaranteed five tickets, with the extra tickets being distributed among those needing them.
      I have spoken at length with members of the administration about how this number was decided on, and was informed that this is the result of the ceremony being moved into the Edmunds Center, a space that is about half the size of Spec Martin. The limit of five was determined by looking at the number of graduates and the capacity of the Edmunds Center, and because of the size of the Edmunds Center, this number cannot be increased. 
      Inevitably, there will be students who choose not to attend the ceremony or who require less than five tickets in order to accommodate their families, and there will be a process for gathering and reallocating those tickets. This is where SGA is stepping in.
What is the Student Government doing about this?
      When this decision was announced to SGA, I convened a special committee of our Senate over the course of several weeks to put together a design of how students would like this process to go. Several weeks ago, SGA put out a survey to the student body to collect ideas on how this process should look, and we are using many of those suggestions to build a plan that we will submit to the administration detailing how we want the ticket distribution and redistribution process to function. 
      Myself and all of SGA have been working to ensure that we are the ones shaping this process and that we are building it using ideas from the student body. It is more than having our voices heard, we want this process to be led and designed by the students, as we are the biggest stakeholders in this process. In the coming weeks, we will be finalizing our plan on how we want the ticket distribution process to work, using the ideas that you gave us. After the plan has been made, we will have the SGA Senate approve it, and present it to the university administration. 
      I have heard several cases where the families of students have already made expensive travel plans, particularly involving travel visas, and don't want to have to potentially shut family members who may have crossed continents to get here out of the ceremony. This is a very difficult aspect of the entire situation to work with, as there needs to be a balance struck between allowing as many of these family members to attend, while also ensuring that every student can bring a certain number of family members. I will push the university administration to deal with these cases in as fair a manner as possible.
What's Next?
      Overall, I believe that the idea of moving our commencement ceremonies from Spec Martin Stadium into the Edmunds Center is a good idea, but it doesn't come without its strings attached. I agree, having our ceremonies split up isn't ideal, and I'm already dreading having to pick and choose which family members I can guarantee a seat to at my own commencement in 2021. However, I don't want to linger on the negatives of this; the decision, however controversial, has been made. What is important now is to work to make sure that the major aspect of this that we can influence, that being the process of distributing tickets in a fair and timely manner, is designed in a fair and equitable manner. All of SGA is working to make sure that any irritation and anger caused by this decision will be translated into progress, so that we can make the best of what we have, and ensure that students play a commanding role in this process.
Loading ...
About the Writer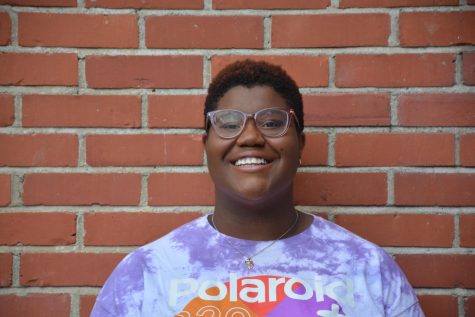 Micheala Thomas, Show Host - WHAT Radio
Micheala is a senior International Business Major. She is from Atlanta, Ga by way of New Orleans, La. She is one of the show hosts of Auntie Adjacent,...