In A Haze: Hazing in the Past and in our Present
Hazing has been occuring at Stetson for many years now. From looking in the archives, it appears that hazing on Stetson's campus started sometime in the 1940s. From traumatic events in the past to more recent situations, hazing is something that students should be aware about.
Recently, a senior member of a sorority personally witnessed hazing by a fraternity while talking to some of her friends. She told us, "[I think that hazing is] bullsh*t. I feel like hazing is a thing on campus. It's bullsh*t if you want someone to be a part of your organization that you have to bully them into it. "I've seen a fraternity refer to their pledges by specific names depending on what they did. One of them was called [the] Milk Pledge because he was made to run out and buy milk. They would pay him back, but it's still hazing."
She continued, "I feel like a lot of organizations take hazing as a joke and of course we joke about little things, like calling each other mom, but we can get in trouble for that because it's an authority thing, but I think it's something that we should take seriously."
Another student, a sophomore member of Lambda Chi Alpha, personally witnessed hazing this semester. On bid day, he saw some of the new Sigma Phi Epsilon pledges "running down Bert Fish" while a truck driven by active members of the fraternity chased them down with a truck while yelling at them.
When asked whether he believed it was all of their pledges, he said that originally, he did, but after talking to one of the pledges was led to believe it wasn't all of their new members, but still a majority of them. He says he saw around "20 to 30 pledges" which, according to the fraternity member, "looked like a majority of their new members" from the Fall 2019 pledge class.
From talking to other students and members of Greek Life, it definitely appears that it is the fraternities, not the sororities, that have trouble with hazing. This seems to also be the case in the past, at least on our campus. Current director of Greek Life, Rene Dubois, said she was unsure if she could comment on any chapters being currently under investigation or in trouble for hazing.
We decided to go digging through the archives for some past situations where hazing occurred. After almost an hour of searching through the archives with the help of our archivist, there was actually very little reported hazing. However, there was one article in particular stood out the most.
Pi Kappa Phi, which originally chartered here at Stetson in 1921, is a fraternity that was reinstated on our campus in 2018, was banned from Stetson for a year after a hazing incident in 1987. The article from the archives is entitled "Fraternity banned at Stetson" with a subheading of "Electric Shock Hazing Earns Year Off Campus." The fraternity did not deny the charges against them, nor did any of the members comment on the situation. The article reports: "The fraternity's national headquarters had feared there were hazing activities at the Stetson chapter even before it received an anonymous letter… Stetson and the national headquarters received copies of a letter saying six pledgers were prodded with a device that delivered electric shock…. The letter also said that week-long hazing activities included sleep deprivation, calisthenics, verbal abuse, and psychological harassment."
They were taken off of campus again in 2011, according to Jonah Helwig ('22), one of the founding fathers of Pi Kappa Phi's restart on campus in 2018. He is in charge of risk management for Pi Kappa Phi. "[The] Pi Kappa Phi chapter [on Stetson's campus] was removed from campus in 2011 due to a hazing incident," Helwig said. "[Our] chapter was restarted in 2018 with a plan of officially being rechartered in early 2020. Due to our complicated history with hazing, we have enacted a strict no hazing policy with severe consequences should hazing ever occur. It is our goal to foster a supportive brotherhood where all members can feel safe and without fear of hazing. Our chapter is a historic chapter to Pi Kappa Phi and our national office wanted to reinstate it due to its significance to the fraternity as a whole."
When Pi Kappa Phi was working on returning to Stetson, they had two men from their headquarters come to the chapter meetings of other Greek life organizations to see if they could recommend current male students that would be interested in being founding fathers.
"I actually did join a fraternity on campus as a freshman but I realized after a few weeks that it wasn't the right fit for me," Scott Epting ('21), the Archon and another founding father for Pi Kappa Phi said. "Come sophomore year I heard that Pi Kappa Phi was coming on campus so I met with the leadership consultants to learn more about the brotherhood. What I took away from the meeting was the concept of being a founding father and creating a foundation for many members to come after myself and my brothers."
I was able to speak with Stetson graduate Halden LaPoten ('09), an alumnus board member of Pi Kappa Phi. He rushed in fall of 2005 and joined Pi Kappa Phi. Being a part of the fraternity made his Stetson experience. When asked about why Pi Kappa Phi was removed from campus in 2011, LaPoten said he had no comment, but also that part of it was due to the "cyclical nature of fraternities" and that in the fall of 2010, they just had too small of a rush class so they didn't meet quota nor did they didn't meet the minimum requirement for housing.
However, it seems that he thinks things are definitely looking up for Pi Kappa Phi on Stetson's campus. He said that he's "impressed so far, [they] have a lot of high character guys" and he has faith in the direction that the chapter is going in. The men are being held at a higher standard since they are basically starting over. He also said that the charter class for Pi Kappa Phi is "A small chapter but a united chapter [that are] close friends and willing to put in the work." LaPoten also said that some of Stetson's top donors, Hollis, Rinker, and Meadows were all apart of Pi Kappa Phi. When you have three men that have given so much to this university that their names are on multiple buildings, it is no wonder that Pi Kappa Phi wanted to recharter at Stetson University.
Considering the fact that there is a strict no tolerance policy on hazing at Stetson, looking forward, this should be a campus that we don't see much occurrence of hazing on. Stetson's official website states, "Because Stetson University values the equality of all people, recognizing its responsibility to protect human dignity and promote positive personal growth, hazing is strictly prohibited by any member of the university community. Stetson defines hazing as an act that threatens the mental, physical, academic health, or safety of a student through actions or situations that endanger, embarrass, harass, demean or ridicule any person regardless of locations, intent or consent of participants" (Stetson Website). Also, due to there being so few reports of hazing overall, it is safe to say that Stetson is a mostly hazing-free campus.
About the Writers
Nicole Rosen, News Staff
Nicole Rosen is a News/Local writer for Hatter Network. She is an English Major and Creative Writing Minor who hopes to become an author or write storylines...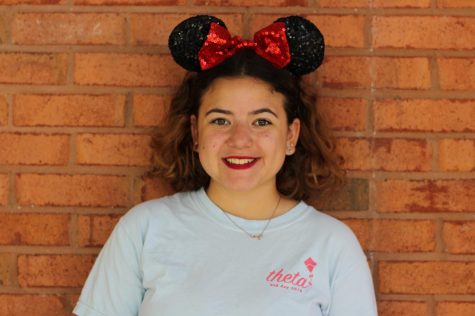 Naomi Johnson, News Staff - The Reporter; Show Host - WHAT Radio
Naomi Johnson is a staff writer for the Reporter and event director for Hatter Network. She is a communications and international relations major. She...