Stetson Greek Life Welcomes Back Fraternity
Pi Kappa Phi is Back at Stetson University.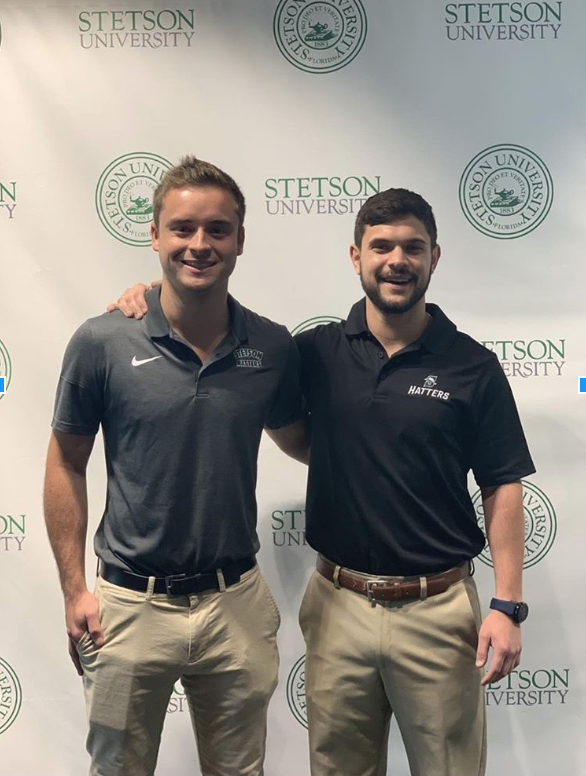 Pi Kappa Phi, a fraternity formerly on Stetson's campus, is in the process of rechartering at Stetson University by bringing in two representatives to inform Stetson students about Pi Kappa Phi's legacy.
These two representatives, Adam Collins and Parker Begale, are currently recruiting Stetson men through informational sessions held on campus every Tuesday and Thursday at 7 pm in the CUB garage.
"Our recruiting process is set-up as an 8-week expansion project. Two consultants are on the ground meeting with students day in and day out, promoting the idea of becoming a founding father of a new fraternity," said Collins.
Pi Kappa Phi decided to recolonize after leaving Stetson in 2011 because they wanted to grow their brotherhood and join a college where they thought they could fit in and have a positive impact on the community.
"With the Chi Chapter at Stetson being one of our oldest chapters, we were eager to rejoin the Greek community as soon as possible to build on an already impressive history," said Begale.
This new fraternity will be fully rechartered at Stetson after approximately 11-14 months. This allows the Founding Father (Associate) Chapters to fully charter at the national level depending on the scheduling, growth, and maturity of the Chi chapter.
Collins and Begale have several goals they want to achieve by starting this fraternity at a small liberal arts campus; one of these goals entails finding men who have the potential to be great leaders. They want brothers who will continue to uphold their values by building a strong chapter of motivated men and who are willing to create a tradition of excellence in brotherhood, academics, and service to the community.
The recruiters are training their new members as chapter officers so they are equipped to run Pi Kappa Phi by the time the semester ends. The new members will hold and elect officers to lead the chapter toward success.
Finn Wilson '22 recently joined the brotherhood of Pi Kappa Phi because he wanted to share the same morals and values with other brothers.
"I decided to join Pi Kappa Phi because I had the ability to create something bigger than myself in the light that I think the Greek community should be seen," said Wilson.
Pavel Yurchenko '22, also a new member of Pi Kappa Phi, said he hopes to gain a close group of friends and to establish good relations with alumni to progress his future. Yurchenko also joined the new fraternity because of Pi Kappa Phi's morals.
"Like our founders over one hundred years before us, we want to give the men the opportunity to do something different and to engage with our core values, which include common loyalty, personal responsibility, achievement, accountability, campus involvement, responsible citizenship, and lifelong commitment," added Begale.
By recruiting on Stetson's campus this fall, Collins and Begale hope that joining this fraternity will give students the platform to reach new opportunities in their college years. They want their new members to network with the alumni of Pi Kappa Phi around the country and develop their leadership skills by getting involved in the fraternity at a national level.
"Above all else, we want our members to call Pi Kappa Phi home during their undergraduate tenure at Stetson and have the ability to make a positive impact in the community," said Collins.
Other organizations, including the other fraternities on campus, have been welcoming and supportive of Pi Kappa Phi's return to campus. The other fraternities on campus have offered advice and partnership to Begale and Collins as they work towards rebuilding the brotherhood.
"We are ecstatic to be part of this great community and can't wait to begin to partner up with all of our peer organizations in the near future," said Begale.
Interested in joining the brothers of Pi Kappa Phi? Join Adam Collins and Parker Begale at their informational sessions on Tuesdays and Thursdays at 7 p.m. in the CUB garage. For more information follow Pi Kappa Phi's Instagram page @PiKappStetson.