Remembering Dr. Sapp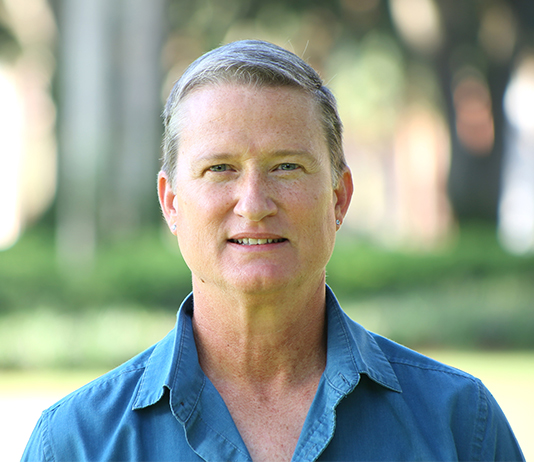 Dr. Gregory Sapp, professor of religious studies and Hal S. Marchman Chair of Civic and Social Responsibility, passed away the weekend of Sept. 20. Dr. Sapp worked at Stetson since 2006 and was known for his leadership in the religious studies department, his involvement in the Bonner Program, and his dedication to the Freedom Riders summer program. This past Friday, Oct. 2, the Stetson community held a memorial service to celebrate his life. 
The memorial started off with music from organist Boyd Jones and a prayer from Pastor Demetris Pressley, University Chaplain. Then followed a series of speakers whose lives were impacted by Dr. Sapp, including colleagues and past and current students. 
Provost Noel Painter was one of those who spoke. "Greg himself wrote, 'I heartily think that I have arrived as a teacher. And that, to me, is part of the joy of teaching. I truly love learning. And I believe that I have a lot to learn yet about how I can most effectively prepare students to be responsible human beings and their communities,'" he said.
Robert D. Bickel, professor of law, spoke about Dr. Sapp's work with the Freedom Riders summer program: "When I created the civil rights movement travel course—a movement that shaped my life from college in 1960 to now—my dream was that it would be a transformative learning experience for both undergraduate and law students who were committed to civic leadership, that advanced human dignity and social justice and knowing that it was defined by constitutional law, social theology, philosophy, ethics and culture, a struggle to sustain the moral premise of democracy. Who else would I reach out to—but Greg Sapp? He believed this course revealed that our students were at the center of everything we do at Stetson. He believed, as Thurgood Marshall told us in 1954 when speaking about racial inequality and public education, that our future is in the next generation of students—it is where and how they become citizens, thinkers, and leaders in their professions and in their community."
Many speakers reflected on his dedication to his students, his work on the Freedom Riders summer travel course, the traditions he created in the Bonner program, and his teachings on community engagement.
Stetson alumnus Chelsea Probus ('17) said, "Despite his sass and his biting wit, he always seemed to believe in his students—it was believed that everyone was capable of the extremely high expectations that he set for them. I think that just goes to show what a compassionate person he was in all parts of his life."
"He understood that engaging in social justice work was a lifelong dream—that there was always something that we could do to be better, to learn, or to be more inclusive," said Stetson student Jordan McCormic ('21).
Dr. Sapp did so much for the Stetson community during his time here. Dr. Mitchell Reddish, professor of religious studies, said, "It was rare to see Greg and his office alone. There were usually students in there either individually discussing their problems with him or in groups as he hosted them for afternoon tea and book discussions. We will miss Greg Sapp deeply as a teacher, a colleague, and a friend."
In lieu of flowers, please consider a donation in his memory to the Community Education Project or to help the Spring Hill Community, both through Stetson University. When making a gift to Stetson University, please specify which fund you would like to benefit and that your gift is made in memory of Dr. Sapp. To give online, please go to: https://www.stetson.edu/administration/development/give.php. To mail your contribution, make the check to Stetson University, and mail it to Stetson University, 421 N. Woodland Blvd., Unit 8286, DeLand, FL 32723.