Quarantine Easter Craft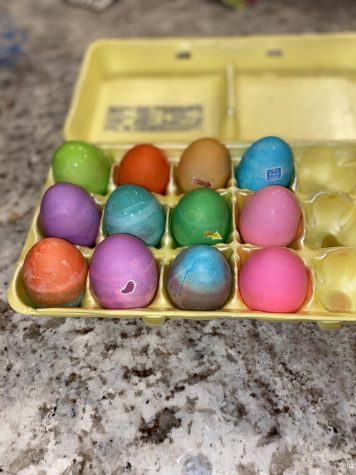 Quarantine has posed unique challenges for people of faith; a big part of religion is community, and with stay at home orders, as well as bans on group gathering larger than ten people, this can feel like an isolated time. One Easter tradition that my family can still do is dyeing Easter eggs.
Dyeing eggs is a fun and inexpensive activity you can do with things you can probably find in your kitchen. My family hard boils eggs, and while they cool, we fill cups up with one tablespoon vinegar and half a cup of water. You can either use food coloring or special dye tabs you can buy at the grocery store specifically for Easter. Drop the dye tabs or food coloring into a cup and wait for the tab to dissolve or stir in the dye. Be careful, because this will stain (which is kind of the whole point).
Carefully place the eggs in the cup and leave them in for as long or as short as you'd like. The longer the egg is submerged, the more vibrant the color will be. You can also get really fancy and dye half of the egg one color and the other half another. If you bought the special dye kit, it will come with fun stickers and a wax crayon and you can draw designs on it. I tried to do the Stetson 'S', but I didn't press hard enough.
Once you have your beautiful eggs, you can do whatever you want with them! Eat them as is, or make them into an egg salad. My personal favorite is deviled eggs. You could do this at any time of the year too! I have seen where after the eggs are hard boiled, you roll them in your hands and create cracks and then put the eggs in food dye and water! Don't use vinegar for this. Unless you want vinegary eggs. This produces an egg that looks like it has spiderwebs over it or a cool cracked look.