Unpacked: with Nadia Babij
One portion of the student body that has a clear vision for their future are the members of ROTC. These future service men and women balance a full college schedule on top of military training. Let's take a look into the life of Nadia Babij '22, a political science major, with minors in philosophy and english.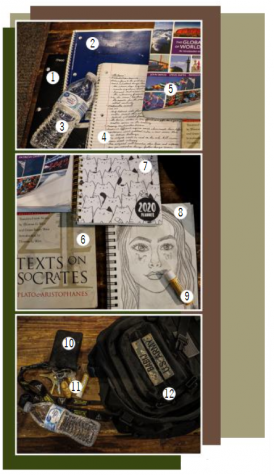 "This is my miscellaneous folder. It does have some ROTC stuff in it. These are counseling forms. So I'm a squad leader, which means that I have seven cadets under me who I'm responsible for. And this is a paper they filled out for me at the beginning of the semester pretty much telling me their plan on how they're going to succeed the rest of the semester. And then the rest of this folder is just filled with random essays that were graded and handed back to me."

"This is my international relations notebook. I'm a poli-sci major and yeah, it's pretty basic, just a collection of notes in it."

"And water. I have to stay hydrated for physical training. I always have water on me too."

"And this is a miscellaneous notebook. Some of my ROTC stuff is in here, sometimes it's just random drawings. This is like, political philosophy. There is ROTC stuff in here. I know I've seen it before. This is ROTC. Ignore everything else."

"My international relations textbook."

"Four texts on Socrates for my political philosophy class. That's thrilling."

"My planner is very important to me, or else I feel like I would lose my head. I don't always keep up with it, but for the most part I do. When I start to get busy, I look to my planner."

"I have a sketchbook. I like to draw, so it's just in there."

"My chapstick. I don't go anywhere without chapstick. It's very important to me."

"These are my keys. It has my whole life in them pretty much. So my ID is in the wallet that's attached. My debit card. My Goodwill rewards card; very important."

"This clog on my keys is from my best friend; she went to the Netherlands and got it engraved with my name."

"My backpack is pretty light. I travel light."
Leave a Comment
About the Contributors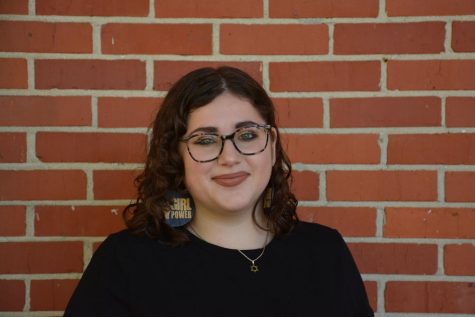 Jillian Semmel, Photo Editor - The Reporter
Jillian semmel is a sophomore and a digital arts major! Jillian's career goal is to work as a photographer for a major publication someday and travel...