MLK: Life & Legacy – The Power of Now
On Wednesday, Jan. 15 at 7 p.m. in the Stetson Room, the Office of Diversity & Inclusion (ODI) held their celebration of Martin Luther King Jr. at the event MLK: Life & Legacy – The Power of Now. In honor of King, ODI led the celebration of his life and legacy.
Bonisha Townsend-Porter, Director of Student Development and Campus Vibrancy, kicked off the event by talking about the diversity of Stetson. Ms. Townsend-Porter believes that with equity and support, dreams will happen. In the words of Ms. Townsend-Porter," blackness is beautiful. I am strong, confident… proud. "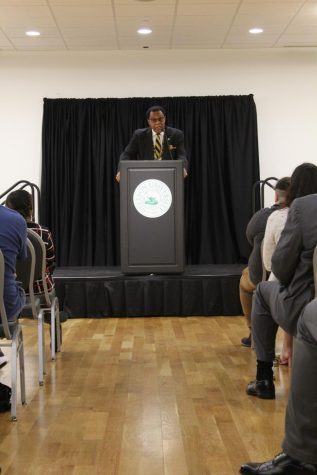 Next to speak was Patrick Coggins, Ph.D., who is Stetson's first instructor from the Carribean. Coggins contributed to Stetson's path of cultural diversity, cultural confidence, and cultural competence, between students and faculty by implementing changes. To be successful as a university and have everyone treated equally and the Stetson community to flourish, extensive work needs to be put in. For example, there was a point when Stetson did not include the LGBTQ community, and with President Wendy Libby, Ph.D., there was diversity planning that amended that change. Coggins pointed out that as Stetson students, there are two things we must do, graduate and face the struggles and challenges that come along with being a college student. These struggles and challenges include facing obstacles and being uncomfortable with issues of inequality in social institutions. 
Libby has expanded Stetson multiculturally. Libby has funded for multicultural events and strongly supported and attended a lot of multicultural events. "If you feed them, they will come. Food is important for success and continuation."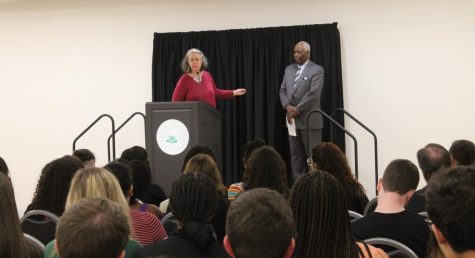 Inspired by King, Dr. Libby suggested that hope leads to justice. Libby mentioned that "everyone at this university feels the need to look better and stand out." Progression occurs over time. A student is at Stetson for approximately four years, however, students do not know the outcome they have made on a daily basis. There will be something to remember when students come back if a positive change occurs and Stetson is viewed as a better environment for homecoming and other events. 
One of the guest speakers, Jim Johnson, spoke about King and his legacy. Since 1983, King is the only African descendant in the United States to have a holiday in his honor. Johnson brought up that one thing to take away from King's legacy is to recognize that the U.S is home to African Americans and focuses more on diversity and recognition from the perspective of minorities. 340 years later, we as a nation, are still fighting for human rights and equality. The most important thing we can do is vote. Part of forming a beloved community for Stetson is understanding the legacy that King left for humanity. We are moving at jet-like speed, tackling challenges. King challenges everyone to be the best you can be and believes in the gift of diversity and gift. Johnson brought up the point that the word wait has the potential to turn into never. Social change should no longer be waited for. Cultural appreciation is extremely important. 
Johnson believes that "if you see something, say something" because more voices should be represented. King's legacy is often described along with his determination. The two most important things to King are freedom of speech and freedom of fear. 
Makeba Dorival ('20) is the President of Psi Chi, involved with WISE, an intern for Residential Living & Learning, and is the Student Assistant for ODI. Dorival has committed a lot of her time to diversity and inclusion and making a presence through being actively involved throughout her Stetson experience and involvement. However, she realized that all the positions she was not recognized as holding those positions because of her skin color. There were still times where Makeba felt invisible. Advocacy and change are important for diversity and inclusion and are needed to contribute to diversity and inclusion. Some professors, like Coggins, made that happen and changed her four years at Stetson tremendously. 
The Keynote Speaker for tonight, Jonathan Harris, was introduced by his sister, Joanne Harris. Joanne Harris described Jonathan Harris as the only person that is 100 percent comfortable 100 percent of the time. Jonathan Harris talked about activism and how King taught us that that we can accomplish anything we set our minds to. To put everything in perspective, Jonathan Harris brought up a timeline of integration. If King was still alive today, he would be 91 years old next Monday, Jan. 20. He fought for civil rights and protested against segregation 50 years ago. Leaders of this time all promoted and activated for violence and peace. If we think about the last two to three years, we are still following the same ideology from the Civil Rights movement. The 14th amendment of the Constitution gives everyone the right to equality and grants everyone the right to life, liberty, and the pursuit of happiness, but still today the United States is not truly equal. The greatest liability here is what not enough attention is being drawn to changing issues inequality. 
During this celebration, King was honored and recognized for the legacy and imprint he left on human rights. During the time of King, and still today, a lot of dedication has been put towards activism and promoting social change and racial equality. Advocating for diversity and inclusion and providing equal access, representation, and opportunity for the Stetson community is important for our success and progression. 
Resolutions
The following chairs of organizations and representatives of campus life presented resolutions in dedication and in recognition of King:
Stephanie D'Addio ('22): SGA Chair for the Committee on Diversity & Inclusion
Tahira Perry ('21): Chair of Multicultural Student Council (MSC) 
Irene Laws ('21): President of Black Student Association (BSA) 
Aliya Cruise ('21): CSA-Public Relations Chair
Amanda Castori: ODI 
Savannah J. Griffin: Executive Director of Community Engagement and Inclusive Excellence
Lua Hancock: VP of Campus Life and VP of Student Success
These organizations and representatives mentioned the significant imprint that King has left and how he should be remembered, and how our campus should resolve and follow his values to enact change. Many representatives resolved a vision of a beloved community and life and touched on "life, liberty, and the pursuit of happiness" and that everyone should be representative and have a voice on this campus and included. 
Leave a Comment