Percussion Ensemble
         Marimbas, xylophones, bongos, snare drums, bongos, and more filled Lee Chapel stage on the night of Oct. 22. Mallets of different sizes and colors rested on stands next to their respective instrument, at the ready for the percussionists. In fact, the organ bench was transformed just for the night to hold mallets and cymbals. 
         "I was really excited to come because I've never seen a percussion ensemble before. I didn't really know what to expect, but I was blown away," said a DeLand resident who came to the performance, and preferred to stay anonymous.
         Director Dan Johnson led a group of 13 students who make up Stetson Univeristy's Percussion Ensemble. The group consisted of students from freshman to seniors with percussion being their primary instruments. The four pieces before intermission were complex, and although they involved moving melodies and rhythms, they did not involve the whole ensemble. Ranging from a two person piece to a six person piece, many varieties of percussive instruments were involved. The improvisational piece consisted of only three people, but between them they managed to use six percussion instruments. In the first piece, five people played one marimba, which equaled 14 mallets. With so many students performing, Kimi Blair ('22) said, "It's exciting watching my friends perform."
         The intermission allowed for a stage reset, which set the stage for the last two pieces. These included more members of the ensemble and focused heavily on marimbas. At times they played the same melodies, but mostly the parts intertwined to create impressive rhythms full of moving notes. The last piece, "Whirlwind," was conducted by Maria Toledo ('20). She asked to conduct in preparation for her internship that will occupy her last semester.
         The last two pieces served as the climax of the performance. Freddie Powell ('20) captured the talent of the performance, "I loved the unity between all the performers, because you have to be in absolute sync to play those pieces. I also loved the visual aspect of seeing the performers become one with the rhythms and seeing the melody move around." It is impressive to remember that these are students performing these complex pieces. More than that, they performed without the guidance of a conductor or director, besides the last one led by Toledo. They gestured to each other to keep time and mark significant movements in the pieces, and lead themselves in performing.
About the Contributors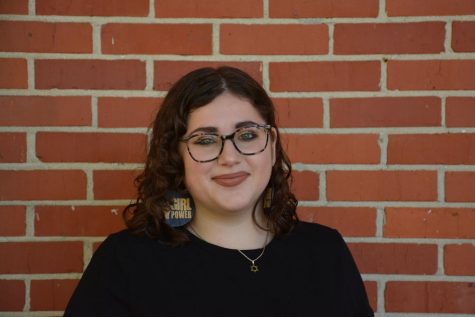 Jillian Semmel, Photo Editor - The Reporter
Jillian semmel is a sophomore and a digital arts major! Jillian's career goal is to work as a photographer for a major publication someday and travel...