Overcrowding: An Investigation on How Stetson Finds Spare Beds
Are there students living in hotels? Students living in greek houses without being affiliated? A sitdown with VP of Housing, Residential Life and Learning has revealed answers to several common questions regarding the housing process at Stetson.
Students can typically anticipate their bed for a quick nap before hitting the books for their homework due the next day. What if that bed was in a hotel? Or in a Greek affiliated house? There are three things that all universities strive to provide: adequate education, food, and housing. In the case of overcrowding, how does a university handle one of these three necessities? Some students have ideas, yet it appears that no one has a clear consensus, so an inquiry was made into the housing process, more specifically, how Stetson deals with overcrowding and a "Stetson housing issue" exists.
Fortunately, The Reporter was able to reach out and hold a conversation with Larry Corell-Hughes, Ph.D., Vice President of Housing and Residential Living and Learning. The housing process seems straightforward: Housing gets a target number of students from Enrollment management and is given from January to August to prepare.
These predictions are based on "historic and retention data," Dr. Correll-Hughes said, "Sometimes a few small changes [in the projection] can result in larger impacts on housing targets."
If 31 students were projected to study abroad, but only 21 did, that's 10 beds they weren't anticipating to fill. This is where the hotels and the fraternity/sorority houses come into play. As Dr. Correll-Hughes puts it, "We don't want vacant beds that can't be used, the reality is that people need a place to live, and these are places for them.''
In 2015, Stetson's housing department confirmed that 48 freshman men lived in a Hampton Inn, and out of those 48 men, only 10 were moved on campus by the end of the semester. Since 2015, housing has used the hotel plan as a last resort, and typically reserves it only has a temporary solution for students who refuse their off-campus residency exemptions. Individuals will only be placed into Greek life houses if these houses cannot be filled to capacity with their own members. Dr. Correll-Hughes stated that they work from August to January with affiliated houses to fill the rooms with members and friends of the organization, but many organizations do not force their members to live in the house. Regardless of where the bed is, if it's owned by Stetson and if a student needs it, they'll be given that bed. It's all fairly straightforward, more often than not, the only people put into affiliated houses are second-year students and above who have turned in their housing request later than others, as housing is by a first come, first serve basis.
Stories such as a member of the class of 2021* who resided in a fraternity house before he was affiliated with a greek organization are noteworthy regarding their uncommon nature.
He recalled, "I filled out the housing request fairly late, but it was like phase II, I didn't think I would be thrown into a frat house."
What makes this student's story unique is that as he went through formal fraternity recruitment and pledged to a fraternity that wasn't the one that he was living in.
"Living in the house jades you," he said, "You see some more of the day-to-day operations that are more telling than what they attempt to sell during rush."
It appears quite daunting when imagining living in a house that is not your own organization's, the student reflected this sentiment quite bluntly: "Wearing my letters in the house made me slightly uncomfortable, I would catch looks just walking down the hall trying to use the bathroom.'' At the start of the second semester, the individual moved into their respective fraternity house.
The effects of non-affiliated members living in these Greek houses before rush week and if it impacts their decisions during rush can be problematic. There are no glaring problems in the housing process through conversations with individuals and in our interview with Dr. Correll-Hughes. It appears that most issues are created through a lack of agency on the student's part in filling out housing requests. Specifically, in a conversation with housing, a recurring theme of students who weren't happy with their housing situation typically reported a housing request in the later phases. To return to Dr. Correll-Hughes, "There are enrollment and admissions targets that are set, there are different entities, housing and Residential Living and Learning works with occupancy projections". Enrollment hands a number of projected students that need a place to live for the semester, and the department of Housing and Residential Life and Living attempts to give those students any spare beds they can find.
*- this individual preferred to stay anonymous
Leave a Comment
About the Contributors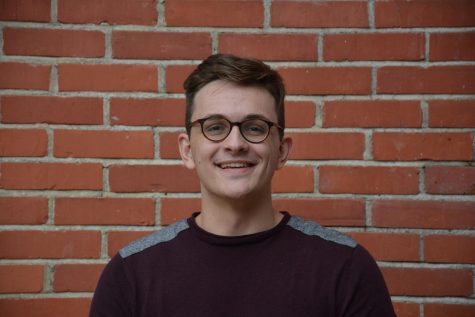 Maxx Smith, News Staff - The Reporter; Show Host - WHAT Radio
Maxwell Smith is an opinion writer for the Reporter as well as the host of Maxxpolicy on WHAT Radio. He enjoys politics, coffee, the city of Chicago, and...