Stetson PACT Works to Create a Culture of Consent on and off Campus
      If you've ever watched "Friends", you might agree that some of Ross Geller's main character traits include being annoying, controlling, and quite insecure. Whether you believe he deserves Rachel Green and all of her beauty, wit, and charisma is another question, but at least in my opinion, it can be decided that Ross Geller can sometimes kind of suck.
      That's why when I walked into the Men in Media event sponsored by PACT, Stetson's Title IX association, to see "The One With All The Jealousy," one of Ross's most annoying episodes, queued up on the television, my interest was immediately piqued.
      PACT, or Peer Advisor Counsel for Title IX, is Stetson's organization devoted to addressing sexual harassment, assault, dating violence, stalking, and other forms of abuse, as reported on campus or effecting campus community. Run by students as well as official representatives and other umbrella organizations, PACT's ultimate goal is to end sexual and domestic violence on campus. Their motto is "PACT: creating a culture of consent."
      The PACT section of the Wellness and Recreation page of Stetson's website states that the club's mission is "[…]To foster dialogue around Title IX issues, educate our community, support survivors, utilize Title IX resources and make sure our peers can too, and build awareness around the facts of sexual and domestic violence."
      The Men in Media event, which included pizza and a cultural credit, showed videos and clips of popular shows and movies. These contained examples of both positive and negative representations of masculinity and the way it is portrayed on the screen. After each segment, the students and advisers conducted meaningful discussions on the dynamics of masculinity and the nuances in each scene. Some students shared personal experiences of the way masculinity affected their lives, such as some female students' relationships to certain men. Even one student in training to be a fireman explained the aspects of women in his trainee group and how they are viewed inside and outside of the station.
      The first scene displayed was from the Netflix series "You," which stars Penn Badgley as a bookstore manager-turned stalker of a woman. We watched as Badgley's character Joe meets Candace (played by Ambyr Childers) in the first episode while his inner thoughts are spoken to the viewer. He is immediately obsessed and egotistically analyzes her behaviors to be revolving around him. Our conversation revolved around his thoughts and their interaction: Would we think nothing of this scene had we not heard what he was thinking? Is his somewhat creepy behavior excusable because he is attractive? What do men versus women think the first time they meet somebody they would like to flirt with?
      The next scene was from the movie "Coco," about a boy named Miguel who is forbidden from playing music by his family because of his estranged great-great-grandfather, a famous musician named Ernesto de la Cruz. We analyzed de la Cruz's behavior in comparison to Hector, another male figure in Miguel's life. We talked about the way that de la Cruz speaks and how machismo and the concept of being 'suave' in male masculinity are often detrimental to societal attitudes towards women.
      As we continued, watching the scene from "Friends" and then a scene from "Stranger Things," the conversation evolved more deeply. We questioned the way men trust or don't trust in relationships and the dynamic of friend groups when it comes to repressing sensitivity or affectionate behaviors. The representatives of PACT monitoring this event seamlessly recapped statements as well as redirected questions and lead the group to new thought processes.
      One student representative, Sara Smith, is a leader for PACT and was able to provide some insight on PACT, its mission, and her views on how masculinity is progressing in the age of social media and increasingly divided politics.
      When Smith took a self-defense course earlier on in her life, she felt powerful. She became involved in it and became a certified instructor, realizing how leading and empowering other women helped her look at gender dynamics and Title IX issues. At Stetson, she received an opportunity to be involved with Title IX and peer education and knew she wanted to make this same difference on campus. Following PACT's mission, Smith spreads knowledge and awareness about safe relationships between two consenting people.
      "Our slogan is 'creating a culture of consent on campus' and that's very loaded, but what that really means is embodying the values of gender equity, safety, openness and compassion," Smith said. "There's a culture shift component to that there's a bystander intervention component to that, there's a deeper comprehension of consent component there and I think all of that can create the culture change that we need to end sexual violence." 
      Smith has noticed a few changes when it comes to masculinity in the technological age. Mainly, rules have moved both formally and informally in society. It seems that masculinity is becoming more toxic because of a lack of open communication and a trend of using power to solve problems. On the other hand, there is more and more media each day that illuminates lots of issues, so spreading the word about gender relations can be expedited like never before. 
      "I think that things will get better. I think sometimes things have to get worse before they get better and that might be where they are now," Smith said. "I think men and women, but more so men, are becoming aware of the way they were taught to be, the way they were socialized. And we don't have to adhere to the way we were socialized, we can change, and we can make the culture the way that we want it to be."
      Oftentimes, people are raised societally by the norms of their gender. These norms can enforce harmful tropes about the way men and women "should" act or are "allowed" to act, indirectly causing a deficit in the communication and consent between men and women. 
      If Smith could pass on some advice, she would say this: "See people as entire human beings. I think that would solve 98 percent of these problems is if we saw people as people first rather than what we want them to be. And the second one is listen. Value what other people say, value survivor stories, value personal narrative, value facts. Listen and keep an open mind."
You can email Stetson PACT to schedule a meeting or get more information at [email protected] .
Leave a Comment
About the Writer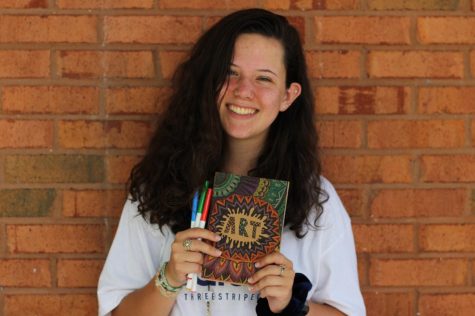 Julia Gray, Social Media Director
Julia Gray is the social media director for all of Hatter Network (follow on Instagram, Twitter, and Facebook @hatternetwork!!) as well as a writer, designer,...