Melania Trump: The Silenced #PowerOfTheFirstLady
Quiet. Private. Enigmatic. Ever since Donald Trump first announced his race to the White House, Melania Trump has gracefully dodged the spotlight. She flitted into various galas and quietly held onto her husband's arm at the occasional dinner fundraisers, but ultimately Melania—unlike other campaigners' spouses in recent years—remained noticeably absent from her husband's crowd-gathering events. While Donald Trump stirred up aggressive followers and used his staccato sentences to drive home fears of immigrants, Mexicans, Muslims, and "others," his wife—an "other" herself who immigrated from Slovenia to the United States on a visa in 1996—reservedly remained in the couple's extravagant Manhattan penthouse.
Melania has recently been celebrating her position as First Lady by using the hashtag #PowerOfTheFirstLady on Twitter, though this power ironically never manifests itself without the filter of either Donald or his administration. Perhaps Melania isn't as private as one thinks, but is instead the first immigrant voice that Donald Trump successfully silenced, to the point where Melania herself is complicit in her own silencing.
After all, Melania's life, in many ways, mirrors the ones that Donald Trump touts his hatred towards: ones of undocumented immigrants who slipped through America's tightly-wound immigration system. In November 2016, the Associated Press reported that Melania modeled and earned over $20,000 in the seven weeks before she legally had permission to work in America. The irony hit home as Americans watched Donald Trump rave about his proposed border wall on the campaign trail, while Melania Trump sits at home, successfully having breached the United States' border herself and secured a wealthy husband as a benefactor.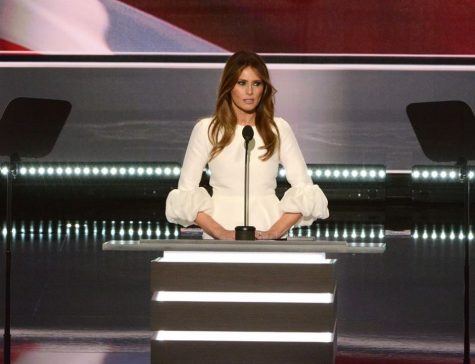 As if accepting her role as a silenced immigrant, Melania rarely speaks her own mind. Perhaps because when she does speak, her mind is not trusted by the Trump Administration to correctly echo Trump's various agendas. The 2016 Republican National Convention—the first major campaign appearance of Mrs. Trump—serves as proof of this mistrust: Melania originally told the press how she "wrote it [her speech] with as little help as possible," leading many to believe that America would finally hear Melania's unfiltered voice. However, parts of Melania's speech plagiarized Michelle Obama's 2008 Democratic National Convention speech. The Trump campaign's statement following this embarrassment even hints at Melania's minimal voice: "In writing her beautiful speech, Melania's team of writers took notes…and in some instances included fragments that reflected her own thinking" [emphasis added]. From the get-go, Melania Trump's voice was fragmented, rarely showing her own thoughts, and ultimately not under her own creative control.
While Melania reportedly can speak six languages fluently, is only the second First Lady to be born outside the United States, and has a powerful immigrant success story in her own right, her biography is absorbed by the Trump administration. Melania's personal website was redirected to Donald Trump's in July 2016, effectively erasing her individual online presence once it was discovered her website incorrectly stated she received an architectural degree from the University of Ljubljana. Her biography remained pliable as the Republican National Convention's 2016 program wrongly listed that Melania was college-educated, when in reality she dropped out of college after her first year. It appears that Melania's past is not her own, but is merely a means-to-an-end that serves Donald Trump best; if his wife appeared as educated as previous First Ladies, Donald would appear more presidential. The infamous Trump alternative truths appeared much earlier than many thought: at the beginning of the Trump campaign when he effectively erased the true life of the one person closest to him, Melania.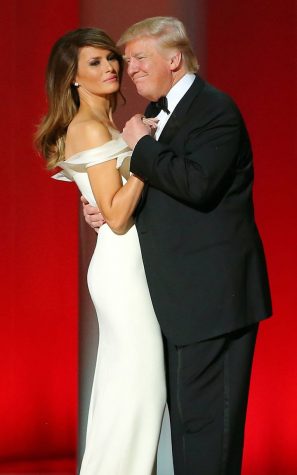 The only aspect of the First Lady's work that initially appeared to be her own is Melania's campaign against social media bullying—an ironic one, considering President Trump's notorious Twitter usage that mocks news networks, actors, politicians, and immigrants, to name a few. But even in her own campaign, Melania is not trusted to act alone. Donald Trump, in his most recent White House press conference said that, "helping her [Melania] and working with her will be Ivanka, who is a fabulous person…" Again, Melania's introverted personality plays the sidekick to the more powerful Ivanka, her stepdaughter.
One of the First Lady's few unscripted moments—so far as one can tell—involved Melania reporting to CBS's Lesley Stahl that she has rebuked her husband for his volatile tweets, stating, "you know, of course, I did many times from the beginning of the campaign. Sometimes he listens, sometimes he doesn't…I think he—he hears me. But he will do what he wants to do in the end…I give him my opinion. And he could do whatever he likes with it." However, in these words, Melania seems to painfully realize that her thoughts are not heard by her husband, and he does "whatever he likes" with her words.
The First Lady ultimately bows to both her husband and to her stepdaughter, despite her adamant protests to the contrary. Her words, in the end, do not have the alleged #PowerOfTheFirstLady behind them.