Ella & Louis: Jazz So Good Even Jim Crow is Tapping His Feet
It's 1956 and our favorite black musicians still had to sit in the back of their own tour bus. Drink your milkshake and put your records on, but don't forget about Jim Crow.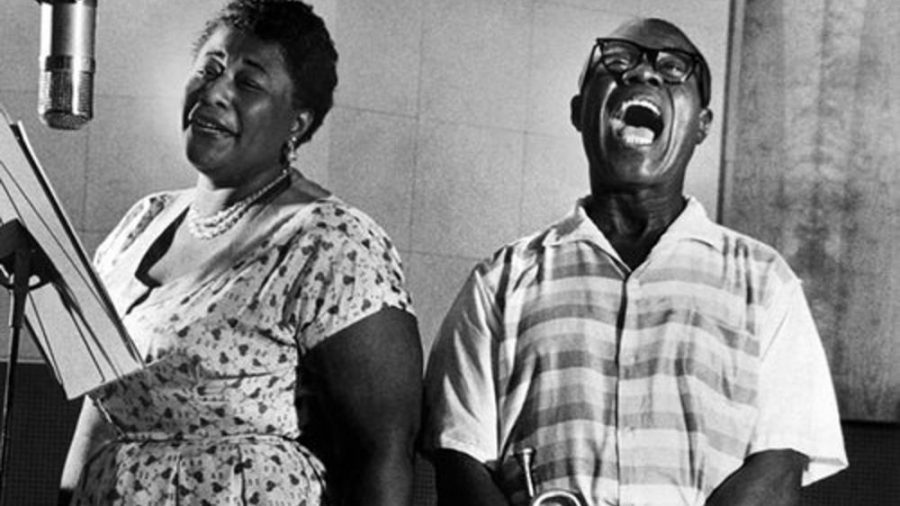 Bringing new life into the jazz standards we already know and love, Ella and Louis accomplished what Elvis' "Love Me Tender" could not: authenticity. To be able to discuss the magnitude of the collaborative album, we first have to discuss the individual musicality of Ella Fitzgerald and Louis Armstrong.
Ella, our First Lady of Song and scatting queen, once more reclaimed her place on the throne as the most vocally conscious Woman of Jazz, in a way that icons Billie Holiday and Sarah Vaughan–tending to under-sing and over-sing, respectively–could not.  Fitzgerald's tone, uniquely and notably pure, is matched only with Armstrong's ability to capture New Orleans within a single blue note of his horn.
Armstrong, also known as "Satchmo," has been the literal "trumpeter" for jazz transitioning from big band production to featuring soloist individuality. His stage presence and the unique gravel-like quality of his voice made the production of Ella and Louis balanced yet exciting. It also greatly appealed the white audiences, who consumed music sung and produced by black artists and written by Jewish playwrights. A wonder.
The strongest elements of the album were captured in their version of the jazz standard, "Tenderly," where Armstrong's horn trilled both merrily and sorrowfully, aware of the pain but able to keep find light. That light led into Ella's sweet vocals uplifting what is traditionally and melancholy piece—even featuring Ella imitating Louis' voice in her final scatting-phrase. "Stars Fell on Alabama" managed to pull at our hearts to strongly that it didn't seem to matter than we indoor in Florida. Much like Edith Piaf sang in "La Vie en Rose"—the world was pink and in love because the album afforded its listeners with rose-colored glasses. That way you couldn't see when streets are full of blood.
Ella and Louis, much to the critique of civil rights leaders, didn't use their musical platform to advocate, despite literally being a black voice in white spaces. Though their interests fought for equal opportunity through the stage of their music, but their advocacy was behind closed doors. However, as echoed in the fourth song in the album "They Can't Take That Away From Me," their social critics cannot take away the momentum for progress that their achievements contributed to.  Less than a year after this album's production, Fitzgerald became the first African American to perform at Mocambo, a famous nightclub in West Hollywood, California. Armstrong, while his acceptance of tokenization led to other black figures noting him an "Uncle Tom," meaning that he kowtows to white society at the expense of black people as a whole, he gained access to spaces and privileges that even other famous black artists could not, breaking old and making new precedence.
They kept silent about the pain in their realities, a silence magnified in the joyful music they made together, however this decision, arguably made performances like Billie Holiday's "Strange Fruit," a song explicitly about the lynching of black people in the south, so much more jarring and impactful. Ella and Louis, just like the album after their namesake, offered jazz so good Jim Crow himself found himself humming along to the refrain of two black artists singing, "isn't It a Lovely Day."