SGA Highlights – 9/26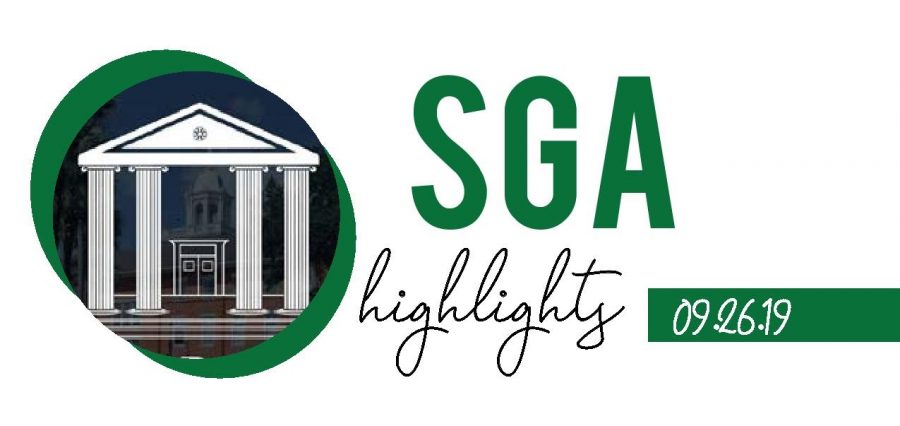 2019 SGA Fall Elections 
For this SGA election, there were a total of 25 candidates and a total of 345 votes, which breaks the record from last year. For comparison, last year there were 18 candidates and 278 voters. 
At 7:32 p.m., new senators were being sworn in.
The full roster of SGA Senators now includes: 
Class of 2023 
Daniel Handrick*

,

Camila Lilleslatten*, Julia Moore*, Paola Teodoerscu*
Class of 2022
Tristen Montalvo *, Raul Rosales*, Liam Wolfe*
Class of 2021
Kathryn Moran, Kennedy Ryder, Clyde Tucker 
Class of 2020 
John Banks, Kala Diltz, Nicholas Murphy*
School of Arts & Sciences
 Aliya Cruise*, Grace Highsmith, Rachel Harrison, Jessica Matliski
School of Music 
School of Business 
Jeremiah Maldonado Cruz*, Issac Rappaport*
Commuter 
At-large 
Juan Calderon

,

Gabriel Colon*

,

Irene Laws*

,

Christopher Walker*,

 Johnisha Wright, Piper Wright
*: new senators 
At 7:36 p.m, SGA President George Alderman gave a welcome speech to the new senators, mentioning how each new senate was chosen for a multitude of reasons to be the best representative of the Stetson community and how there are many first-years. The diversity seen throughout the voice of  Stetson's student body, SGA, represents and reflects the student body of Stetson as a whole. 
To fill in positions for SGA, for the next one to weeks, seats will be appointed through interviews by the SGA President and Vice President. 
Diversity & Inclusion 
Bahama Drive 
Due to Hurricane Dorian, a donation drive is happening for health and relief for the Bahamas. For this donation drive, acceptable items are gently used clothing, soap, shampoo, toothbrushes, sanitary napkins, and deodorant. 
In relevance to the Bahama Drive, on Friday, Oct. 4 at the Rinker Fieldhouse from 6 p.m. to 8 p.m., Stetson CSA, in partnership with Orlando Health, is hosting a Bahamas Night, a celebration of and benefit night for the islands of the Bahamas. At this event, there will be live entertainment, donation drives, food, and cultural credit will be offered. SGA plans on financially supporting the fundraising drive at the Bahamas Night by contributing $800 because they want to make a donation for the cause. 
Taste of the World 
MSC is hosting its annual multicultural food festival, Taste of the World on Tuesday, Oct. 8 from 5 p.m. to 8:30 p.m. in Lee's Garage. There will be food from around the world and you can learn about the cultures they come from. There will be free merchandise. 
Campus Life 
From the Chair of Campus Life, there will be a survey for the installation of more bike racks.