SGA Highlights – 11/20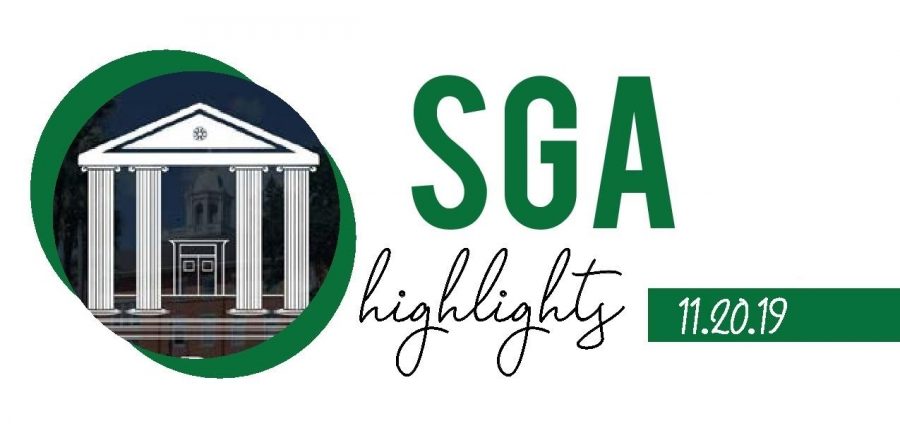 Commencement 
The Commencement Committee is looking through survey responses for ticketing distribution. There will be a solution for ticket distribution within the next month. 
Traffic Court 
SGA holds Traffic Court so that students may appeal their tickets. The second Traffic Court of the semester is scheduled to be held from 10 a.m. to 1 p.m. on Saturday, Dec. 7. To appeal your ticket, attend traffic court. It will be held on a Saturday morning because that is a time that many students are free to come to dispute their tickets. 
Ticket Forgiveness Day 
SGA has scheduled a Ticket Forgiveness Day as a way to appeal your ticket if it either does not get appealed or you cannot attend the traffic court. As an alternative to paying for your ticket, you may donate $10 to $15 worth of goods be to Hatter Pantry instead of paying for your ticket. A ticket will be appealed due to your generous donations and for helping those in need. There will be more information need information to come. 
Campus Life 
Bike racks –

SGA is working on installing more bike racks. 
Bill with allergies –

For allergy concerns and students with allergies

,

SGA is planning on working on a bill with Stetson Dining for the Commons, and other dining places on campus. 
Noise Complaint from Conrad Hall
Residents from Conrad Hall are complaining about noise from events that are held at the Templeton Fountain. Previously, events have been disturbing residents from sleeping and studying. Courtesy hours should be respected; there should not be any events near dorms, especially during the middle of the night. Events occurring at the Templeton Fountain should be more accommodating for students. The Chair of Campus Life, Robby Mahalo ('21), will be working on resolving this issue. 
Bundt Cakes- Hatterthon 
Until Monday, Nov. 25, Hatterthon will be selling Bundt Cakes from Nothing Bundt Cakes for $5 each. To place an order, find anyone on Hatterthon. Cash and Venmo will be accepted. $2 from each bundt cake will be donated to Orlando Health- Arnold Palmer Hospital For the Children.  The five flavors of Bundt Cakes that are available are chocolate with chocolate chip, lemon, red velvet, white-chocolate raspberry, and snickerdoodle. 
Events 
Laramie Project (Theatre Arts)

Times: 

Friday, Nov. 22, at 8 p.m.

Saturday, Nov. 23, at 8 p.m.

Sunday, Nov. 24, at 3 p.m.

Cultural credit will be provided 
Follow SGA for more updates.