SGA Highlights – 10/16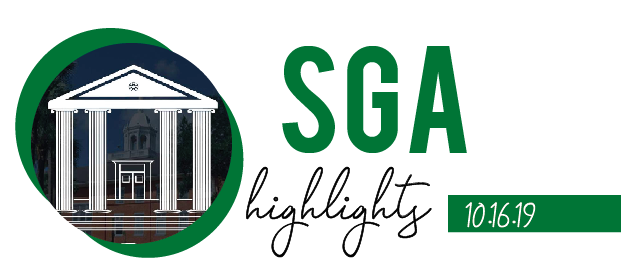 Bills S.1 and S.2 have now officially been signed 
S1: Taste of the World Bill 
As part of SGA's partnership and sponsoring Taste of the World with Multicultural Student Council (MSC), this bill states that SGA contributes:  
A total of $4,620

$2400 for tables 

$2620 for merchandise: shirts, cups, bags, and buttons 
S.2. Student-Athlete Seats 
Bill S.2 is an amendment to the SGA Bylaws that proposes two seats in the senate be reserved for varsity student-athletes. This bill is in place so that student-athletes may be accurately recognized so that there is an accurate representation of the Stetson athletic department (SAAC).
New Senator Appointment
Veronica Bautista has been appointed for senator at large  
23 voted "yes," one abstained from voting  
Connor Haugen has been appointed for Class of 2021 senator
Both of these senators have been sworn into their respective positions.
Open Seats
The process of filling in an available senator position requires a submission through an HatterSync and an interview process by the SGA President and Vice President. 
Campus Life 
There will be a Beer & Yoga event right after homecoming. The date and time will be announced later.  

There will be a bill coming out soon for banning single-use plastic on campus. 
Fall Internship Career Expo 
The Fall Internship Career Expo will take place this Friday, Oct. 25 from 12 p.m. to 3 p.m. at the Hollis Center Rinker Fieldhouse. The Career Expo is a way to connect with organizations and employers from a wide variety of internship sites and job opportunities. A comprehensive list of organizations and employers that will be present can be found on HatterJobs under "My Events." Please make sure to bring an updated copy of your resume.