Kristian Haggerty From Bachelor in Paradise Visits Stetson University by Surprise
         "The Bachelor in Paradise"'s most recent season made pop-culture news by introducing the Bachelor nation's first same-sex couple. Demi Burnett from Colton Underwood's season 23 of "The Bachelor," appeared on "Bachelor in Paradise" season six this year, and quickly struck up a relationship with Derek Peth. A little while in, Demi admitted that she could not stop thinking of a relationship she was involved in back home, and even more of a "blindside," as "Bachelor" fans might call it, was that this relationship back home was with a woman named Kristian Haggerty. Demi and Derek broke up amicably, and Kristian surprised fans by coming on the show to reunite with Demi.
         Kristian and Demi's relationship was somewhat tumultuous on the show, as Demi went through a few anxiety bouts related to coming out to the whole world as bisexual, but through it all, the couple stayed strong and ended the season with a beautiful and groundbreaking engagement.
         On Sept. 16, Samantha Flores ('22), found out that Haggerty went to Stetson University and was in the sorority Pi Beta Phi, and posted on her Instagram story: "[I]t all started when I posted a picture of her composite photo from the house on my Instagram story! She slid up on my story and I was so surprised! I really didn't think that she would see it, let alone respond! I was just trying to be funny. So she told me how she missed Stetson and loved her time here!" She asked if the "Bachelor" star and Stetson alumna ('14) would come to Alumni Weekend, and after some correspondence over Instagram, Haggerty was able to visit the week of Oct. 7.
          According to Flores, there was no official communication about the visit. "The chapter as a whole wanted her to come, but for specific details of when was a good time was me. From my knowledge, I don't know if she contacted anyone else. The process of her getting here was that she wanted to take a tour of campus and also on the tour, she wanted to stop by the house!" Flores said. "[S]he [direct messaged] me asking if there was a good time for her to stop by the house and say hi, so then around 5 p.m.she stopped by. I had texted a bunch of my sisters telling them that she would be coming,  and then there she was in the house. It was funny because she was like a Disney character because we were all lined up to take a picture."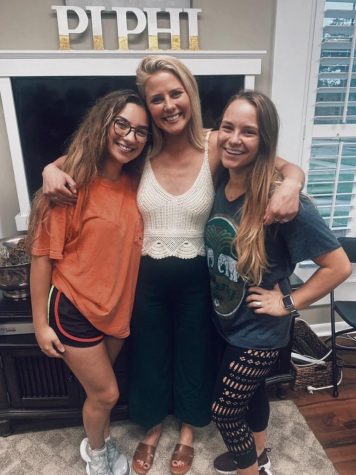 Haggerty was able to sit with the Pi Beta Phi sisters and talk to them about "her time as a student and also about her time on reality tv" and share some inspiration with them, saying that Haggerty wanted them to stay true to themselves: "She was explaining how even though she was on tv, she was still herself the whole time." On the show, Haggerty was known for being very stable and logical; drama did not phase her, and she would respond to situations in a calm and reasonable manner.
         The Pi Beta Phi members were inspired by Haggerty, and the visit was quite exciting for the sorority, even though it was very low-key. Flores summed it up by saying: "We all think she is amazing and such an inspiration, especially with what she did on the show with being the first same sex couple on Bachelor in Paradise. We are all so proud of her!"
Leave a Comment
About the Contributor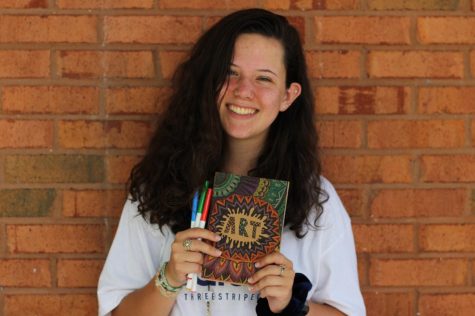 Julia Gray, Social Media Director
Julia Gray is the social media director for all of Hatter Network (follow on Instagram, Twitter, and Facebook @hatternetwork!!) as well as a writer, designer,...