The Marie Kondo Method Works Wonders on Your Room (& Your Life)
Marie Kondo's method of organization is great for increasing space and decreasing clutter in tiny dorm rooms. Unexpectedly, it's also a good way to lessen your stress and make room for the more meaningful things in life.
March 13, 2020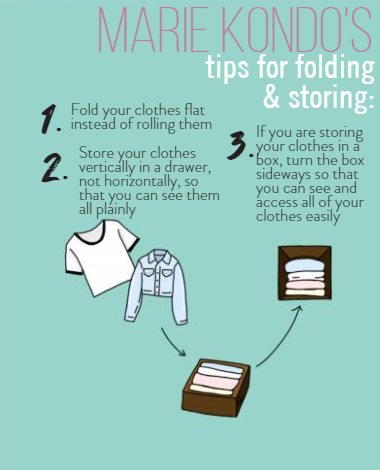 It's no secret that college dorms are tiny. Because colleges and universities have to house high volumes of students (and let's be real, Stetson is no stranger to housing dilemmas), there tends to be a real lack of storage space in dorm rooms for many students. In recent years, many methods of organization have come to light to help college students increase space and create storage in their rooms to combat this issue.
The KonMarie method, a recent example of one of these processes, was created by a Japanese woman named Marie Kondo, who is a tidying expert and has taken the internet by storm. I followed the example set in her Netflix show, "Tidying Up with Marie Kondo," to see if it would help clean my clutter and make more space for all of my belongings.
Kondo created a name for herself by sharing her secret methods of organizing her spaces. The KonMarie Method, the title being a mix of both of her first name and her last name, consists of six steps:
Commit yourself to tidying up.
Imagine your ideal lifestyle.
Finish discarding first. Before getting rid of items, sincerely thank each item for serving its purpose.
Tidy by category, not location.
Follow the right order.
Ask yourself if it sparks joy.
To follow these directions properly, you must follow the categorical order of 1) Clothes, 2) Books, 3) Papers, 4) Komono (miscellaneous items), and 5) Sentimental items.
Every single article in each category has to be removed from its place and put into one huge pile. One by one you must pick up the object, ask yourself if it sparks joy in you, and if not, thank it and then donate it or otherwise give it away.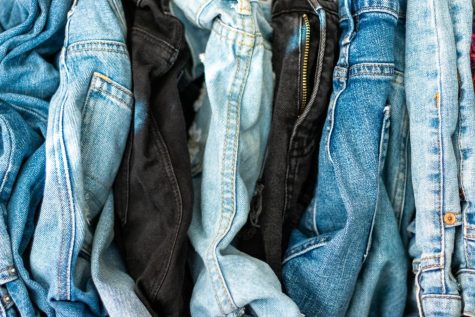 As I sat and sorted through my clothing one by one, asking myself if it brought me joy, and then thanking it for its service to me, all I could think about was walking into my JSEM and explaining to my professor that I threw Livingston's "Anatomy of the Sacred, 5th Edition" away because it wasn't bringing me joy. Unfortunately, I think there's an invisible clause that says textbooks are useful and therefore must be kept. 
As I continued, I was surprised by how many clothes I realized weren't explicitly making me happy. It felt good to let go of items I haven't been using, and there was so much more space for everything I wanted to keep.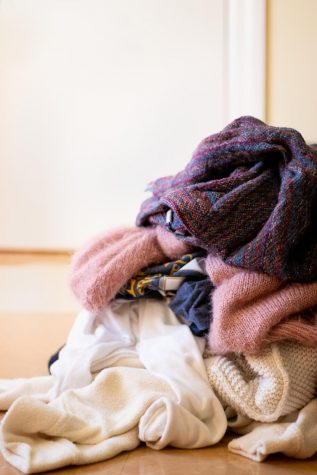 Part of the method includes folding clothes vertically in drawers to optimally see what you own and store the most content. I went from not having enough drawers to having too many. When I'd finished, my dorm looked simpler and felt more manageable. 
My roommate, Jennifer Flores '22, agreed that our room definitely looks better than before. "I noticed a difference immediately due to the lack of your old photos on the wall that would typically be there. The drawers seemed neater too. It gave the room a more open vibe," she said. "The process seems a bit much, but still worth it. I would maybe not entirely do it, but the way she folds the clothes and has the organized drawers I would potentially try."
Other students would consider using Kondo's method as well. Samantha Nivison '21 understands the organizational and personal applications. "It's a way to realize what in your life means something to you and what doesn't. I guess it could be some reflection of some real life too. Maybe you should go through things that you want to actually keep in your life, and things you don't even want to, with maybe friends or just other important things in your life," she said.
Along those lines, Taylor Wilson '21 would do this same thing: "Whether it be toxic people, a situation that you're in, an organization that you're a part of, it makes a big difference in your life to make that conscious decision of saying, 'I no longer want to be a part of this.' So I would definitely be open to it," she said. "It all just depends on the point in your life. If you feel like you're ready to let some things go or if you are ready to work on different atmospheres of your life, then it sounds great."
This way of organizing – taking inventory of all of the meaningful objects in your life and thankfully discarding the things that don't bring you joy – indeed proves beneficial in a multifaceted way. Extra space in drawers and more room for you and your roommate to spread out is truly amazing, but the aspect of cleansing yourself of objects, situations, and experiences that bring stress or negative feeling that comes with the KonMarie method proves to be an unseen answer to less stress. I still have to keep The Anatomy of the Sacred, though. Bummer.