Dining in DeLand: Farmer's Market Edition
April 26, 2019
In this special edition of Dining in DeLand, Cat and Kaitlyn explored the Artisan Alley Farmer's Market, held each Friday from 6 to 9pm, for the best late night eats. From scrumptious baked goods to food truck fantasies, the market has a ton to offer. This hand picked selection represents our picks for the must-try market munchies.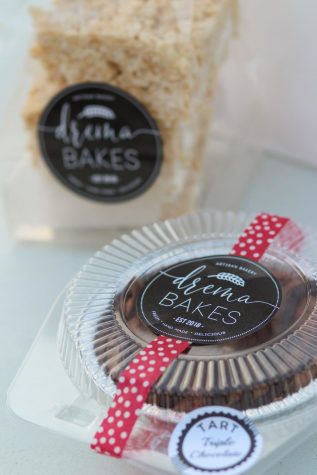 Drema Bakes
One word: heaven. The Drema Bakes tent is constantly swarming with people during the market, and for good reason. From tarts to layer cakes, simple cookies to brioche breads, Drema's has it all. The key lime pie tart, a seasonal selection for spring, is incredible in its balance of sweet, sour, and creamy. Our favorite choice by far was the raspberry crumble tart. The shortbread crust was a buttery treat filled with fresh raspberry preserves and crunchy granola. Reminiscent of Knott's Berry Farm raspberry cookies, a crowd pleaser from childhood, this tart is simple in the best way. Beyond tarts, Drema Bakes also features delectable coconut macaroons, gourmet rice krispie treats with white chocolate, and savory French breads. Gluten free options have a dedicated section as well, filled with cookies and treats galore. Prices are reasonable: $4 for tarts, $5 for layer cakes, and $2 for cookies, all sized for about two servings (or one very hungry college student). Plus, Drema is more than happy to give free samples. Like I said, this place is heaven.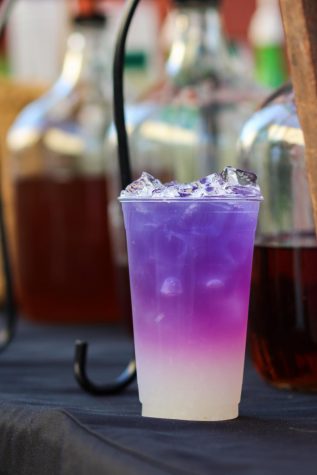 Centro Tea Co.
Directly across from Drema's, Centro Tea Co. features stunning and delicious organic teas. The disco lemonade is our top choice. Brewed from beautiful bright purple butterfly flowers, steeped for twelve hours, and mixed with limeade, this drink is Instagram worthy. Paired with their delicious Florida Orange Roll or sweet peach scone, this drink is the perfect companion for browsing the market. Don't be surprised when people stare, the disco lemonade draws quite the crowd. Can't make it to the market? Centro Tea Co. recently partnered with Trilogy Coffee Roasting Co., on Georgia Avenue so you can get your tea fix seven days a week. Do know, however, that disco lemonade is a market exclusive. For your Trilogy visit, try any of their herbal blends for an amazingly fresh and fruity sip.
Parvathy's Kitchen
Home of the Naanwich, Parvathy's food truck is a farmers market staple. The naanwich is a hearty serving of chicken tikka on buttery garlic naan bread. The perfect blend of curried spices, creamy sauces, and fresh veggies, this Indian style wrap satisfies. Some other favorites include the samosas, the tikka fries, and the rose milk tea. Each uniquely crafted with incredible flavors and simplistic ingredients, Parvathy's checks every box. Be sure to chat with Rachel as she takes your order. She is incredibly kind and her knack for remembering every customer by name is amazing.
Midnight Sun Ice Cream Sandwich Co.
Parked right next to Parvathy's, in what may be the most delicious corner of DeLand, is Midnight Sun. Home to some seriously amazing ice cream sandwiches, Midnight Sun is an upgrade from the freezer section ice cream sandwich bars of youth. Always homemade with the freshest sourced ingredients, flavors change weekly. Our favorites included the oatmeal cookies with root beer ice cream. The root beer was created and brewed by Levi Stewart, owner and flavor connoisseur, who sourced the sassafras root from Tennessee. The oatmeal cookies were scrumptious, crumbling into sweet morsels of happiness. We also loved the churro cake with vanilla bean ice cream. The churro cake was a thick slab of cinnamon sweetness. For the more adventurous eater, check out flavors like the ricotta, lavender, and candied kumquat ice cream with toasted almond shortbread or the saffron, pistachio, and rose ice cream on cardamom shortbread cookies, with saffron directly from India. Check out the full list of crazy amazing past flavors on their website: midnightsunicecream.com. Something delicious and brand new is always a week away. Just ask co-owner Jocelyn at the counter.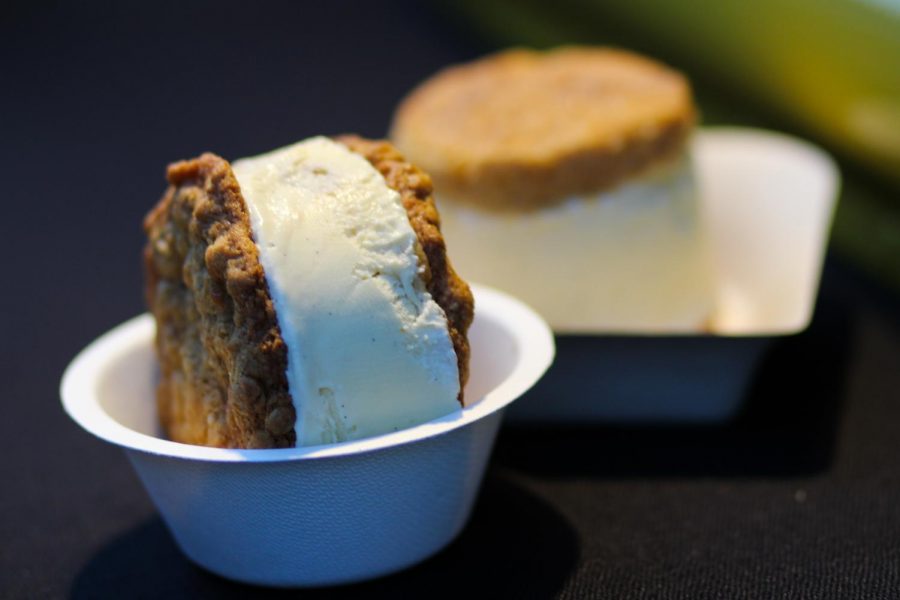 Pierogies
A one woman show, the market Pierogi stand is seriously delicious. Grilled on a flat top, each pierogi shell is crisp and peppery. Our favorite fillings were the London Broil, a tender and flavorful pulled steak that melts in your mouth, and the Potato and Cheese, a pocket of ooey gooey goodness. At $2 per pierogi, these little rockstars are an awesome snack or an easy meal. Try them topped with onions and sour cream for an authentically Polish bite.  
Some Like It Hot: Pickles and More
There is something about a pickle. Its vinegar brine with touches of spice and the audible crunch satisfy in a simple way. The spicy dill spears at this stand, right next to the Pierogies, are amazing. English and Kirby cucumbers marinate in a blend of allspice berry, dill seed, mustard seed, fresh thai basil leaf, and jerk spices. Usually, spice is not our thing. But we found ourselves chatting to fellow market foodies over a mason jar of these spicy dills. And, boy, were we surprised as the jar quickly disappeared. At $7 a jar, these pickles are worth every penny. If spice is your forte, check out the fresh from the backyard cayenne pepper for sale.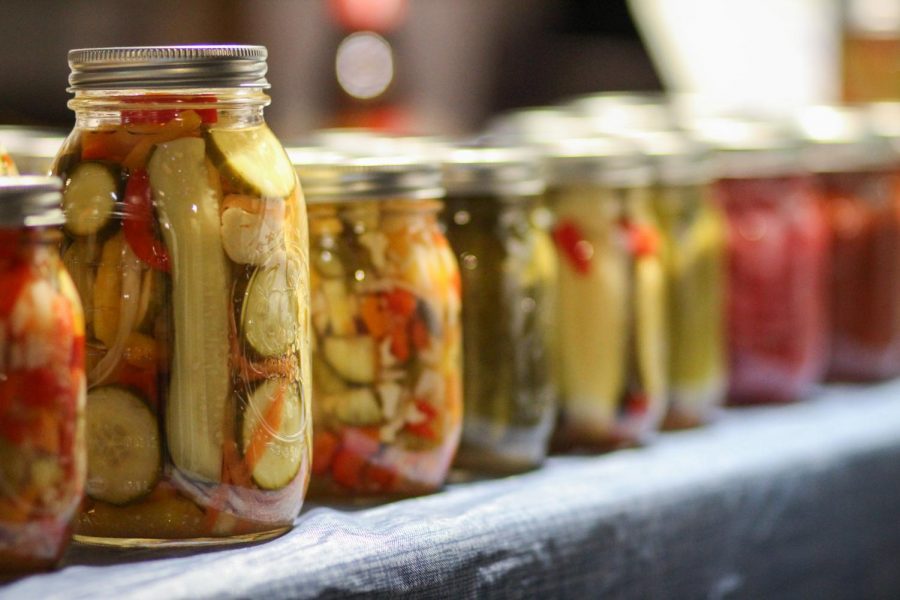 Hand Popped Kettle Corn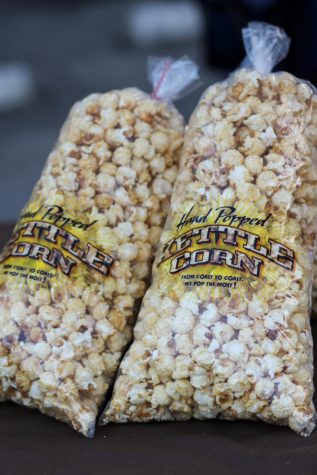 The sweet scent of caramel wafts between macrame crafts and oak birdhouses for sale on Georgia Avenue. It is the iconic smell of a craft fair, pulling you somehow into the heart of it all.
Nestled under a simple white tent in the far left corner of the food area, the kettle corn stand is easy to miss visually. But, that smell- the sweet, salty, roasted, intoxicating smell- leads the way. A minimalist selection of kettle corn and caramel corn leaves something more creative to be desired. Yet, one could cite the motto "do what you know and do it well". And, damn, they do kettle corn well. The crunch is fantastic, the balance of salt and sweet is masterful. Be warned that the stand is cash only, but free samples abound. Try both varieties. They are equally wondrous.