Ribbon-Cutting Ceremony Completes CUB Construction
January 28, 2019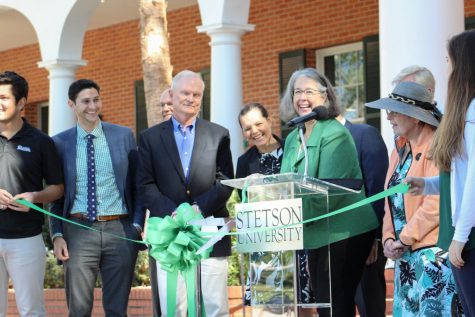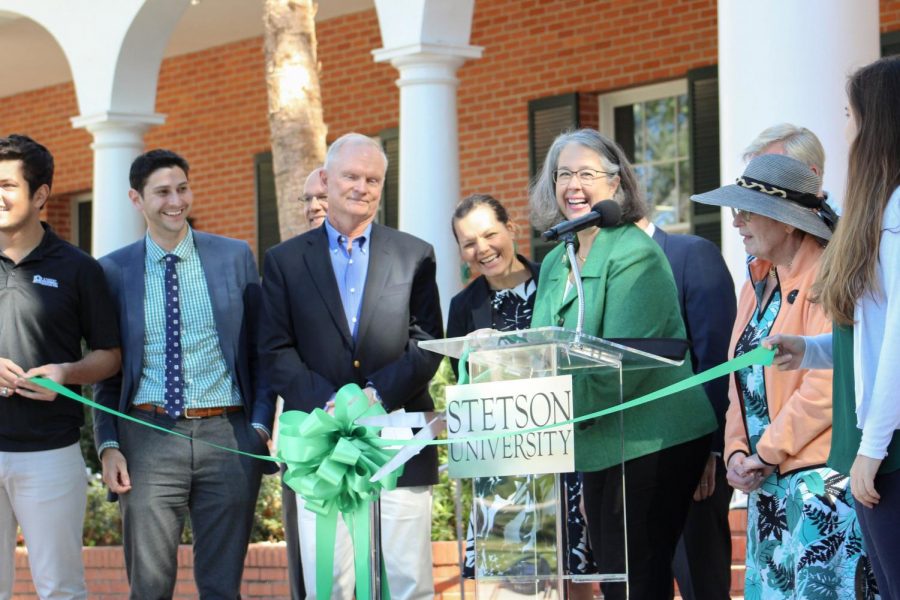 When President Libby went up to the podium outside of the newly redesigned Carlton Union Building (CUB) to give her welcome address, her eyes shone with pride; she and her husband had been waiting for this day since 2008.
Nearly 11 years later, on Friday, January 18th, faculty, students, alumni, and board members joined President Libby outside for a ceremony to honor both the building and the people who helped make the restoration happen.
The new CUB, according to alumna and former trustee member, Lee McGraw ('79), is "all about the students" and will be "fundamental to student life."
"With the new CUB, a new journey has now started," alumnus and former SGA president Andrew Glasnovich ('09) said.
Thought of as the "heart and living room of campus," the CUB, originally built in 1957 to honor alumnus and former Florida governor, Doyle Carlton, Sr. (1909), reopened at the start of the spring semester.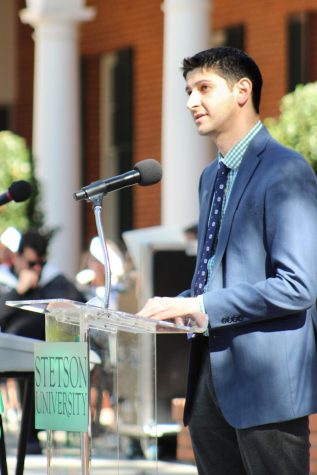 This renovation expanded the CUB by 48 percent, from 52,000 square feet to 86,584 square feet, and enhancements of the new building include more student lounges, study and meeting spaces, and offices for Student Life, an idea attributed to Vice President of Campus Life and Student Success, Lua Hancock. Thanks to her and many other contributors, and headed by Hanbury, an architecture firm, and Williams Company, a general contractor, the CUB was able to open on time.
On top of these internal improvements, the new CUB will soon feature solar panels on its roof, which will begin creating power for the building "sometime mid-February or March," according to Al Allen, Stetson's associate vice president of Facilities Management, quoted in a Stetson Today article.
Additionally, Bob Lipscomb, CEO of the Williams Company, stated that the CUB now has "new windows, [a] new electrical system, a new air-conditioning system, a new bookstore, new bathrooms, new backup generator, and, of course, a beautiful new kitchen and cafeteria."
"The new vibrant CUB makes the old CUB seem like it was just a building, which was our mission," Robert Reis, Hanbury architect said. "The best ideas [for the CUB] came from the clients."
Before President Libby took out oversized green scissors and cut the ribbon in front of the CUB, the gospel and cultural choir performed, singing "Lean on Me" by Bill Withers. It was a fitting conclusion to a day of dedication for the Carlton Union Building, one that was created with the help of so many.
"The greatest way to honor the Stetson students was renovate the CUB," SGA president Danny Mejia ('19) said. "Today is the day we officially open the doors to what we have all been waiting for."