The 2020 Election in Hindsight
Breaking down the three biggest winners and losers in the 2020 election, and how Florida can learn from them.
Correction: an earlier version of "this story stated that Mauree Turner is the country's first openly transgender state senator. Mauree Turner is the country's first openly nonbinary state lawmaker. This was a mistake made in the editing process rather than that of the original author. Hatter Network regrets this error.
---
The Winners
---
Drugs
While most of the nation's attention gravitated towards the battle of Donald Trump vs. Joe Biden at the top of the ballot, on the state level, several members of the union passed important amendments or propositions to legalize forms of drug use. Oregon decriminalized drug possession for personal use (including heroin and cocaine) and passed Measure 109 which legalized therapeutic use of psychedelic mushrooms. This move will fund rehabilitation efforts and move away from criminal punishment for drug addiction. New Jersey, South Dakota, Montana, and Arizona each legalized recreational cannabis use, while Mississippi legalized medical marijuana in a limited capacity. Arizona and New Jersey voters chose to expunge marijuana possession convictions, therefore restoring voting rights to tens of thousands of people. Additionally, South Dakota became the first state to simultaneously approve medical and recreational marijuana use. A decade ago, no states had legal access to marijuana. Now, cannabis is legal for more than a third of the U.S. population. 
Florida legalized cannabis for medicinal use in 2016, however unlike most other states where medical marijuana is legal, possession of the substance without a medical card has not been decriminalized in any way. Ballot initiatives in 2018 and 2020 to legalize the drug recreationally for adults failed to pass through the legislative process, despite polls showing that two thirds of Floridians approve of recreational use for adults over 21.
---
LGBTQ+ Community
The 2020 election broke barriers through the "rainbow ceiling" in our state and federal governments. New York sent two openly gay, black men, Ritchie Torres and Mondaire Jones respectively, to Congress from the state's 15th and 17th districts, while Delaware elected Sarah McBride to their state Senate, with her becoming the nation's highest-ranking transgender elected official. Several other members of the LGBTQ+ community were elected to smaller state and local positions, with Oklahoma's Mauree Turner standing out as the country's first openly nonbinary state lawmaker. 
In Florida, the presence of more LGBTQ+ lawmakers is a growing one. Since Joe Saunders and David Richardson became the first two openly gay members of the state legislature in 2012, Shevrin Jones—a teacher from Broward County—has served two terms in the Florida House and was elected to the state Senate in this past election, making him the first openly gay black person to serve in the Florida Legislature. Florida also has a track record of electing gay and lesbian mayors, dating back to 1983 when Richard Heyman became mayor of Key West. Since then, gay and lesbian mayors have been elected in Gainesville, Fort Lauderdale, Key West (again), and Tampa—the last three of which were elected in the past four years.
---
Stacey Abrams
Catching nearly everyone by surprise, the state of Georgia turned blue for the first time in nearly 30 years. Praise must be given to Stacey Abrams, who gained national acclaim for her narrow loss in the campaign for Georgia governor in 2018, as she mobilized thousands of disenfranchised voters ahead of the 2020 election. Her teams worked tirelessly at the grassroots level in and around Atlanta to register traditionally underrepresented people and fight back against voter suppression when the Supreme Court repealed a key measure in the famous 1965 Voting Rights Act. It is estimated that the organizations she helped create and operate have registered more than 500,000 people, rejuvenating the democratic process for women, people of color, and young adults who have been overlooked by the mainstream political machines. Abrams has tapped into the growing and increasingly progressive populations in Georgia's urban and suburban areas and has turned these forces into political action. Abrams is certainly a major reason why Georgia has flipped blue, but her work should serve as a reminder of the untapped potential of unregistered voters and the power of grassroots democratic organizations everywhere. 
The Daytona-News Journal reported that in 2020, Volusia County Republicans registered 14,437 more voters than Democrats did. In a county with more than a quarter of active voters not affiliated with any party, we should not underestimate the power of smaller numbers of highly motivated people, as they can have serious impacts on our government's representation. Overlooked voters are the fuel for causing upsets in the political sphere, as the work of Stacey Abrams and Georgia's cool-colored designation on the electoral map shows.
---
The Losers
---
Donald Trump
Despite claiming victory during a press conference and on Twitter during election week, former President Donald Trump lost the popular vote by more than 7 million votes. He and his team repeatedly challenged the legitimacy of the election, however, recounts provided no fuel for their cause and judicial complaints were dismissed by the dozens. There simply was no evidence of foul play or widespread voter fraud, yet Trump still refused to concede the election until he was essentially forced to after his supporters successfully stormed the Capitol Building just as the election results were being certified by Congress. Donald Trump became the first one-term president since George Bush Sr., the first to be impeached twice, and did not attend the inauguration of his opponent, President-elect Joe Biden.
Despite vociferous Trump trains rolling through DeLand's main street in the weeks leading up to the election, Volusia's Republican turnout was marked at 56.5%, making it the fifth tightest contest in all Florida counties which voted red. Also, even though Donald Trump received all of Florida's electoral votes, three of Florida's 15 largest counties flipped from Republican to Democrat in 2020.
---
The Democratic Party
Although Democrats won the White House and control in both houses of Congress, they failed to seriously capitalize on the series of scandals and policy reversals from the past administration. The party could not effectively turn the perceived outrage and dissatisfaction into meaningful change. Now, Democrats stand hotly divided over issues like medicare for all, coronavirus stimulus money, and how to address climate change. All the while, intra-party tensions between old establishment, moderates, and progressives have only grown stronger as the party spars over how much they intend to push the envelope now that they enjoy control over the legislative and executive branches. Some of the party's major republican adversaries like Mitch McConell, Lindsay Graham, Jim Jordan, and Susan Collins all won re-election, while the young republican blood in the House of Representatives is working to keep the conservative movement and legacy of former President Trump alive.
 Somewhat curiously, Florida is a democrat majority state and has been for at least the past 50 years according to archival data from the Department of State, yet Republicans have held control of the Florida House, Senate, and Governorship since Jeb Bush was elected in 2000. Another illustration of the so-close-yet-so-far nature of Florida's Democratic party is the fact that in the narrow 2018 election for governor, neither candidate managed to earn 50% of the vote even though there was no major third party challenger. However, two years later, Florida elected Donald Trump over Joe Biden of a margin of nearly 3.5%. If Democrats want to extract the most out of their voters and gain majorities in state houses, they will need to localize their platform within the state's areas of concern. Energizing voters should not stem from disliking the other side, but rallying behind social and economic causes they believe in. Additionally, the Democratic Party of Florida should look to meet newer voters where they are at, specifically, in the online sphere, in order to bring together younger, more progressive voters, with the older, traditionally more moderate democratic voters.
---
Electoral institutions
The unprecedented nature of this election served not to unite the public in trusting our electoral system, but instead further sowed distrust in our electoral system and further divided an already politically polarizing population. This year's election was fraught with baseless claims of voter fraud and illegal ballots from the outset as our election workers and officials realized just how many ballots would be cast early and by mail. The pandemic election provided an almost excruciating level of drama and tension as the votes from swing states were counted out over several days. Angry mobs pressured election offices and demanded votes be counted or not counted depending on which candidate was leading, and death threats were lobbed at poll workers, supervisors of election, and state secretaries. This unfounded, yet widespread outrage stemming from the White House prompted officials and news outlets from across the political spectrum to condemn this undermining of our country's most venerated institution.
Even after the winner was decided, some Trump supporters, as well as right-wing extremists, held on to claims of deep-level conspiracy and cover-ups and were stirred into violent action as they laid siege to the Capitol building on Jan. 6. Four rioters and a police officer died, and dozens were hospitalized in what has to be one of our nation's darkest chapters. 
---
In hindsight:
The 2020 election provided ample conversation and hot debate as Americans realized how incompatible the realities painted by the two main parties have become. Our nation's people have begun failing to see eye-to-eye on some otherwise objective facts, and have let emotions and ideology distract us from our civil duty to work together and tolerate our differences. Poll responses illustrate the growing distrust of mainstream media, of neighbors who do not share our political alignment, and of our long-standing electoral norms and processes. However, behind the bitter trend of polarization, another story is unfolding. Our democratic system is showing signs of a growing inclusion of people in important government positions who would have been excluded from politics just a few decades ago. People like Stacey Abrams are working overtime to make political engagement cool again and to remind those of their rights and obligations should we choose to keep our republic from slipping away.
Leave a Comment
About the Contributors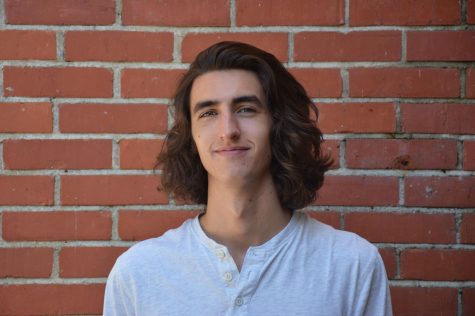 Jay Stearman, Opinion Staff
Jay Stearman is an opinion writer for Hatter Network. He is an Environmental Studies major and hopes to become a sustainable agriculture leader after he...