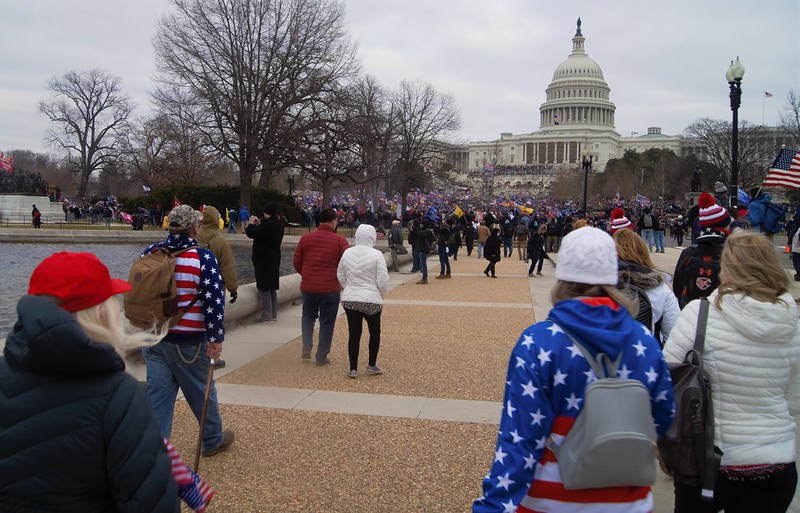 On Jan. 6, the United States Capitol building was under siege. Insurgents claiming that the election had been stolen stormed the Capitol to block the final certification of Joseph R. Biden becoming the 46th President of the United States. The day ended with Congress reconvening and eventually certifying the results in the early hours of Jan. 7. Five people died in the series of events that unfolded in the Capitol building, one of which was a Capitol police officer. 
A response by the university, penned by President Chris Roellke, Ph.D, was swift and focused on a theme of unity. In an email titled "Attack on Democracy," President Roellke stated, "I join other leaders in American higher education and all members of the Stetson community in condemning the violent actions in our nation's capital." He then continued to emphasize his message of collective effort, stating, "[a]ll of us at Stetson and our fellow Americans will take up the work of restoring confidence in our government and reaffirming our commitment to democracy." 
Shortly after this statement was released by the university The Reporter learned that at least two students were in attendance at the "Stop the Steal" march that spiraled into complete chaos at the Capitol. This information spread quickly on social media causing emotions to run rampant among students and alumni on Twitter and Facebook anxiously awaiting their return to Stetson for the spring term. A plethora of students displayed support for the insurgents on social media, including an SGA senator-at-large. 
As time progressed, it became increasingly clear that "all members of the Stetson community" had not joined in condemning the violent actions at the Capitol. 
On the other hand, students shared their disdain for the development at the Capitol and the potential of student involvement. A recent graduate on Twitter stated, "I'm concerned to hear that members of my alma mater could've partaken in this desecration of the Capitol and insurrection against our democracy." 
Laura Freyhof ('21) showed her dismay on Twitter posting, "I'm disturbed, but not surprised sadly," in regard to information about students participating in the march. A fellow Stetson senior illustrated concern of COVID safety: "at the very least they're endangering the entire Stetson community with COVID." 
A Stetson sophmore in the School of Music told The Reporter, "any statement Stetson puts out about violence, politics, etc. is pointless if they obviously allow students of this character to be a part of the Stetson community." 
President Roellke confirmed that the university was informed of students at the Capitol before The Reporter's request for comment and shared that, "our colleagues in student life continue to work closely with those that were in attendance as well as with those that have expressed concerns about that attendance."
Mentioning Stetson's free speech policy multiple times, as well as including the full text in the response, President Roellke stated in an email, "where I am certain we agree is that regardless of where one stands on particular issues, there is no place for violence in the expression of divergent perspectives." 
Political violence has been an ever-present reality in the Trump era. Dr. Roellke commented on his faith in the Stetson community to not engage similarly: "During my six or so months at Stetson, I believe we have demonstrated both the desire and ability to express divergent views with civility and mutual respect." 
A concentration of concern from the Stetson administration appears to originate from the virtual landscape, as we learn that the rally was organized on platforms such as Parler, Twitter, and Telegram. Dr. Roellke mentioned his concern about the disconnect between civility in the classroom and online, regarding the topic he mentioned, "…[where] I believe Stetson, like many other institutions is being particularly challenged in this regard, is in the social media space."
In response to a request regarding a senator's comments on the riot to the Student Government Association, SGA President Joshua Finkelstein ('22), had a message similar to that of President Roellke: "I, as well as other student leaders on campus, are not positioned to diminish any individual opinion or speech. Everyone has a right to their own opinion and expression, regardless of agreement." 
Finkelstein then warned the following, "If an individual indicates or incites illegal activity, the university administration and professional university staff are prepared to investigate and render decisions based on their findings." 
The message ended on the topic of unity, much like Dr. Roellke's original message. "I urge community members and student leaders to come together rather than divide…to defeat division, must have civilized discussions and come together as community members and Hatters," said Finkelstein.
Shortly after our correspondence, President Roellke announced a presidential roundtable to discuss the events of the riot and the future of American politics on Thursday, Jan. 21. The roundtable features professors in the field of law, political science, journalism, and student George Alderman ('21). 
President Joseph R. Biden was inaugurated on Jan. 20, 2021. Due to the aftermath of the Capitol riot, over 10,000 National Guardsmen have been deployed to Washington D.C. to provide security for the inauguration ceremony. As of publication, as reported by the AP, two soldiers have been dismissed due to ideological concerns related to right-wing organizations. NBC reports that an additional dozen soldiers have been dismissed due to unrelated concerns.
The Reporter has reached out to the students involved, as well as their organizations to gather insight and will continue to update this story as we learn more. 
If you would like to share your opinion or concern about the events that transpired at the Capitol or the general political future of the country with The Reporter, send an email to [email protected]