2020-2021 Convocation Ceremony
The Fall 2020 Convocation Ceremony was live-streamed courtesy of Stetson Broadcast Productions on Aug.12. Here are some of the highlights from the event. 
Opening for Convocation Ceremony 
President Christopher Roellke, Ph.D opened the convocation for the 2020-2021 academic year by introducing himself and introducing Pastor Demetris Pressley, University Chaplin.
Pastor Pressley led a prayer. 
Remarks from the Board of Trustees
After recapping on her Stetson experience, Maureen Breakiron-Evans, the Chair of the Board of Trustees said, "right now there is a "need to be more creative about how to have safe activities." Breakiron-Evans welcomed the Stetson community to "a year like no other", wished students a successful year, and suggested embracing "opportunities that will take you out of your comfort zone" including [opportunities] to "learn, grow, and find purpose in your life." 
Remarks from SGA President George Alderman 
While welcoming incoming students to the Stetson community, SGA President, George Alderman ('21) provided reassurance and said the community is "safe, smart, responsible, and courageous." He also took a moment to welcome the class of 2024 to the Stetson community, stating that Stetson is "a place where we immerse ourselves in fields of study and gain memories and friendships that last a lifetime…and walk through doors that lead to a life of impact." 
The Stetson Community Pledge
Stetson recognizes the importance of remaining committed to keeping themselves both mentally healthy and physically healthy. To care for the health of peers and to ensure safety the Stetson Community Pledge was established.
This pledge was recited by Alderman.
President Roelke's Ending Remarks 
One of President Roellke's favorite possessions in the President's Home is a book written by Pope Duncan, the university's seventh president. During Pope Dunan's presidency, from 1981 to 1982, a series of disputes occurred between the Florida Baptist Convention and Stetson and contractors and facilities management faced conflicts with construction. Relatively, recently, there has been global events regarding racial injustice that have resulted in debates and challenges relating to equality, diversity, and inclusion. President Roellke believes overcoming these societal challenges requires "studying, analyzing, debating, questioning, engaging, and learning" and believes that the Stetson Community will not fear these challenges by continuing to remain resilient and demonstrate kindness, empathy, and agency.
President Roellke suggested for incoming students to interact with peers that have different interests and opinions and to be sensible, safe, and consider others.
Leave a Comment
About the Contributors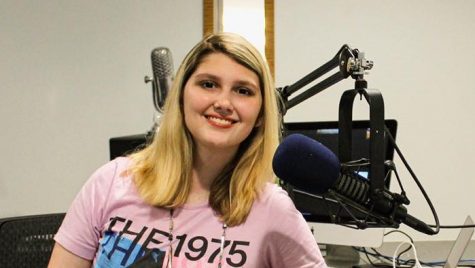 Bella Steiert, Website Designer
I am a sophomore and a digital art major. I am a techie and I have hosted a show on What Radio, I love all things alternative and indie music.