Florida COVID-19 Case Updates – 8/4
Information from Orlando Sentinel 
Data reported from the Agency for Healthcare Administration (AHCA)
With an increase in patients being hospitalized due to medical conditions, there is an increased desire for hospital beds, especially those in the intensive care unit (ICU). The AHCA has been tracking the availability of all hospital beds in Florida. The data displayed on both the interactive map and the chart are updated every hour.
According to the AHCA, at 11:18 p.m on Aug. 4:
25 out of 306 hospitals (8.17%) have no capacity. 

281 out of 306 hospitals (91.83%) have hospital beds available. 

147 out of 306 hospitals (48.04%) do not have any beds in the ICU available. 

159 out of 306 hospitals (51.96%) have beds in the ICU available.
*The data displayed does not specify how many beds are occupied by COVID-19 patients. 
Aug. 1, 3:27 p.m. 
Information from Daytona Beach News-Journal, Jim Abbott 
Within the past two weeks, employees have been confirmed to have tested positive for COVID-19 from two more Publix supermarkets in Volusia County and Flagler county.

A total of 23 Publix employees in Volusia County and Flagler County have tested positive for COVID-19.
Aug. 3, 12:08 p.m. 
Information from WPLG Local 10 News Station 
Gov. DeSantis held a press conference regarding the demographics of COVID-19 in Florida at Broward Health Hospital.
At all mobile testing sites, soon there will be separate lanes for individuals seeking testing for asymptomatic and symptomatic.

Statewide, mobile sites will be offering antibody testing soon because more in-depth information can be found from antibody tests than polymerase chain reaction (PCR) diagnostic tests. 

Recently, statewide, there is a decline in cases. 

Statewide, there is a steady amount of new hospitalizations, but there are fewer COVID-19 cases. 

Gov. DeSantis reiterated that convalescent plasma donations from recovered COVID-19 patients are effective for treating current COVID-19 patients. 

There are 23 COVID-19 only long-term care facilities. There are 15,000 hospital beds across these facilities. 

Gov. DeSantis reminded everyone to reduce close contact and avoid closed spaces, and to limit contact with the vulnerable and individuals with underlying medical conditions, and to protect the vulnerable. 

Hospital staff has been provided with personal protective equipment (PPE) and other necessary equipment. 

Remdesivir continues to be the most effective treatment for COVID-19. 

Gov. DeSantis stated that he tests regularly and tested negative, and is not displaying symptoms of COVID-19. 
Aug. 4
11:49 a.m. 
Information from Daytona Beach News-Journal, Nikki Ross
Data reported from the Florida Department of Health (FDOH)
Total tests in Florida: 3,790,202
Total conclusive tests in Florida: 3,784,458
According to the FDOH, there are 5,744 tests with inconclusive results in Florida.
Total cases in Florida: 497,330 (There is an overall 13.14% positivity rate.)
The overall positivity rate is determined from the total number of administered tests with conclusive test results. 
Florida residents: 491,733

Non-Florida residents: 5,557
Total hospitalizations in Florida: 27,952
Total deaths in Florida: 7,402
Records Regarding COVID-19 in Florida:
Of the total cases in Florida:
6,957 cases were announced in March.

27,921 cases were announced in April.

21,647 cases were announced in May.

102,005 cases were announced in June.

289,059 cases were announced in July.

26,994 cases have been announced so far in Aug. 
Leave a Comment
About the Contributors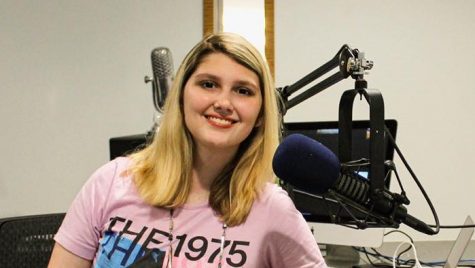 Bella Steiert, Website Designer
I am a sophomore and a digital art major. I am a techie and I have hosted a show on What Radio, I love all things alternative and indie music.