Stetson COVID-19 Updates – 7/24
COVID-19 Testing
The university recommends residential students get a diagnostic polymerase chain reaction (PCR) COVID-19 test prior to arriving on campus. Your local health department website should provide a list of locations for COVID-19 testing. If necessary, call your local primary care provider (PCP) for advice.
Significant Changes from Residential Living and Learning (RLL) Regarding Residential Capacity
Going into the Fall 2020 semester, with recent increases in COVID-19 cases in the state of Florida, RLL has significantly reduced the occupancy of residential halls in order to limit the risk of transmission of COVID-19. To accomplish this, RLL decided the best approach was to limit all bedrooms on campus to single-occupancy spaces. 
Another reason for significant changes is residential students will be spending more time in their rooms because of the limitations of on-campus activities and on-campus restrictions. Individual bedrooms also allow students more privacy for hybrid and online courses.
Things to keep in mind regarding housing: 
Students, if you resubmitted the Housing Application and have changed your decision regarding applying for on-campus housing, either email

RLL

from or submit

the housing application cancellation form

in

Housing Central

. For canceling the housing application, documentation is not required and there are no cancellation fees.

Regarding checking in, to move-in, all residential students must select

a time for checking in

for their curb-side check-in.
On July 24, RLL notified interested residential applicants if they will be assigned on-campus housing.
Residential applicants should check their Stetson email for an email from

RLL

, to understand the status of their housing application. Following prioritization, applicants were notified either that they would be offered a room or placed on a waitlist for either on-campus housing or an individual hotel room. 

 If an applicant's housing application is waitlisted, the email the applicant received also included information on

hotel options

,

information for off-campus apartments

, and FAQs. 

Waitlisted applicants should submit

this form

to provide RLL with an indication of whether you want to stay on the waitlist for on-campus housing, stay on the waitlist for an individual room in a local hotel and on-campus housing, or cancel their housing application.
By July 31, RLL will notify residential students with reassignments.
RLL is currently reassigning residential students by priority. Priority for housing assignments is determined by the format of classes, credit hours, distance from campus, and necessary accommodations.

Applicants with face-to-face courses have more priority than applicants with online courses and hybrid courses.

Applicants with the most credit hours have more priority for on-campus housing assignments. For clarification, applicants with senior standing by credit hours have the highest priority for housing assignments.

Applicants who reside more than 45 miles away from campus have higher priority than applicants who reside less than 45 miles away from campus.
Academic Course Schedules
The format of all courses has been adjusted. Students may log in to

MyStetson

and check their schedules for the format of their courses.

FF: face-to-face

HY: hybrid

OL: online

The Course Engagement Form gives an implication of whether students are following the format of courses from their schedule or completing all of their courses virtually. This form is found on

MyStetson

within the Forms section and should be completed by July 27.

If it is necessary to switch the format of courses, contact either

the chair of your department

or your advisor.

There are different sections of courses that are completely virtual. If the students wish to complete all courses virtually (indicated by OL), the student may adjust their schedules as well.

If it becomes necessary to adjust course times, all courses will be rescheduled, regardless of the format of the course.
Employees Returning to On-Campus Work 
On June 23, The SCTF officially released The Guide to Returning to On-Campus Work. The SCTF also has made a video for employees.
The video covers items such as:
Requirements for employees to complete prior to returning as an employee.

 Information from Human Resources (HR) and resources for dealing with COVID-19 on-campus.

How to notice if someone is displaying the symptoms of COVID-19 and how to report health concerns.

Instructions for keeping workspaces clean and disinfected, instructions for cleaning an area with possible exposure to COVID-19.

Protocols for preventing exposure from visitors.
Webinars with President Christopher Roellke, Ph.D.
President Roellke has organized webinars for the Stetson Community to engage and provide updates.
To register for upcoming webinars, click on the corresponding date and time of the webinar.
To view the webinars that have already occurred, click on the corresponding date and time of the webinar.
All messages, information, and live recordings of webinars from President Roellke can be found here.
Update on Zoombombing Incident 
On July 24, Lua Hancock, Ph.D., Vice President of Campus Life and Student Success (CLaSS) provided an update on the hate-crime Zoombombing incident that occurred during the "Let's Talk About Racism" webinar on June 23.
On July 23, The Federal Bureau of Investigation (FBI), as part of their external investigation, interviewed several individuals of the Stetson community.

Currently, The FBI can not provide any additional information and are continuing the investigation.
Additional University COVID-19 Protocol Updates
Check Stetson's Safer Stetson website, the website's FAQ webpage, and your Stetson email for updated information.
Leave a Comment
About the Contributors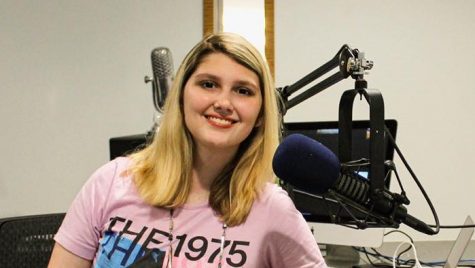 Bella Steiert, Website Designer
I am a sophomore and a digital art major. I am a techie and I have hosted a show on What Radio, I love all things alternative and indie music.