Messages from President Roellke – 7/23
Live recording courtesy of Stetson University may be found on the Safer Stetson website. 
On July 23, from 1 p.m. to 2 p.m., President Christopher Rolleke, Ph.D. hosted his second webinar in a series of three seminars. During this seminar, President Roellke addressed health concerns regarding hospital bed availability and hospital care and when he spoke with AdventHealth and Volusia County.
AdventHealth and Volusia County were reassuring; President Roellke mentioned that they are able to accommodate all medical conditions, not just COVID-19. President Roellke reminded the community to stay updated with email communications and the Safer Stetson website, which has been redesigned to provide the most updated and most critical information to reduce overload.
President Roellke also acknowledged the dedication of the dining staff who are accommodating to dining changes such as a reduction in seating capacity and adjusting to the different setup of food stations. President Roellke noticed more responsibility and urgency with the risk of COVID-19 regarding limiting exposure with DeLand's mask policy, which was created in collaboration with Stetson.
Because of these unprecedented times, President Roellke closed the seminar with a quote from himself during his introductory speech back in November: "Kindness not only matters, it enables us to listen, to engage with others unlike ourselves, and to consider paths we can forge together to make our community, in fact, the world, a better place."
Changes, updates, and information regarding student life, policies such as the Code of Community Standards, housing and Residential Living and Learning (RLL), testing and contact tracing, and athletics were addressed during this webinar. Some updates regarding requesting schedule changes and change of format, classroom setup, and potential changes to pass/fail policy were also addressed. This whole panel acknowledged and brought awareness of the tiered system created by the Safer Campus Task Force (SCTF) for health responses.
Lua Hancock, Ed.D. Vice President for Campus Life and Student Success (CLaSS), presented information regarding student life, some information about classes, classroom sizes, the pass/fail policy, conduct, and music performances and concerts. Hancock also provided an update regarding cleaning supplies, cleaning protocol, and personal protective equipment (PPE).
Organizations are still able to meet in smaller groups.

FSEMs will be held either face-to-face, hybrid, or in-person, depending on the request of the professor and course.

For questions and concerns regarding Bonner move-in, contact

Amber Finnicum-Simmons

, Bonner Program Coordinator.

On

MyStetson

, schedules now indicate the format of courses. If there is the need to request switching the format of courses, contact the chair of your department or your advisor.

HY: hybrid

FF: face-to-face

OL: online

The Course Engagement Form, which is found in

MyStetson

within the Forms section, should be completed by July 28. This form provides an indication of whether students are keeping the format of courses from their schedule or completing all of their courses virtually.

To significantly reduce contact and limit exposure, class sizes have been reduced and there might be changes to course scheduling.

Performances and concerts from the School of Music will be streamed virtually. 

If a professor is teaching virtually, they will mention their virtual office hours in their syllabus. Most professors will have virtual office hours for safety concerns. 

The pass/fail policy might be similar to last semester to allow for flexibility.

Every campus policy, such as

the Face Covering Policy

and

the Code of Community Standards

, is a community agreement to commit to safety. Due to recent policy changes, Stetson Administration is collaborating with SGA to consider changes in consequences for violation of the protocol in place for the Fall 2020 semester.

Pertaining to housing, with every dorm operating as a single-person room, the maximum number of on-campus residents is approximately 1250.

There is a large supply of cleaning supplies and PPE, because of more frequent cleaning and directing and more enhanced cleaning protocols, to mitigate the risk of COVID-19.
Lynn Schoenberg, Dean of Students, provided information on testing and contact tracing, dining changes, club sports and intramurals, recruitment for Fraternity Sorority Involvement (FSI), disinfecting and cleaning campus spaces, changes to classroom capacity, social distancing, and proper care for masks.
Testing provided by

Family Health Source

continues to be strongly recommended. 

Students, faculty, and staff will not be required to be tested every two weeks.

Stetson will be using

Everbridge's app

for daily screening and contact tracing. Right now only Stetson administrators have access to the app.

If a student tested positive, the student remains anonymous, and if you are in contact with the student, you will receive a notification for exposure through the app.

The app has a dashboard with updates.

Some

dining changes

that are still taking place:

Plexiglass is still being installed in the Commons.

Stickers and signage for indicating when the equipment was last cleaned and indicating measurements of six feet are continued to be placed.

Club sports and intramurals will be changed. There will be more information at a later time.

For Fall 2020 Fraternity and Sorority Involvement (FSI), National Panhellenic Primary Recruitment and Intafaternal Primary Recruitment, will both be virtual with both some in-person and virtual recruitment activities. There will be more information presented from your chapter at a later time.

Electromagnetic sprayers

will be used to sanitize spaces around campus and classrooms.

All classrooms will be cleaned in between classes and there will be wipes for cleaning desks.

Classroom capacity and changes will be implemented. There will be tape on the floor for measurement and social distancing.

Schoenberg reminded participants that the masks are to be worn properly and to properly care for masks. Schoenberg recommended having seven masks so that the masks can be cleaned and used regularly.
Housing Updates
Larry Correll-Hughes, Assistant Vice President for CLaSS and Executive Director of RLL, provided information and updates regarding changes in housing and reminded residential students to sign up for a check-in appointment time.
Last week, RLL limited one person to each room to limit exposure and contact. 

 The exposure is multiplied with more residents per room.

For move-in, two guests are permitted at a time to limit exposure.

For cleaning and disinfecting, cleaning techniques will be enhanced and there will be more frequent cleaning.

If a residential student resubmitted their housing application, and changes their mind after looking at their schedule, email

RLL

from your Stetson email or submit a Residency Exemption Form on

Housing Central

.

Currently, if the housing assignment is canceled, housing and meal plans will be refunded fully.

The deadline for submitting a Housing Application was July 21, however, students may still submit the application found on

Housing Central

and be placed on a waiting list. 

By the end of this week, residential students will know they are on a waiting list or accepted for housing. By the end of next week, housing assignments will be confirmed 

For accommodations and requests, it cannot be certain that the request will be met. If there is a need for academic accommodations,

contact RLL.

There is

a checklist

for things to bring on on RLL's Instagram under the Packing List highlight.

Ultraviolet lights are being installed in buildings with community restrooms because UV light is

effective for disrupting the spread of infectious pathogens, such as the COVID-19 virus. UV light also helps maintain a clean and sterile environment inside the air handlers, so that the air quality may be more clean and fresh

.
Athletics 
Jeff Altier, Director of Athletics, provided updates pertaining to the athletics department.
The Athletics Department is collaborating with the SCTF, deciding when athletes begin conditioning, training, and athletic competitions.

Athletic competition prior to Sept. 10 would be postponed. This delay allows for athletics to train if the competition is resumed. 

Over the next few weeks, there will be conferences from the National Collegiate Athletic Association (NCAA), the Atlantic Sun (ASUN) Conference, and the Pioneer Football League to determine athletic completion for the Fall season. Stetson athletes need to be in compliance with NCAA guidelines.

Student athletes with high contact and exposure are tested weekly. Student athletes with low contact and exposure will be tested once or twice during the semester.
All messages, information, and live recordings of webinars from President Roellke can be found here. 
Leave a Comment
About the Contributors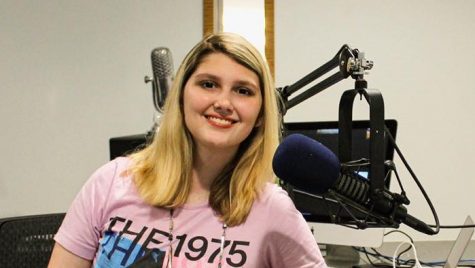 Bella Steiert, Website Designer
I am a sophomore and a digital art major. I am a techie and I have hosted a show on What Radio, I love all things alternative and indie music.