Facing Uncertainty for Fall 2020
With the number of high reported cases continuing to rise and Florida becoming the epicenter for COVID-19, Stetson student Nelson Quezada Herrera ('21), originally created this petition on June 24 to request for administrators to begin virtual classes from the beginning of the Fall 2020 semester.
In the description of his original petition, Quezada Herrera writes:
"Currently, Stetson University is planning for in-person classes and has announced a number of guidelines we will have to follow for our own safety. Unfortunately, this does not guarantee that members of the community will not contract COVID-19. The risk of community spread will be high given that thousands of students will be moving in and many will be living in shared spaces. Face-to-face learning should not get in the way of public health. The administrators of Stetson University have a responsibility to keep the students, faculty, and staff safe and consider the best course of action "
Before the newer petition was created, this petion reached 520 signatures. 
Stetson is currently planning on reopening for the Fall 2020 semester with precautions and limitations. Currently, as an option, Stetson has decided to offer every student a free COVID-19 test at the start of the Fall 2020 semester. In response, on July 13, Quezeda Herrera decided to start another petition to request for Stetson to make COVID-19 testing mandatory continuously throughout the Fall 2020 semester for students. It is also important to point out that as a private institution, the university likely has the resources and authority to mandate COVID-19 testing for the entirety of the Fall 2020 semester.
In the description of his new petition, Quezada Herrera writes:
"For campus to reopen and in-person classes to resume mandatory, continuous, and free testing is necessary. In President Roellke's first email to the community, Roellke shared some goals he developed with the Board of Trustees. One of these goals is 'to promote the health, safety, and well-being of our community in a period of considerable uncertainty, anxiety, and risks to public health.' President Roellke should support this proposal if he is following these goals." 
Currently, as of July 17, this petition has reached 235 signatures.
We sat down with Quezada Herrera ('21) to hear about his thoughts on returning back for the fall 2020 semester and the reason for starting for his original petition. 
This conversation has been condensed and edited for grammar and clarity.
Hatter Network: What made you want to start your original petition?
Nelson Quezada Herrera: I became incredibly concerned after I saw the state had reported over 5,000 positive cases which was the highest number of cases the state had reported since the pandemic began at the time. In the days since, the number of reported cases has kept increasing and today the state reported over 10,000 cases. The cases are likely to continue increasing. 
I made the petition with the safety of the community in mind. One of the main concerns I had while making the petition was that we would start with in-person classes and halfway through we would have to switch entirely online due to an outbreak or a stay-at-home order form the state government. The petition is an attempt to prevent a situation like that.
HN: Has anyone from Stetson reached out to you in response to the petition?
NQH: No one from the University has reached out to me. I attended the student webinar [on July 1] assuming they would address it there but they didn't.
HN: Do you think there are students who won't return to Stetson in the fall if classes are in person?
NQH: I think there will certainly be some students who won't return to Stetson in the fall if classes are in person. I'm thinking about those who are immunocompromised or have someone who is. There are also those who view the risk of contracting the virus as too high. 
I'm glad the University is making accommodations for students in these situations but thinking about this brings the issue of the added burden the faculty will face this semester. 
They will have to teach in-person as well as online if there is a hybrid format for the class, which will most likely be the case, and what is their reward? They are getting a salary cut. In the student panel I mentioned above one of the panelists said that student tuition pays for faculty and staff. If this is so then why are the faculty getting a salary cut during a pandemic, especially when tuition increased for this year? With everything that is being asked of them to do this new school year, they should be getting bonuses.
HN: If Stetson chooses to remain with their plan to return in the fall, is there anything more they could do to make students safer?
NQH: In the panel from July 1, students were told that there would be free campus-wide testing when we return. I think this testing should be mandatory. Unfortunately, we were told it would be optional. This is not conclusive to the mitigation strategy the university is promoting. Everyone should get tested the same way everyone will be required to wear a mask. It's just common sense if we want to avoid an outbreak to have mandatory testing.
HN: How do you feel online classes went during the spring, and are there any changes you would like to see if fall started online?
NQH: Like most students, I had a hard time transitioning online last semester. For me, it was less about the technical aspects of it and more about the jarring effect of such a dramatic transition. My classes went very smoothly and I didn't have any technical issues. I'm only speaking for myself, of course, and I recognize that the move online brings up many equity concerns. I think if we do go online we should keep the Pass/Fail policy the university instituted last semester. That was a good measure of combating the inequities that online learning brings.
HN: If the fall semester was to start online, how long do you think it should stay online? Is there a certain time period that would be sufficient?
NQH: I would imagine that if we start the semester online then we would stay that way the whole semester. It does not make much sense to me that we would move on-campus halfway through the semester.
Some important data to consider
Information from The Daytona Beach News-Journal
Data reported by the Florida Department of Health (FDOH)
According to the FDOH

, on March 12, the day Stetson made the decision to start virtual classes, there were 42 cases of COVID-19 in Florida.

According to

The Daytona Beach News-Journal

, on June 24, the FDOH reported 5,511 cases, which was the highest daily increase in COVID-19 cases since COVID-19 began in March.

Update:

According to

The Daytona Beach News-Journal

, on July 12, the FDOH reported 15,300 new cases, and which is the current highest daily record of COVID-19 cases in Florida.

According to

The Daytona Beach News-Journal

, as of June 24, there were 109,104 total cases in Florida.
Poll
Survey conducted by Julia Gray
When surveying, opinions are rarely binary, two-sided, and may change overtime. 
A poll was done on the Hatter Network's instagram for 24 hours, from July 3 until July 4. For Fall 2020, there were 38 (34%) votes for online classes and 75 (66%) votes for in-person classes.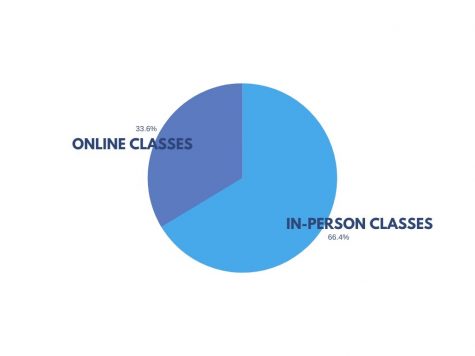 Leave a Comment