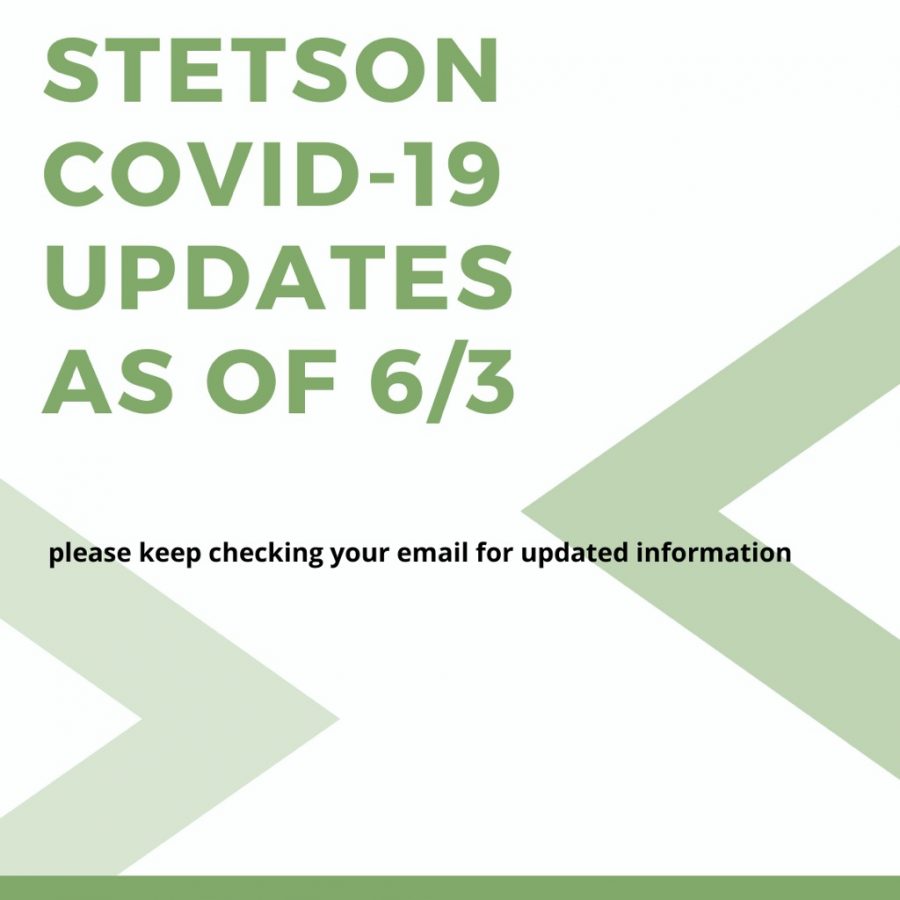 Bella Steiert
Though the university has not released it's proposed schedule for the resumption of classes in Fall 2020, the Safer Campus Task Force (SCTF) has released its plan to maintain the health and safety of students, faculty, and staff as people make their way back to campus. 
Campus-wide protocol 
For limiting exposure to COVID-19, upon returning to campus, all spaces will be thoroughly cleaned and disinfected using EPA-approved cleaning products.
Stetson will provide everyone with a reusable mask with ear guards, made from the library's 3-D printers, and an 8-ounce hand sanitizer bottle. Stations for refilling hand sanitizers will be located in common areas.
Public locations and open spaces, such as shared offices, tables, and desks, will be cleaned and disinfected more frequently. 
Custodial staff will be provided with Personal Protective Equipment (PPE). 
To keep workspaces in individual offices clean, Stetson has purchased hand sanitizer spray and paper towels in bulk. 
FOCUS Orientation 2020
For the Fall 2020 FOCUS Orientation, to limit physical contact and exposure, FOCUS groups will have 16 or less incoming, first-year students and each FOCUS group will remain together as an individual unit for their FSEM.
Student Employee Guidelines 
The SCTF is working on Stetson's Guide for Returning to On-Campus Work for employees. 
This guide will also include a phased approach that begins June 8 and ends Aug 22. If you are a student employee, your supervisor or department head will inform you at least one week prior to your expected date of return. 
COVID-19 Budget Priority Working Group 
According to Stetson Today, on June 1, The COVID-19 Budget Priority Working Group presented their initial recommendations on "reductions in operational expenses, cuts to travel expenses and staff development, and elimination of salary increases" to President Libby and President-elect Roellke. By June 12, this group will have final recommendations for the 2020-2021 fiscal year. On June 25, the budget for the 2020-2021 fiscal year budget will be reviewed by the Board of Trustees.
Stay updated with Stetson's COVID-19 website and check your emails for updated information.