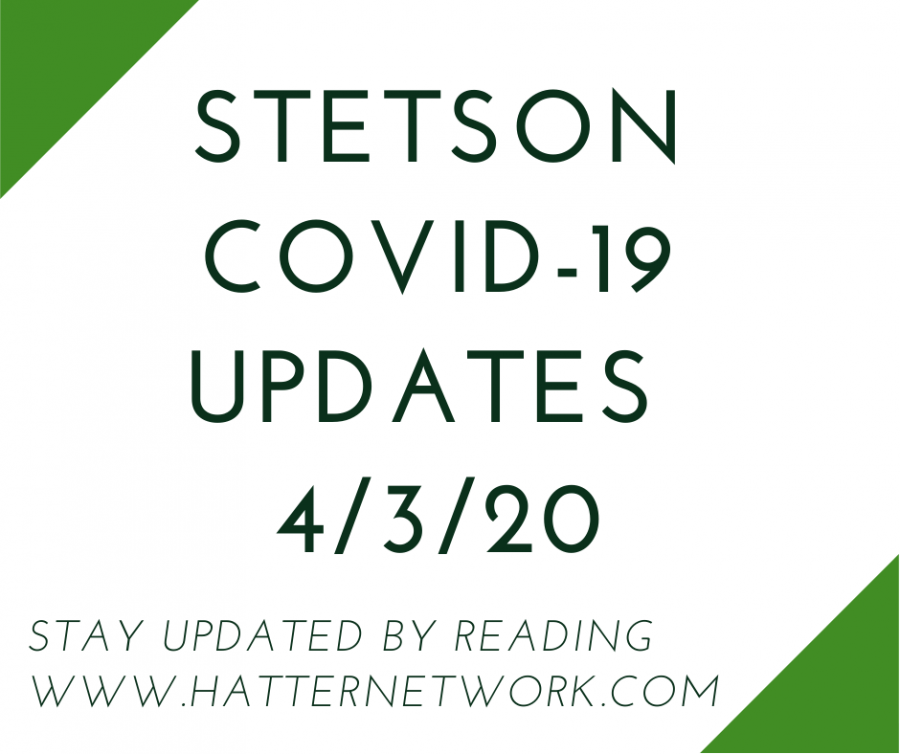 Ruby Rosenthal
Following the Executive Order from Gov. Ron DeSantis 
At 6:27 p.m. on Thursday, April 2, Lua Hancock, Ph.D., Vice President of Campus Life and Student Success, sent out an email regarding the executive order from Gov. DeSantis.
There are ways to connect with the offices in Campus Life and Student Success and many services, including Career and Professional Development, Academic Success, Wellness and Recreation, Community Engagement, Counseling Services, duPont-Ball Library, and Diversity and Inclusion virtually.
Commuter students are asked to be on campus only for essential services, such as Hatter Pantry, meals, and appointments with Health Services. 
Open Services 
CUB: CUB staff members will be at the Welcome Desk or Coffee Shop Monday through Thursday from 10 a.m. to 2 p.m. 
Post Office: Effective Monday, April 6, the Post Office is open for only pick-up from 10 a.m. to 2 p.m. Monday through Friday
Bookstore: Effective Monday, April 6, Monday through Friday, 10 a.m. to 2 p.m.
Dining: 
 Coffee Shop: 7 a.m. to 4 p.m. Monday through Friday 
 Commons: 9 a.m. to 1 p.m. and 5 p.m. to 7 p.m. Sunday through Saturday 
Health Services: 8 a.m. to 12 p.m. and 1 p.m. to 4:30 p.m. 
To schedule an appointment: 386-822-8150 (Health Services)
For urgent after-hours COVID-19 concerns: 386-822-7300 (Public Safety)
Library
Hatter Pantry: Accessible by calling Public Safety and setting up a time to meet at Griffith Hall.
OneStop: Accessible with card access to Welcome Center Monday through Friday, 10 a.m. to 2 p.m.
Residential Living & Learning: 10 a.m. to 2 p.m. Monday through Thursday in University Hall.
Residential students are no longer allowed to have visitors on campus unless it is someone approved to help you move out.
Student Emergency Aid
At 9:54 a.m. today, Friday, April 3, Lynn Schoenberg, Dean of Students, sent an email about Student Emergency Aid to the DeLand and Celebration campuses.
There is now a campaign for alumni faculty, staff, and friends to solicit donations to offer additional financial support for COVID-19.
You may submit a request for financial assistance if you are dealing with financial obstacles, such as medical bills, from COVID-19.
Please email Heidi Goldsworthy, Director of Financial Aid, if you have any questions.
Quality Enhancement Plan (QEP) Task Force Survey
At 11:34 a.m, an email was sent out to Stetson campuses about the QEP Task Force Survey opening on Monday, April 6. This survey is to be completed within that week.
The QEP is an important part of the Southern Association of Colleges and Schools Commission on Colleges (SACSCOC) and the reaffirmation of the accreditation process.
On this website, there is more information regarding Stetson's reformation process and QEP.
Stay updated with Stetson's COVID-19 Website and check your Stetson email for the most updated information.