Finding the Next Generation
What does recruiting look like through the lens of the recruiters?
With all of our exciting spring sports, all things "new" are on the student body's mind. Although some sports are taking a break until next fall, every team has one thing in common around this time: recruitment. With the new year and everybody's favorite paperwork approaching, incoming freshmen are finalizing their decisions every day. 
Every sport is different and has their own ways of recruiting and building their team. From yearly try-outs to solely recruited members, our sports here at Stetson have a wide variety of strategies when it comes to bringing on new athletes.
Row, Row, Row Your Recruit Gently to the Team
The head coach of our rowing team, Katie Thurstin, explained that "rowing's unique when it comes to recruiting because [they] take walk-on athletes as well as recruited athletes." This opens the sport to students who have never heard of it and gives the opportunity to join something exciting. 
Walk-on athletes in the fall can create an unfortunate situation when it comes to the spring semester though, as the fall walk-ons sometimes drop off after their first semester. Being a student-athlete is harder than it looks from the outside, and once players start to realize the commitment it really is, they can get doubts about whether or not they want to be there.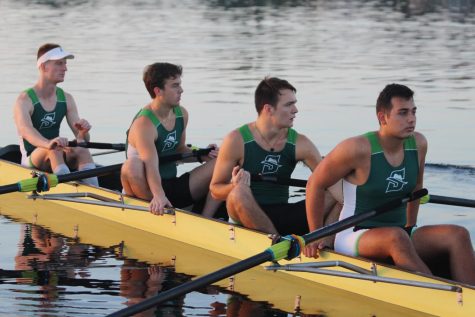 As Thurstin puts it, "it's more hard work the further you get into it because you're not just learning what the heck you're doing. So it's like 'okay, do I really want to work this hard or not?'" 
This may be why, on the recruiting side of things, "the character of the student is one of the key things [to look for]." Thurstin commented that, "how they're going to fit with the team, their desire to train[and]what they want to bring to a team," are all important factors when considering new recruits. 
Building a team takes a lot of inside effort, especially on the athlete's parts. Their drive and their determination are the base of their team's success. These recruited athletes are expected to be as willing to work and be as motivated as their teammates.
When asked how incoming freshmen will affect the team, a sophomore on the rowing team, Grant Miller '22, said, "We all work towards having a positive effect on the team, so I think that everybody that we bring in, whether it's walk-ons or freshmen, will have the same effect." 
With a team like rowing, a perennial underdog in their sport since their inception, building a strong team is important. Not just to win, but to prove that they're just as strong and dedicated as much older teams around the nation. 
This is also why both the men's and women's teams have big goals for the future of the program. For instance, Thurstin said, "this year the men want to be top fifteen in the country, which is an amazing feat. And the women's goal is to try to win [their] conference championship so they can be the first school to go to the NCAA." 
A Deeper Look With Lacrosse 
Another team that similarly defies the odds is lacrosse. Lacrosse, being more popular in northern states, is relatively new to Florida. Recruiting stretches far and wide for this sport. Head coach Christy Leach, while explaining their recruiting process, said, "we get [athletes] geographically from everywhere, so we have people from as far west as Colorado. We have some [from] Texas, up to Vermont… We try to grab a reach just to put our Stetson name out there." 
When it comes to recruiting for the lacrosse team, they focus on how well players would fit with not only the team, but also Stetson's atmosphere. Being a smaller school, it's important for incoming freshmen to understand the culture of the university they'll be attending. 
As they prepare for this season, Leach says that they're mostly done with recruiting for this upcoming year. Recently, they've even had a weekend where the student-athletes hosted some of the incoming freshmen who have signed their national letters of intent. This gives the players a chance to meet their teammates and bond before the new year. 
Liza Diamond '20, a senior on the lacrosse team, said, "I think they'll be really positive, they seem like they're all really good people." 
Facing Recruitment Challenges 
One recent obstacle that all recruiting sports have had to deal with is the NCAA's restrictions on early recruiting. Only a year or two ago, the organization adopted a rule that stated coaches couldn't contact potential recruits until September 1st of their junior year, which is later than many sports were used to. Gradually, the recruiting process had been getting out of hand, so the NCAA had to put its foot down. This decision was made when many institutions were found to be scouting and pressuring students to agree to scholarships in middle school. 
Many Stetson sports have begun their search for student-athletes quite young, though nothing as drastic as seventh graders. On the topic of her own recruitment experience, Diamond mentioned that being recruited as a junior, which she had been, was very late when it came to lacrosse. But when asked how this ruling had affected the team and their recruiting process, Leach mentions that they took the change in stride, saying "it's just another day for us." As far as Stetson's lacrosse is concerned, finding the best players to fit the university's scene is a top priority and they're ready to rise to the challenge.
Leave a Comment
About the Contributors
Allie Wilson, Sports Staff
Allie Wilson is a writer for The Reporter, currently working in the sports section. She's an English major with hope of a future in journalism. Her favorite...