Local COVID-19 Updates – 3/24
Spectrum News Staff and Associated Press Florida
According to TSA, a fourth Orlando worker has tested positive.
All Florida State Parks closed Due to COVID-19 Pandemic 
Monday, March 23, 7:17 a.m.
As of Monday, March 23, Florida State Parks announced that every state park will close due to COVID-19. 

State parks will be closed The Florida Department of Environmental Protection will close the parks.

The decision was made by Governor Ron DeSantis and comes because most Central Florida students will be on extended spring break. It's not known when the parks will reopen.
To gain understanding, Florida State Parks tweeted about the closure on Sunday, March 22 at 10:14 p.m. The tweet read: 
"We appreciate your cooperation and understanding as we work to prioritize the welfare of our communities and staff. We will be providing updates to the public on our webpage & social media channels. We look forward to welcoming you to our award-winning parks as soon as possible."
UCF faculty member placed in quarantine amid COVID-19 outbreak
Monday, March 23, 8:18 a.m. 
Orlando Sentinel- Joe Mario Pedersen 
One of UCF's faculty members was placed in quarantine for eight days in a Georgia military base after possibly coming into contact with COVID-19, during a cruise to Hawaii.

Lawrence Ziock, a research associate at UCF's Institute For Simulation And Training, was on the Grand Princess cruise ship for 15 days, which departed from San Francisco and was bound to Hawaii, according to UCF.

Ziock said, "About 50 miles outside of the port, members of the Centers of Disease Control and Prevention arrived on the ship to test 60 personnel workers." 

A passenger on a previous trip to Hawaii was hospitalized and died in California with COVID-19.

According to UCF, Ziock and 500 passengers on the ship were taken and quarantined to Dobbins Air Reserve Base, in Marietta, Georgia. 

While there were activities for those quarantined, people were upset nonetheless about being removed from their vacation, Ziock said.

Ziock told UCF that the quarantine was a difficult experience, but the medical staff were very caring.
Florida Remains Open Amid Calls for Lock Down
March 24, 3:39 p.m.
Wesh 6 – Emilee Speck
On Monday, March 23, Gov. Ron DeSantis said: 
"Today there are over 190 direct flights from the New York City area to Florida. I would reckon given the outbreak there that every single flight has someone on it that is positive for COVID-19, and so as we're working to stop it in the state of Florida."
Gov. DeSantis did not want to close off Florida. 

Gov. DeSantis ordered all travelers flying into Florida airports from New York and New Jersey to be screened for COVID-19 and placed under a mandatory 14-day quarantine after their arrival.

Hundreds of people fled New York after the state was set to begin sheltering in place. 

According to the New York Times

, cases in New York have continued to rise.

On Monday, New York experienced a surge of an additional 5,000 cases putting the state's total at 21,689. 
Other things 
Wesh 2 
Cases
Orange County: 50 cases

Osceola County: 26 cases

Volusia County: 18 cases
Leave a Comment
About the Contributors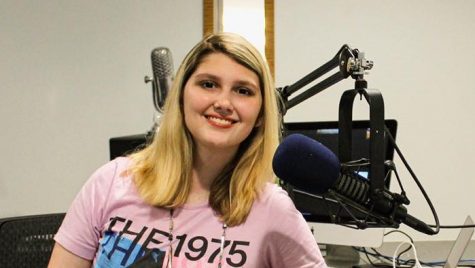 Bella Steiert, Website Designer
I am a sophomore and a digital art major. I am a techie and I have hosted a show on What Radio, I love all things alternative and indie music.